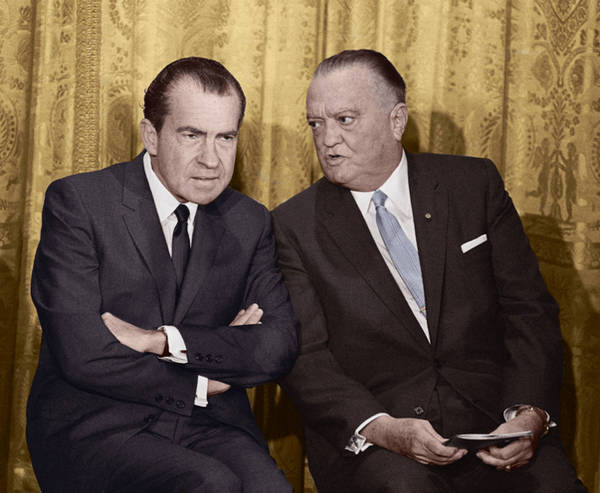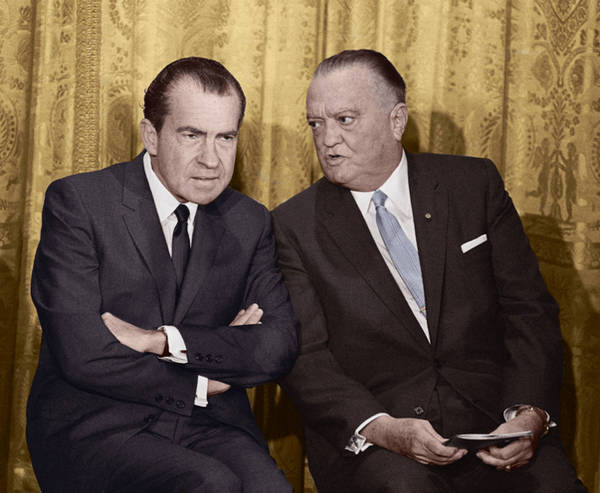 Richard Milhous Nixon (January 9, 1913 – April 22, 1994) and John Edgar Hoover (January 1, 1895 – May 2, 1972).

Hoover: Mr.President, I wish you would stop--
Nixon: Shut up! Pat let Checkers of the lead in here.
Reply

Nixon spent 3 years of his presidency trying to work up the stones to either fire Hoover, or in some other way get him to step down from the FBI. He never could do it, though.
Reply

I wonder why..

Reply

Why Nixon (a.) wanted to get Hoover to step down from the FBI? or why Nixon (b.) always backed down from the inevitable confrontation?
Reply

many reasons..power and politic.
Reply

Nixon desired Hoover to step down from the FBI Director's position for two main reasons, IMHO. First, for the simple and obvious reason that he wanted to name Hoover's replacement, and thus have (presumably) a pro-Nixon/pro-GOP individual in that office for a decade or more to come. Secondly, for the less-obvious-but-still-true reason that Hoover's paranoia, secrecy, and bureaucratic-aggression were finally reaching a point that even someone as conservative as Nixon wished to do something about it. And finally (call it reason "2-A"), Hoover's agency was proving itself useless against the kind of physical and political threats (or "threats", as the case may be) associated with the so-called "New Left" (i.e., Greenwich Village bombing of March 1970, Univ. of Wisconsin bombing of August 1970, publication of the McNamara Report ("Pentagon Papers") in June 1971, etc., etc.).

As for why Nixon never did pull the plug on Hoover's dominion, well as my initial comment indicated, Nixon was simply lacking a certain attribute that would be necessary for standing up to a man like Hoover. For all his Red-baiting, aggressive reputation, Nixon was really a fearful man, not just conflict-averse but even reclusive, who tried to operate the presidency by coming into contact with as few people as humanly possible. It didn't work out too well.
Reply

Hey! I used a thumbnail of this deviation in a review of the movie J.EDGAR! Sorry I didn't get to tell you sooner, but wasn't until this week that the pictures were working. Thanks for posting this picture and I hope the link brings you many hits!
Reply

Reply

Reply

Oh yeah, Nixon and Hoover; the dream team! Everyone loves thema nd there hasn't been any release of internal documents since the 1970s which has tainted their stellar reputations as true American heroes!
Reply

Reply