Hello I am open to commissions and orders of digital illustrations
Payments Are Only PayPal





Hola estoy abierto a comisiones y pedidos de ilustraciones digitales
Camera Focused On The Face $20
Cámara enfocada en el rostro $20
WAIST UP $30
Cintura Para Arriba $30
Full Body $40
Cuerpo Completo $40
Complete Groups $50

Grupos Completos $50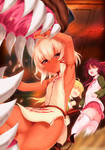 Laborious Funds Add Another $ 10 Dollars To The Image
Fondos Laboriosos Agregan Otros $10 Dólares a la Imagen
TERMS
Términos
-When you place the order send a note or an email, specifying each detail you want in the illustration.
In case of being an OC I will send an image with the advance for possible modifications.
-Cuando haga el pedido enviar una nota o un correo electrónico, especificando cada detalle que quiera en la ilustración.
En caso de ser un OC enviare una imagen con el avance para posibles modificaciones.
""You can negotiate the price if you have any problem with any of them ""
""Se Puede Negociar el Precio si Tiene Algún Problema con Alguno de Ellos ""
Contact
Contacto
"Note On DeviantART"
"Nota En DeviantART"
If you like my work you can also donate what you decide from your heart
Si te gusta mi trabajo también puedes donar lo que tú decidas de corazón