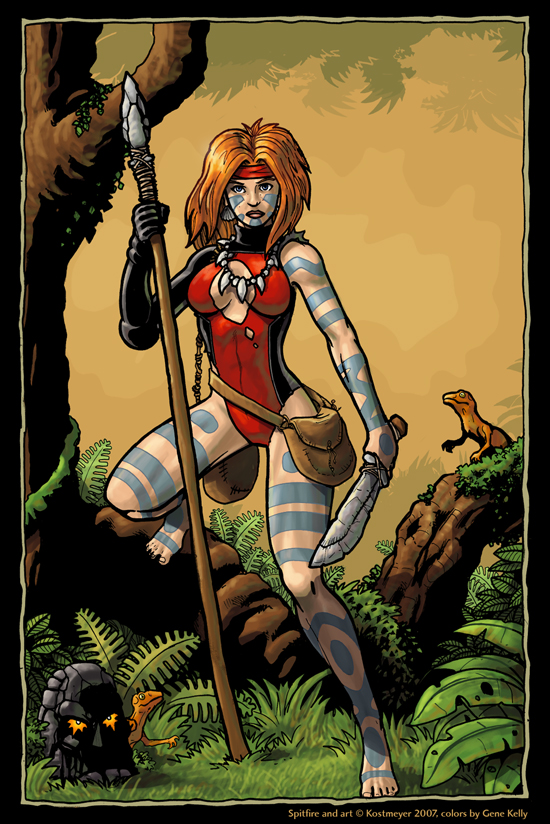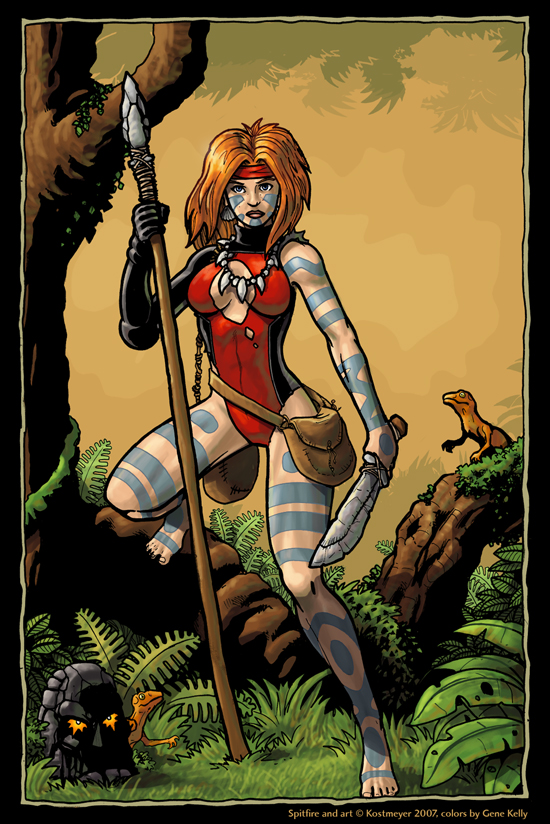 Watch
This is a Preview Picture for the Spitfire comic strip story which will be posted over at Next X Comics, beginning next month. There's loads of my art over there and I'm generally not posting much of it here - but when I saw the final coloured version it was just too good not to show it off! Credit for the fantastic colouring goes to the always fantastic
who I suspect will be posting this pic on his page too (heh heh - beat you to it Gene!)

THIS IS ABSOLUTELY AMAZING!!!! i have a journal, where i put in a few amazing artists that i think need more recognition- can i put you in? i adore your work!!
Reply

That would be great - thanks very much for the kind comments and of course I'd love you to show some of my art in your journal. Credit here must go to
for the colouring as well - this piece is a real collaboration. Thanks again!
Reply

Great work, she looks fierce. Like the body paint.
Reply

Thanks for the favourite Graffilthy! The idea for this story started out as a short homage to the old X-Men story with Rogue in the Savage Land using my creator-owned character over at Next X Comics, but it's really taken on a life of its own! The plan now is to post a page of comic strip every week for a Year (I must be insane...)

The body paint was a sudden inspiration for this pic - Gene did a great job choosing the colour I think.
Reply

i left my comments on Gene's page first

damn good pic.
Reply

Thanks Whome! In all seriousness I'm really pleased Gene has posted it on his page too - more chance of people seeing it! The colouring has added so much to it. The pic should go up on the Next X site soon, and the comic strip will start in a couple of months.
Reply

Hey, you should post the uncolored inks on your DA page too. They're really great!
Reply

Cool! Great pic and great colouring too! Love the inclusion of the little Garok head at the bottom.
Reply

Thanks! And thanks for the Favourite. I was a bit worried about the little Garrokk head actually - I have a vague recollection of an X-Men story in which these little Garrokk icons are popping up all over the Savage Land, which I thought would be a nice touch here to indicate the location - but I'm beginning to think now that I imagined the whole story and that people might think that she's just decapitated him!
Reply

*shakes fist* Curse my metal body, I wasn't fast enough!
Reply

You've got to be pretty quick! I think it looks better on my page than on yours!

Seriously I still can't get over what a fantastic job you did colouring this. Absolutely brilliant, thanks again!
Reply

This piece is just plain STUNNING!
Reply