So I've been really terrible at posting art lately. And by lately I mean pretty much the entire year....
But I am trying to do better and have posted a slew of all my doodles and stuff. I've had a pretty interesting year so far. Crazy busy at my job, and I've lost a few managers recently so I've taken on a lot more responsibility someone as new as me normally doesn't do. I've also had a bit of a crazy going on with my love life, but I won't go into that.
Commissions info:
I am a jerk for not getting around to these but if you genuinely still want one PLEASE just spam me with a note to do it for you!
Because I live in London now and still lack a lot of friends I'm likely going to the London DA meet up on the 30th of June
I don't know if there are any of my watchers that are going, so if you are and possibly want to meet me and geek out about stuff like ponies or zelda or just stuff in general I'd love to meet you!
I will be bringing some of my STICKERS!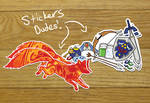 Which I will be giving to people I deem awesome enough for them ( hopefully I don't run out! )
That's pretty much it for now, I will update again later

FINALLY
How long have I been pestering you to do art for!? I obviously didn't pester enough...
Give me a plane ticket and I'll come to the meetup?