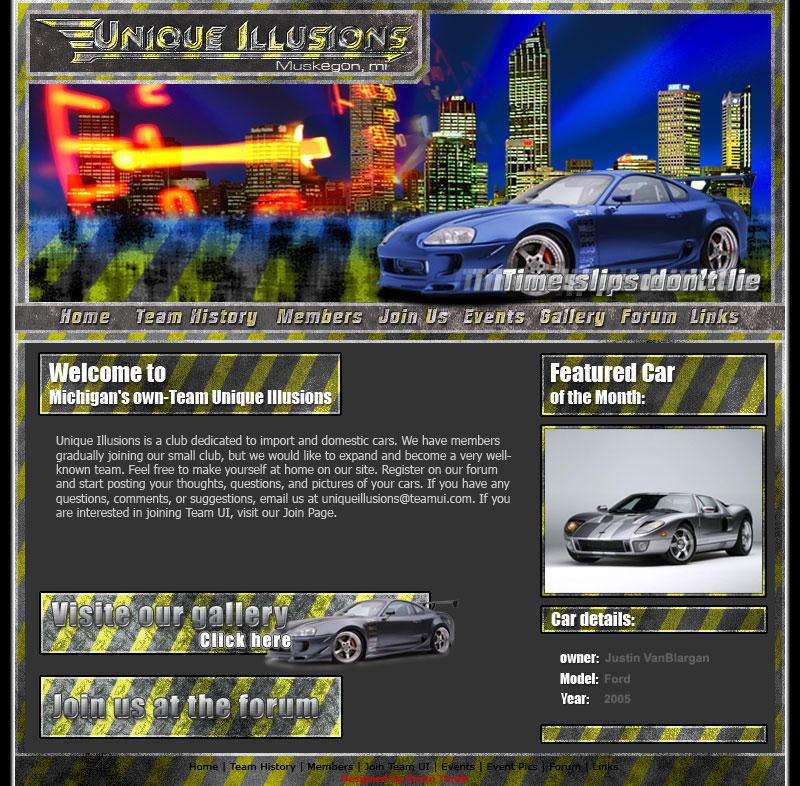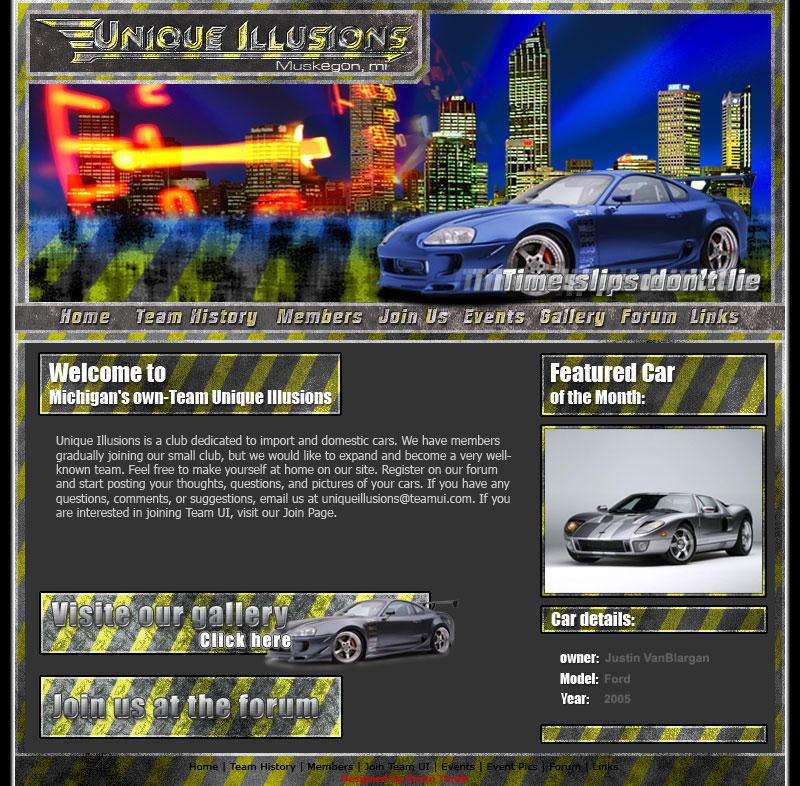 Watch
unique illusions is a cars club in the US this design is my 2nd shoot coz the client didnt like the 1st u can find it here at this link
[link]
any ways i love this one i my opinion is much better than the 1st, thanx to the client is he likes the 1st i would never did this
i really would like to hear form u, all comment are welcome

Sorry but i think it's a bad design overall.
The buttons are huge and "noissy", the bottom menu is practicaly useless.
The colors are too intense and too constrasted.
I could not stay in a site like this more than 30 seconds

Reply

P.S. Just saw the other design which is way better than this one. Far simpler and more readable.
Reply

From one webdesigner to another, I do like the layout of the design. It's very well designed and is room for future improvements. I did look at the other design, and I found that it looked much more professional than this one.

This design screams too much detail at me. I'm not saying that's a bad thing, but it looks crowded, and the images are trying to compete with the colour scheme and design layout. Remember also to contrast your colours well, and not to make any text hard to read, but it's a very interesting idea, and I think with a bit adjustment to the colour scheme you could really make this design work.

Great job, and I do love the other design. You've done really well!
Reply

1st of all i'm glad that u were honest with me, and i'm totally agree with you in ur comment thought i wanna say that in my opinion the worst element in this layout in the banner that contain much objects but that was what the client wants.
finally thnx and i really appreciate what u've wrote
hope 2 cya soon
Reply

think the first one was much better... it was simple and clean

Reply

yeah u r right it was simple and clean, but i dont know i love this one

and in my opinion the worst about this design is the banner (pic at the top) even though the client like it much, any ways this design was a big change also useful for me i feel that and finally after my speech

thnx for the comment i appreciate it

Reply