130 Favourites
10 Comments
528 Views
-----
Copyright Koekeldoedeltje, all rights reserved.
download for full view!

-----
Hi!
A little halfbody painting of my Lisqar character
BLT Aquarius
. I don't really draw personal art often and I'm happy with how it turned out. If you compare it to a portret I've made about a year ago, I'm really happy with my progress.

(Don't look at the background though.

)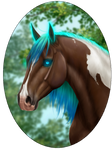 *Credits*
Reference used:
www.pinterest.com/pin/63908900…
made with GIMP 2.8 and wacom tablet
You can find the brushes I use in my favourites -> 'Resources'
IMAGE DETAILS
Image size
837x1274px 1.06 MB