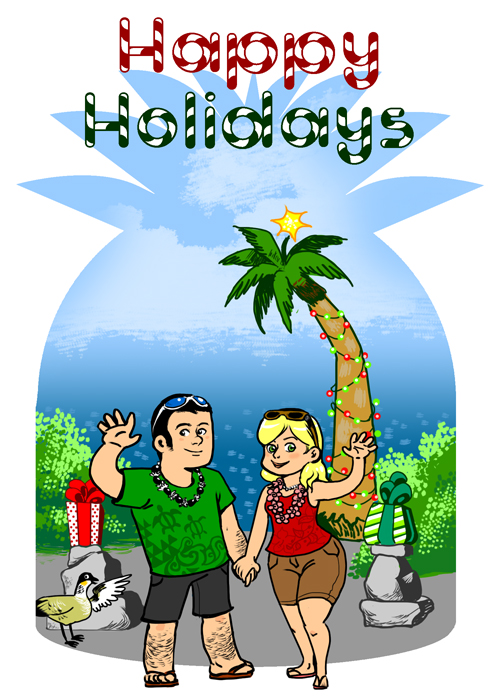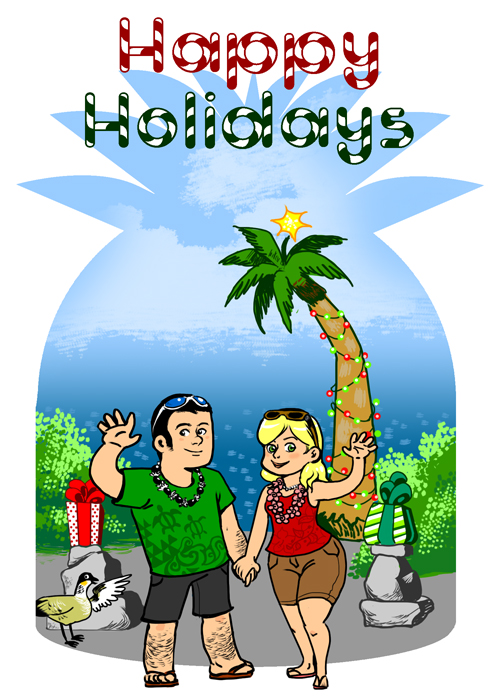 Watch
Funny story: I sent this card to my dad, whose first question was 'Do you guys really look like that? He's really hairy and has no ankles. And you make yourself look really..... 'important'." I'm not sure he understands the concept of exaggeration.

Anyways, Happy Holidays from bubble-butt Koeb and Ankle-less Chad. Also a nene snuck in there somehow. I'll be back next week with more comicy goodness. Have fun~

Hawaii changes people. Turns people into chibis.
Reply

Yeah, you become so laid back that even your body doesn't bother with keeping normal anatomy anymore.
Reply

B'awwww, sweetness. I really need to sit down and draw up something for Christmas. @_@
Reply

Yes.. Yes.. Santa demands more art.

Mele Kalikimaka! I hope you're having a good holiday season.
Reply

And more art he has received!

Mele Kalikimaka! I hope you have a good holiday season too! It doesn't get very cold in Hawaii, but it's getting cold here! Still, beware of colds and such and such!
Reply

Huzzah!

So far I've been having fun. Though it has been windy lately and, by local standards, even a bit chilly at night.
Reply

Oh goodness! I heard it rained yesterday from my grandma, but she's on Oahu so I'm not sure if it rained on the Big Island. I've lucked out and it hasn't rained here for a week, which is awesome because I can do laundry. Looks like it'll be sunny and partly cloudy for the rest of the week... except today. Apparently it's going to shower a little bit today. hahaha. Good thing I got all my laundry done!

I got the best present ever today: My brother's wife gave birth to their first son! I am
finally
an auntie! Baby Kale (the Hawaiian for Charles. It's his official family nickname) was 7lbs 2oz and 20 inches long. AND BORN ON CHRISTMAS. He looks like he has dark hair like his daddy and fair skin like his mommy. I hope he gets his mommy's rosy cheeks because that'll make him SUPER cute.

Reply

Being born on Xmas sounds cool, until your folks get lazy and start combining your birthday with the holiday. Or so I'm told

But congratulations! I bet Charles has such cute widdle cheeks that must be pinched!
My brother here on the island is expecting soon. Well, his girlfriend is technically is expecting but they're both excited about it.
Reply

Yeah, I was hoping that the baby would be born before or after Christmas, not on the actual day. And thank you~ I'm SO gonna pinch those widdle cheeks when I get the chance!

Hahaha. So many people are pregnant! Two of my teachers at the same school are pregnant, two of the mods at one of the groups I'm in are pregnant, my cousin is pregnant again... it's amazing! MOAR BEHBEZZZZ!!!
Reply