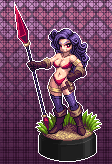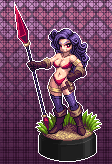 Who needs sexy damsels in distress when you have heroines like this?

Reply

Reply

Your pixel work is very motivating
Reply

Has a vague Ayla vibe to it. Probably 'cause of the hairstyle and less clothing thing. XD
But it looks badassly shexamafyin'.
Reply
Sexy pixels here

Reply

Nude fighter


Reply

I love the base! Nice work!
Reply

That is a pretty looking woman, and she's really nicely shaded. Is it supposed to mimic any known sprite style?
Reply