Happy New Year everybody! Can you believe that there's already a new year upon us??? Where did 2017 go? Or 2016 for that matter... Time flies when you're having fun...or it just flies when you get older.
Anyway, today is the 2nd of January, the day before my 29th birthday (speaking of getting older) and I've been meaning to write up a journal entry here on dA for quite some time. As you may have noticed, I've kinda disappeared. Last winter, I started using Ravelry way more seriously, and even though I'm not so fluent in using it yet, I've come to realise that knitting and yarn crafts in general really belongs more there than here on dA. Sad to say, really... But I highly suggest all of my yarn friends to join the forum parts of Ravelry. If I only knew better way back when I started this account and in the early
Live-Action-Crafters
days, then I would have pushed for a Ravelry group instead. When that's said, if any of my fellow LAC friends would like to get back together then I would be more than happy to get a group up and running over there. Using a forum makes conversations a lot better since everybody can't make the chats when things are happening.
So, yeah, I do consider dA as dead for me at this point. My lazy side can't be asked to upload the same thing on two different websites, and Ravelry is alot better when it comes to keeping track of everything as well as uploading and updating your projects. Feel free to be-friend me over there, you can find me as
LARvonCL
.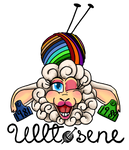 When that's said, I've actually been doing some quite interesting things over the last 6 months that might interest you guys. I've started a indie dyer company with my good friend
Marit
. We call ourselves "
Ulltøsene
" which directly translates into "Wool hussies". We have a webstore that is open for everyone, we do ship internationally but our page is currently only in Norwegian. If you need help to navigate and understand our page then just send us a message and we'll help you out. You can find us at
ulltosene.com
Going back to Ravelry for a bit. I've released 5 knit patterns this autumn! 4 pairs of colourwork mittens and 1 pair of socks. You can get them all in my
Ravelry design store
.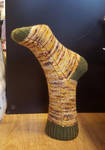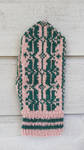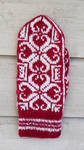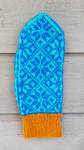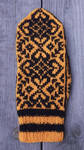 But enough self promotion. All in all, 2017 have been a decent year for me, even though I lost my job and one of my best friends in one go in late April. Thanks to Ulltøsene and my goldsmith workshop, I've been able to kinda live a half decent life. I am currently looking for a new job, but as it turns out, it's harder than you'd think when you live in a tiny town. The unemployment office won't help me out either, so it's a miracle that I haven't fallen into a black hole of depression. But I must admit, I've been close several times. Another reason to push my patterns on Ravelry. You would literally be putting food on my table by buying one or two patterns there and I would be SO greatful <3 I am thinking about making more patterns, but it takes time and I honestly haven't had much spare time before Christmas. I'm in a huge sock mood these days, so I really should be designing socks until my face turnes blue!
In other news, I purchased a second hand spinning wheel in May! I am absolutely in love with it! I'm far from an experienced spinner yet, but I am learning and I've managed to create some awesome yarn so far! For anyone interested, it's a Louet S11 Julia and I love her so much! I've actually started to paint the wheel on it, and I'm hoping to have it done by March when Marit and I will be going to a spinning conference in Trondheim. So much fun!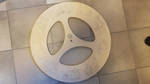 Anyway. I hope you've had a wonderful Christmas or whatever holiday you celebrate during wintertimes, and a happy new year!