Send an email to MangaArtKnight@gmail.com (or Note me here) for a commission!
★ Order Form ★

Order Type: (Full Painting or Sketch, Total # of Characters)
Character References/Description: Be descriptive! The more I know about your character, the better I can make the drawing. Image references heavily preferred over text, but feel free to write as much as you need as well.
Background: Backgrounds will be atmospheric or nonexistent unless specified. Backgrounds may have an additional charge, depending on complexity.
Total Payment: (For full paintings, this is negotiable)
PayPal Email: I can only accept PayPal commissions at this time. Sorry for any inconvenience!

Pricing
Every commission is different. Some are more complex and difficult, some are right up my alley and finish quickly and naturally. No matter what, I put my all into every work I do. Because of this, I prefer to negotiate pricing on a project-by-project basis. A baseline for a full painting of a single figure is around
$150
, more or less depending on the complexity of the commission. Additional figures, complicated outfits, elaborate environments, and alternate versions would all have an additional charge, depending on how much extra work they add. That said, if you're commissioning me, you're probably coming to me for a character-based art-- I am willing and able to produce more environmental or landscape works as well, the pricing being pretty much the same as a character-based scene.
Examples of full paintings: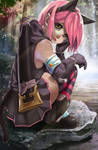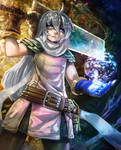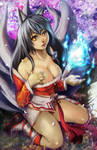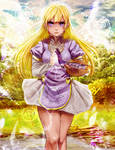 I can also do sketch commissions, which would be more rough and unfinished works. These are done in a single sitting, and tend to be less complex (generally more like a neutral pin-up than anything). Because of this, it's easier to set a solid price guide for sketch works.
The baseline for a character sketch is $30. Additional characters are $15 per.
Examples of sketches: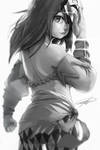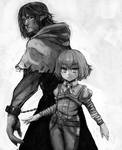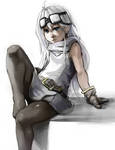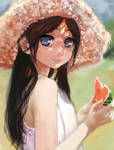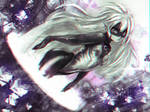 All payments will be made to the PayPal account of:
dreamerror@hotmail.com
Please send me a note with your order form.
*Note: These pieces are for personal use only. For commercial commissions, please send me a note and we will discuss details.
*Note: These prices are for personal commissions only. For commercial work, please email me and we will discuss details.
★All prices are in USD.
★Payments are made through PayPal to
dreamerror@hotmail.com

★Payments are made upfront, and commissions are worked on in the order received.
Please wait until I confirm I can begin working before sending payments.
★Turnaround time varies depending on many factors, and is usually 1-3 weeks.