Find the application here: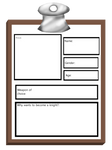 1. Decide the species. It can be anything that can be found in the canon Kirby series.
2. Well... It can basicly look like anything you like.
3. Fill these in the description:
Name: <--
Age: <--
Gender: <-- Sex
Personality: The character's personality. How they treat others and what are they like?
Abilities: Does the character have some special powers?
Weapon of choice: What weapon do they wield?
Why they want to become a knight: <--
Backstory: (Not necessary)
Likes: <--
Dislikes: <--
Strengths: <--
Weaknesses: <--
Theme song: (Not necessary)
Extra info: Is there anything else to say about the character?