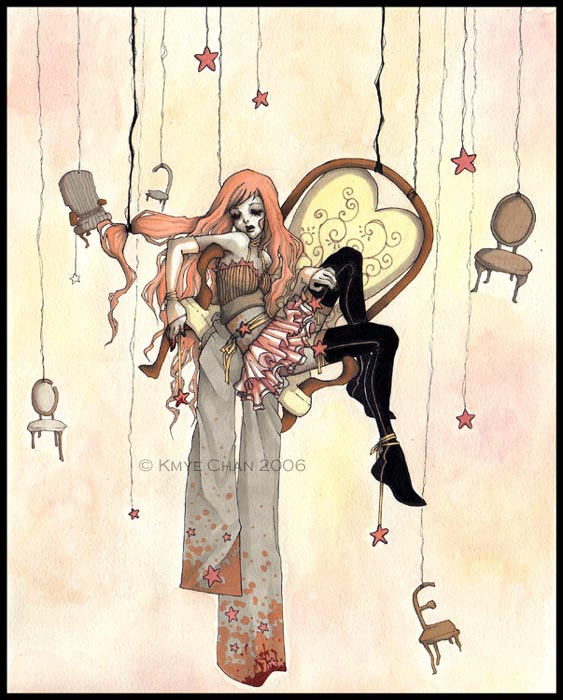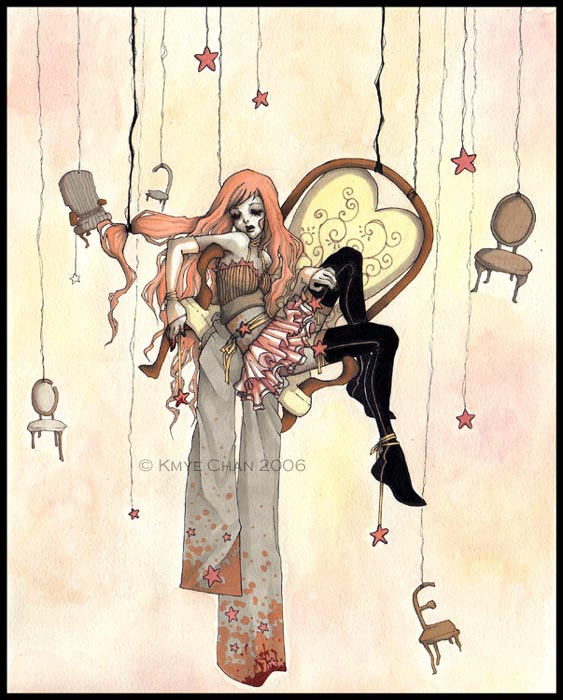 Watch
Copyright © Kmye Chan, 2006.

Do not use, alter, redistribute or reproduce except for the uses allowed by my terms of use.
[RESUBMITTED since the version I uploaded yesterday apparenting had a glitch... Many people couldn't see it, comment or fav. If you faved it yesterday and would like to keep it in your favourites, you'll have to fav this one, since the first version has been deleted.

]
I wasn't sure whether I was going to submit this one or not. I can't decide whether I like it... I liked the general idea, but the realisation didn't come out as I expected. All this pink hurts my eyes... xD;;
Plus, I'm not too happy with how the outfit came out, especially the skirt.
Ah well. I guess it's not that bad though. The chairs were amazingly funny and easy to draw O__o;; .... I discovered myself a new talent for furnitures. xD;;
The anatomy is a bit off, especially the feet.
I also had bad scanning problems, which were thankfully resolved by my copy of 'Biology' by Campbell (the damned thing weights about 10 pounds - the people who've used it for their studies know what I'm talking about! xD ). Well at least now I know what's the use of that book!

Anyway, enjoy!
[Made with Staedtler pigment liners, Tria alcohol-based markers, watercolours, colour pencils, white paint.]