Hi all! It's been a long time since I've gotten around to updating this journal, but I have some exciting news!
My art website is finally up and running: www.klbaileyart.com - my art is available to purchase from there, as well as some greeting cards. I would love it if you could all stop by and check it out, and I'm open to constructive criticism as I'm still ironing out some of the kinks.
The other news is that I have an exhibition coming up. It's called "Spirit Matters", and is being held at "Positive Art Space", downstairs at the Positive Life Store, 483 Old Cleveland Rd, Camp Hill. Our opening night is Saturday 6th December from 4pm - 6pm, and the exhibition runs until the 23rd of December. So if any of you are from Brisbane, Australia, I would love it if you could stop by to check it out!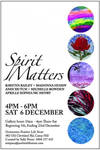 Also, my 2009 calendars are now available! You can purchase one here:
www.redbubble.com/people/klbai…