Description
an old painting...
watercolor, acrylic, pen and glitter on watercolor paper
43,5x56 cm

facebook page:
www.facebook.com/pages/alchime…
t-shirts and more here:
society6.com/Clarae/Metamorpho…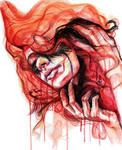 Image details
Image size
1409x1100px 1.91 MB
Shutter Speed
1/1024 second
Date Taken
Jun 21, 2012, 9:30:43 AM





Overall





Vision





Originality





Technique





Impact
So, this is probably my first time writing a review, and I honestly feel like I am no person to write a critique. (I'm not as good as you, or have painted as long as you). But I'd take a stab at it if you'd like. I really wanted to comment on this painting anyways.
This is really nice. I enjoy the color scheme. Its magical and surreal I feel like. The hair flows really nice. The emotion shows in this piece. The expression in her face, is pretty, it captures the emotion. The transition of hair to peacock feathers, is incredibly beautiful. Almost goddess like. Your techniques in this are nice, I like the watercolor mark near the right eyebrow. They're loose but not too loose. Good amount of impact, the painting really flows and shows grace, sadness, and vision. I love love love this!
Comments have been disabled for this deviation