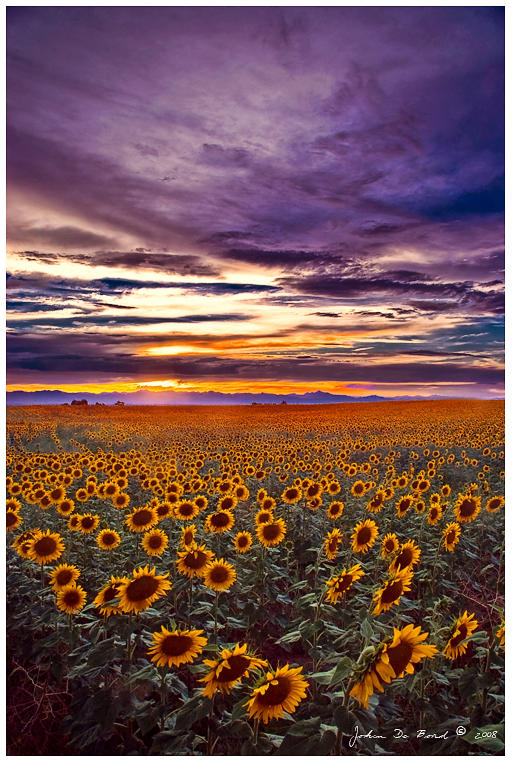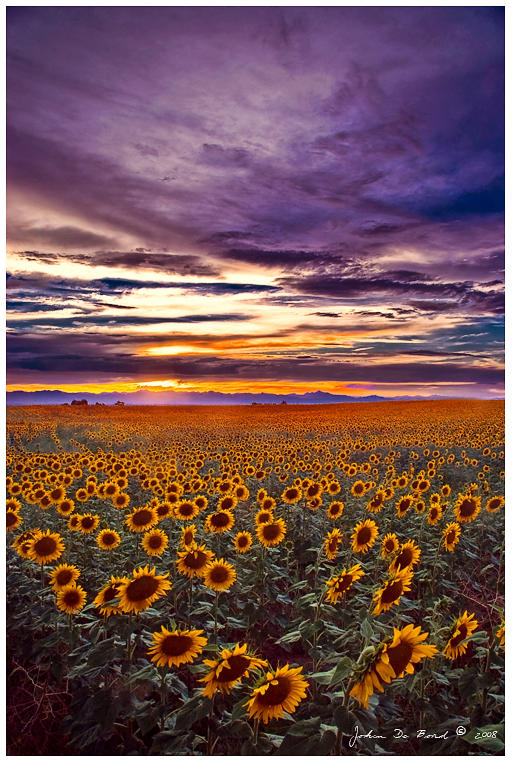 Watch
The End of the Day
Heaven exists and I think I have found it!

Standing on the eastern plains of Colorado and watching the sun sink behind the front range of the Rockies. Life doesn't get much better!
Captured on my Minolta 5D, using a Minolta 50mm f1.7 lens, Dynatran Tripod and a Singh-Ray CPL.
Please also check out my other shots in the series, entitled
"The Sunflower Series"
Thoughts most welcomed!
---John
------------------------
I can't answer all comments, but I try my best! I appreciate all the fav's and feedback a LOT, thank you everyone very much!
See more on my website
jdebordphoto.com
All artwork is © John De Bord, All Rights Reserved. You may not use, replicate, manipulate, redistribute, or modify this image without my express consent
Oh. My. God!
This is absolutely fantastic. The colours are just WOW. There is so much saturation, and its perfect.
The flowers just never end, right up to the horizon. I really like how you can see the mountains and hills in the background, and the sun shining down on the flowers in the back.
You can even see roots at the front under the sunflowers. I was honestly blown away by this.
The only "crit" I can think of is that part of the sky is overexposed, but I think if you tried to fix that it would make the flowers too dark and anyway some white in the sky like that just makes it perfect.
So basically, there is nothing at all I can critique.
And guess what! This is going on my wishlist.

Fantastic job! My first complete 5/5 too.
The Artist thought this was FAIR
65 out of 71 deviants thought this was fair.
I have to honestly agree with you on the statement you made about this being a part of Heaven. The colours absolutely blew me away *SIGH*
Every detail of the sunflowers are visible to the eye and I took all this in with the thirst incured on a hot Summer's day. The sky is what really made me catch my breath. The colours are so vivid and the definition of one bouncing off another had me imagining a tempest trying to be set free.
The mountains in the background are so very far away but none the less they stood out with the promise of beauty that only mountains hold.
I actually tried counting the sunflowers but I got double vision somewhere in the middle and lost count

All I can say is you have such an eye for the promise of a magnificent photo opportunity and the expertise to have it turn out this well..............
The Artist thought this was FAIR
57 out of 61 deviants thought this was fair.