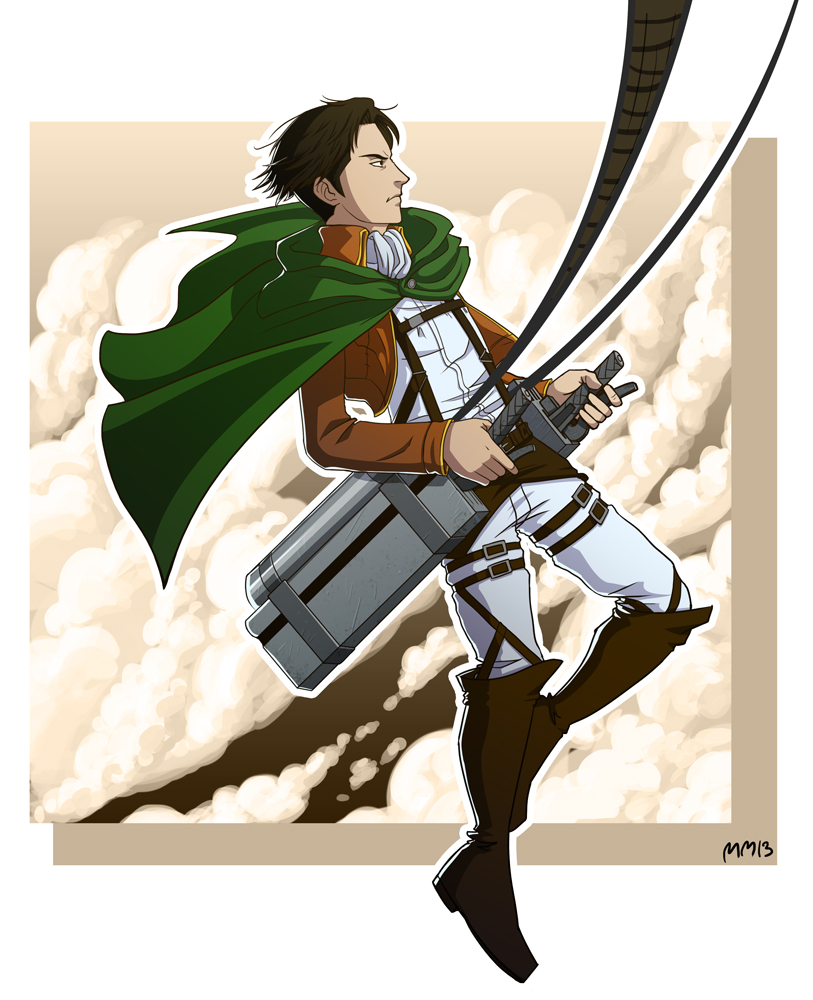 Watch
This series will be the death of meeee. So I just had to draw some fanart.
Logical, yes?

Reply

*throws logic out of the window* This is wonderful!! *____* I also saw the Mikasa one you posted to tumblr, so cool~ ♥

It really is such an amazing series. ;__; Too bad the manga updates only monthly... though I guess my poor heart couldn't handle it if it was weekly, haha. Luckily there's the anime!
Reply

Thank youuu! *v* Just had to draw Levi, he's such a cutie. The best!

It iiiis! ;___; I just crashed last week and read all the manga and gnnnnh, why isn't the next chapter here!? I have a burning neeeed for more! Seriously, it's torture because this SnK always managed to keep you on the edge of your seat.
Reply

You're welcome! :3 Oh yes, he's a pocket-sized badass~ *-* ♥

Welcome to the club. :'D I think it was after episode... two or three that I started reading the manga thinking "well I'll just take a small peek" and as a result I was glued to my computer screen for the next six hours until I'd read everything that was available so far even though I was supposed to be studying for exams, ahaha. D: ... It's dangerously addicting. And yeah, totally keeps you on the edge of your seat. All the plot twists and the characters are so awesome and gahh! *-* I haven't been this exited about a series in a long, long time~ ♥
Reply

I started watching around episode 10... I tried to look at the manga but the style was a bit too rough for me so I just decided to play along and wait. Well, eventually my curiosity just got the better of me and I started reading and couldn't stop until I was finished x'D I'm so weak.
But yeah, this is by far one of the best anime series I've watched. *u*
Reply

Yeah, I get what you mean. I usually don't bother reading a manga if I don't like the art style, but with SnK I somehow kept going (probably because a lot of people had said that the manga is really worth reading)... until it became impossible to stop. xD You get used to the art after a while... and later on I think it gets better, too. :3

I actually almost skipped the whole series because I'm so utterly fed up with hearing Kaji Yuuki in main roles (he lacks the charisma that a main character should have imo), ahah. I don't like his voice at all. :'D But I decided to try giving it a chance anyway 'cause it seemed interesting... and then the first episode was so powerful, I was completely blown away. *-* I still don't like the fact that they chose Kaji for the main role, though, lol... but I fully approve that they chose Kamiya Hiroshi as Levi. As I read the manga, I kept thinking that his voice would be so perfect for him, haha~ I was ecstatic when I found out that he would in fact be voicing Levi in the anime. xD ♥ Yeah, me and my seiyuu obsession. *cough*
Reply