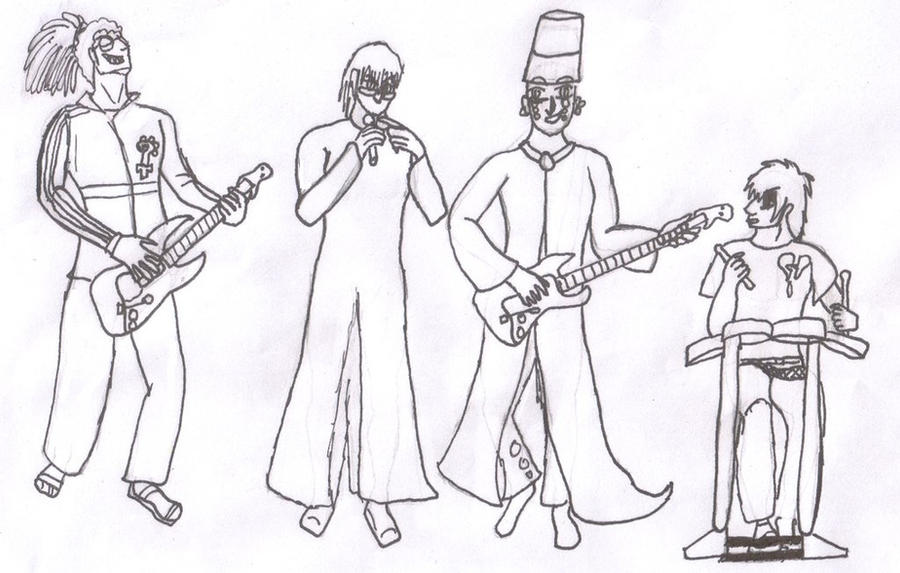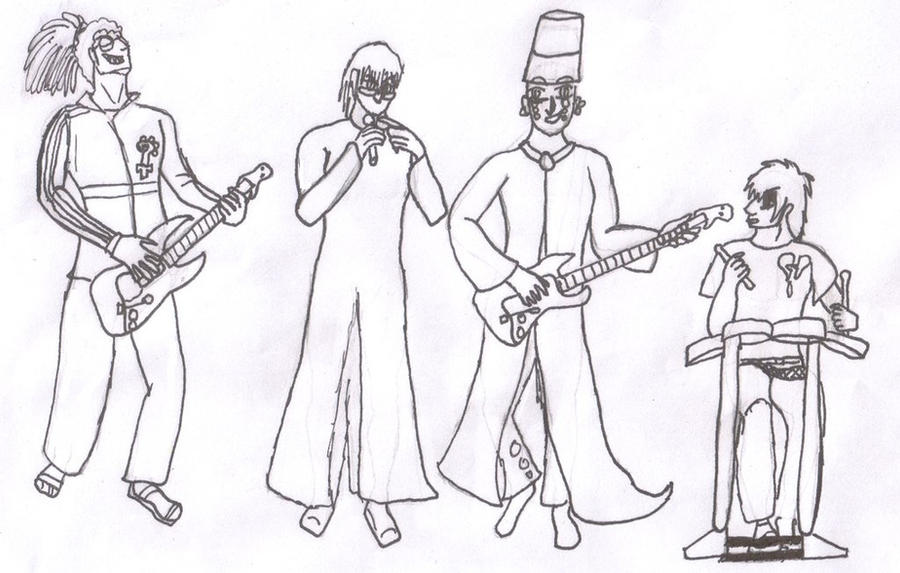 Watch
From the makers of Macahuitl Hero I and II.... GOD BAND!
Okay, I was just being silly, but I wound up taking my silliness to new heights... I think Rae
[link]
and I were on the subject of air guitaring when I thought this insanity up. But I couldn't just mention the mental image for giggles, oh no. I had to DRAW the bastard. And rather than just sketching some shit out, I wanted it to look GOOD. Or... relatively good. For me. Y'know. So, like a day and a half later, I finally get this thing up. The god-cast of Rae's Go Fish (sort of), rockin' it out to Rock Band, which is one of the most fun games ever created period. PERIOD.
On the left is Huitzilopochtli, or rather, Rae's take on that crazy Aztec god that two or three of us know and maybe one of us loves. He's... not actually IN Go Fish. But... he might be. Eventually. He seems to be enjoying himself profusely, and I must say I absolutely LOVE how his pose came out. He's my favorite in this one.
Next to him is Baxter, the main character (go away, Roger) of Go Fish. XD If you're asking me whether he's the antagonist or protagonist, I'm really not sure these days... He's there, anyway, in his mouthless, irritated glory. He seems rather angry about being the lead singer, considering, well... he hasn't really got a mouth.
Next is Dreamweaver, and if you wanna know what the heck he is, go read Go Fish. Either way, there he is, rockin' it out on lead guitar, and probably having the time of his life, considering Rock Band is a game that requires a group of people.
Finally, the angsty (not really, I suppose) got Tlaloc, or rather once again, Rae's take on him. I must say, this take on Tlaloc is absolutely the most hilarious one ever. Period. He's the lead singer of an emo band, for god's sake, how do you even get that out of a god of rain with frog eyes? XD He looks a bit miffed, probably because he's NOT the lead singer in this band... which just doesn't make sense at all. XD
Go Fish and these guys belong to Rae!
The art is mine.

ROckin' out! XD Interesting mix of cultures there I bet!
Reply

Oh yes, XD I know if eet.

Who can sing that high?
Reply

I can!

Not that you'd think it, because I'm really large. o.o But I can sing most soprano parts. And alto parts too, the only thing I have going for me is a huge range. XD
Reply

Dang! That's impressive!
My cousin is big-boned and he can sing really high too XD It cracked me up, for a while he lived with my family, and he would sing stuff like '

retty Woman' in the shower real loud.
Reply

That... would be absolutely hilarious. XD Gaw, I'd love to see... well, hear, I guess... that. That's right up there with Baxter trying to sing soprano.
Reply

That would be an interesting span of pictures, what the characters of GF sing in the shower/bath/waterfall.
Reply