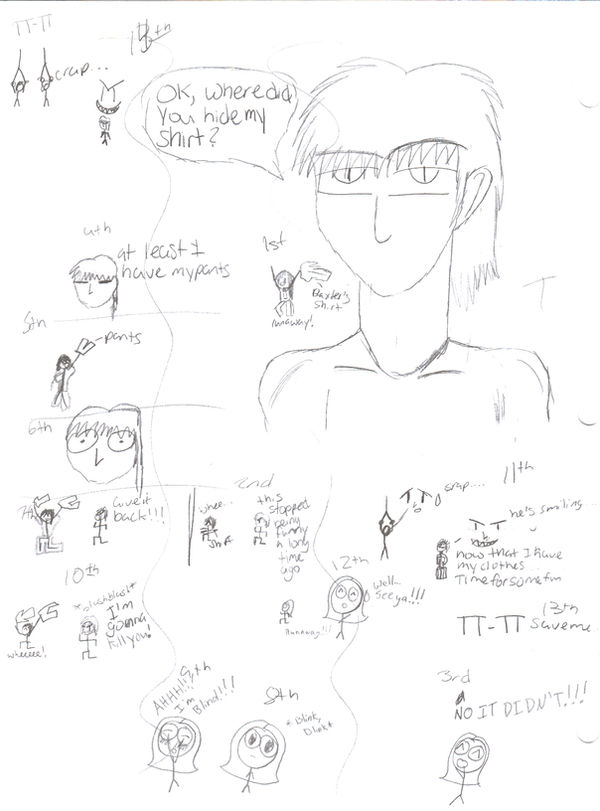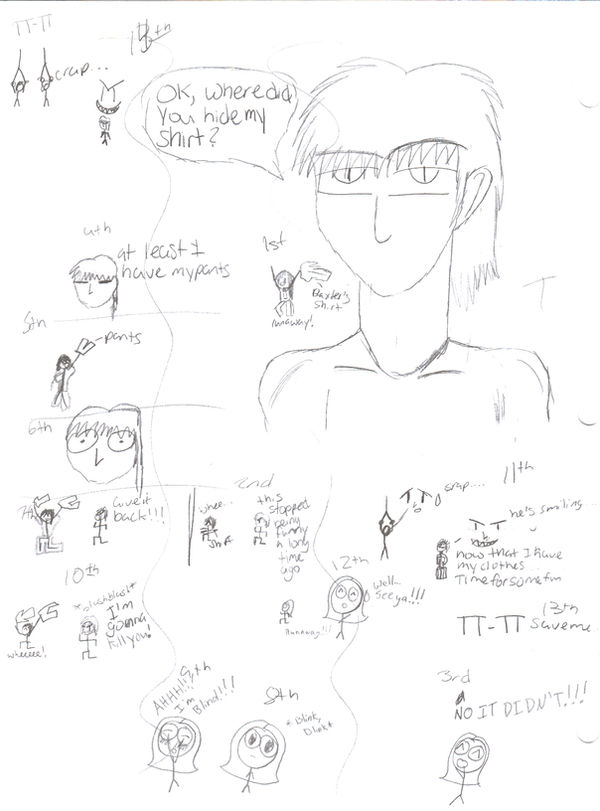 Watch
It's big, I know. My apologies. Still working with a scanner here. This is the fanart that I did with my friend Sherry during Bible class on the back of a worksheet on laziness. It looks pretty bad. The worksheet on laziness is half finished and has sketches everywhere...
This bounces around like crazy. It started with me drawing Baxter's head. Well, his head came out pretty good, so I kept going. Thanks to ~
tea-for-me
, I've been drawing a lot of half naked guys as of late, so he wound up shirtless. I thought to myself, "Gee, self, why would Baxter be shirtless?" Answer? Some idiotic, rabid fan (AKA me) grabbed his shirt and ran off. Well, Sherry found the this whole situation so hilarious, she thought she'd join in. Crap happened. I'm still amazed I didn't get detention for being turned around, drawing upsidedown on Sherry's desk.
If you can't read it, and let's face it, your probably still trying to figure out how it reads, ask me about the one you don't understand, because I'm too LAZY to write it all out. (FYI, the 'pannels' are numbered. Good luck.)

-starts dying of laughter-
Reply

Yeah, that's what Sherry did, too. XD I still love this thing.
Reply

-suffocates, falls over, and continues to die over and over again- I want his underweaaaar!
Reply

I'm gonna quote that and put it in my signature. Sooooo awkward.
Reply

I think what makes this 90% funnier is that you drew this in Bible class.

When I explain my own religion myth, make sure not to bring that into class...
Reply

I have a pretty boring Bible teacher, so I always wind up sketching in his class. What do I sketch? Baxter! Well, actually, other things too, just... mostly Baxter. His hair hates me.
Reply

Reply

Fwa...Ebuh...Howdi?...Guh...

YOU TOOK HIS PANTS!!

Oh you better believe the retribution will be sweet...sweet like Lindt chocolate filling...
Reply

Yes, I stole his pants. Aparently I have awesome clothes stealing powers. He didn't even notice!

I'm pretty sure I die at the end of this.
Reply