Hello! Welcome to my page about Tigereye!
Feel free to comment any questions you have about her!
When was Tigereye first created?
I came up with Tigereye's concept in 2015 when I was back in 6th grade. Her character was definitely based on my own, and as I've grown, Tigereye's character has grown with me.
Why is her name Tigereye?
There are a few reasons. First, I've been obsessed with tigers since I was a child, ever since I was given a small, stuffed tiger. This is the main reason I chose the "Tiger" prefix of her name, and her being the Toyger breed fits perfectly. It was also because tigers are very strong, and I wanted a female character that was as strong (or stronger) than some of the males. The "Eye" suffix was supposed to represent her having sharp eyesight.

It was also chosen because I love the stone, Tiger's Eye, and it even happens to be my sign's birthstone (Gemini)!
What inspired the diamond pattern on her cheeks? Her eye colour?

Oof, I actually don't know. The first time I drew Tigereye, I was trying to have some sort of original design, and I just drew diamonds because... why not? I really like what it looks like now, especially after I've seen commissions with them. It gives it some originality! Her eye colour was based somewhat on my own, except hers is a lot lighter and more ice-like. I know most cats don't have blue eyes, but I love the idea!
Some images and a video about the Toyger for those who are either 1) curious about the breed, or 2) want to learn the anatomy of the breed. However, Tigereye's legs are not as low as the Toygers are being bred to be.
PLEASE NOTE:
Tigereye's official design includes realistic stripes (ex: the second fullbody / the first headshot). The triangles are easier for those less comfortable in drawing the stripes, but I'd prefer you try to have semi-realistic stripes and don't use the triangles unless you have to.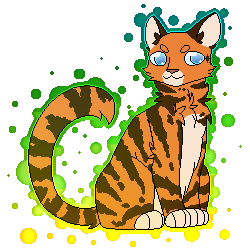 (both normal fullbodies and chibis are included here!)
Age: 34 Moons (Almost 3 Years)
Personality: Reckless, sarcastic and hot-headed, but also has a softer side, where she is trustworthy, loyal, caring and forgiving.
Mental Health: Suffers slightly from depression and anxiety.
Likes: Warmth, her friends, winning battles, quiet places, Newleaf (spring), the forest, and nighttime.
Dislikes: Being wrong, hot/freezing places, loud noises, hypocrites, crowded areas, disloyal cats.
Pelt Colour: (Golden) Orange with white/tan belly, paws, and muzzle.
Markings: Normal black stripes along the body, legs, and tail.
Other appearance traits: Has three odd diamond-shaped markings symmetrical on both sides of her face.
▬▬▬▬▬▬▬▬▬▬▬▬▬▬▬▬▬▬▬▬▬▬▬▬

Kits: Dapplesplash (F), Badgerstrike (M), Blazefall (F)
Apprentice:

Bramblepaw (Later; Brambleheart)
Friends: Goldenheart, Darkclaw, Greeneye, Jaggedclaw, Snaketooth
▬▬▬▬▬▬▬▬▬▬▬▬▬▬▬▬▬▬▬▬▬▬▬▬

Best skill(s):

Close combat, debating, swimming.
Other skill(s):

Climbing, leading.
Weaknesses:

Tigereye has a couple weaknesses. First, as listed in her personality, she can be very hotheaded at times, especially if you make her angry. However, this is not just dangerous to herself, but also to whoever angered her in the first place. Secondly, she will do anything to defend her friends and is not opposed to putting herself in danger for them, which is where her recklessness comes into play. Lastly, befriending her and earning her trust-- although not easy-- allows you to find her biggest weakness. Who expects their friends to be the ones to betray them?
Leadership (out of ten): 7/10 - Among friends, she was the one to jump to leading. Although not the one with the most patience, she was quite curious and protected anyone she was with.
Agility (out of ten): 6/10 - Great at battling in small spaces like most ForestClan cats.
Stamina (out of ten): 4/10 - Better in short bursts, but has seemingly infinite energy when she's fighting due to adrenalin.
Speed (out of ten): 8/10 - Actually quite fast, although she will get tired quickly.
Stealth (out of ten): 9/10 - Quite like a typical ShadowClan cat in the main series, she loves the night and is very good at sneaking around.
Strength (out of ten): 9/10 - Can also get very dangerous if she believes she is in the right. This attitude is both her strength and her weakness.
Defence (out of ten): 5/10 - Tigereye is quite reckless in fights, more into attacking than defending.
Fighting style:

Close combat in the forests or by rivers. The ability to swim is used to aid fighting more than feeding.



These are some songs that I feel either fit Tigereye's overall character or a specific moment in her life. More information will be added as I flesh out her story more!