Since this image show some blood, I put it on mature content. Just in case. Never know these days what DA do


---
Gannicus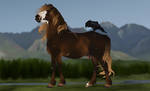 Health:
75%

Stamina:
4
Speed:
4
Strenght:
10
Stealth:
2
Companions:
Raven - Oenomaus
---
www.deviantart.com/comments/1/…
[Side Quest]
Just when Gannicus thinks he's finished with the dogs, he hears them turn back and chase something else. Looking back to see what they went after, the stallion notices a mare attempting to flee from the pack! A few bite at her legs, she squeals in pain and desperately attempts to kick them away. But if it keeps up, she could be in a lot more trouble than she clearly already is.
Mare Encounter:
Color: Wild Bay Somatic
Geno: Ee/A+A+
A) Save the mare.

B)
Watch her.
C)
Keep going, she isn't worth it.
STORY
Even though he was badly injured, Gannicus couldn't just stand there and watch the mare struggle. He felt her fear in her squeals.
"I guess we are not done yet".
He looked up with a grin to his flying friend.
His hooves stomped hard on the cold ground, slowly started to pace up to a gallop.
Oenomaus flew right behind Gannicus, trying to stop him.
"Sir! Stop! You are hurt and tired. You need to back down!"
Gannicus snorted loudly back at him.
"Don't mind me Oenomaus! You focus on leading the mare away from the beasts!"
His friend nodded. He knew there was no point in arguing. "Nothing I haven't faced before". The bold stallion mumbled to himself.
Yet again Gannicus was heading towards danger. But the difference this time was that he didn't do it for the sake of just doing it. No, there was someone far more worth living that needed to be saved.
---
55 Diamonds total
Full Body +20
Coloured +5
Detailed Background +15
Side Quest +5
Drawn Companion +10

---

Perhaps Gannicus gets his first herd member!? I'll keep my fingers crossed. And hoepfully he won't get killed. His health is nooooot good .___.
----------------
Art and Characters KittycatNita
Refs used horses (sketchy traced):
Arabian ears back angry by Chunga-Stock
Refs used dogs + raven (sketchy traced):
Bird 312 - flying crow by Momotte2stocks
Dog Play Stock 01 by Jaded-Night-Stock
dog 24: sprint by cyborgsuzystock


I take no credit for the texture brushed used.
Image details
Image size
2944x1742px 5.02 MB