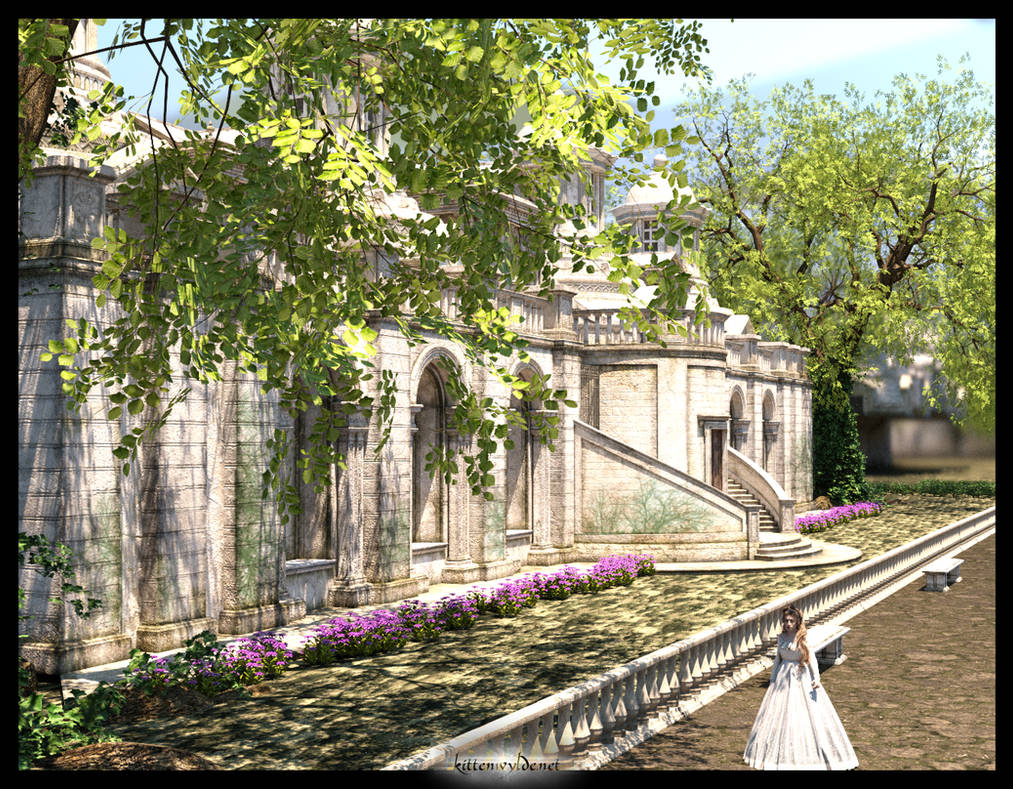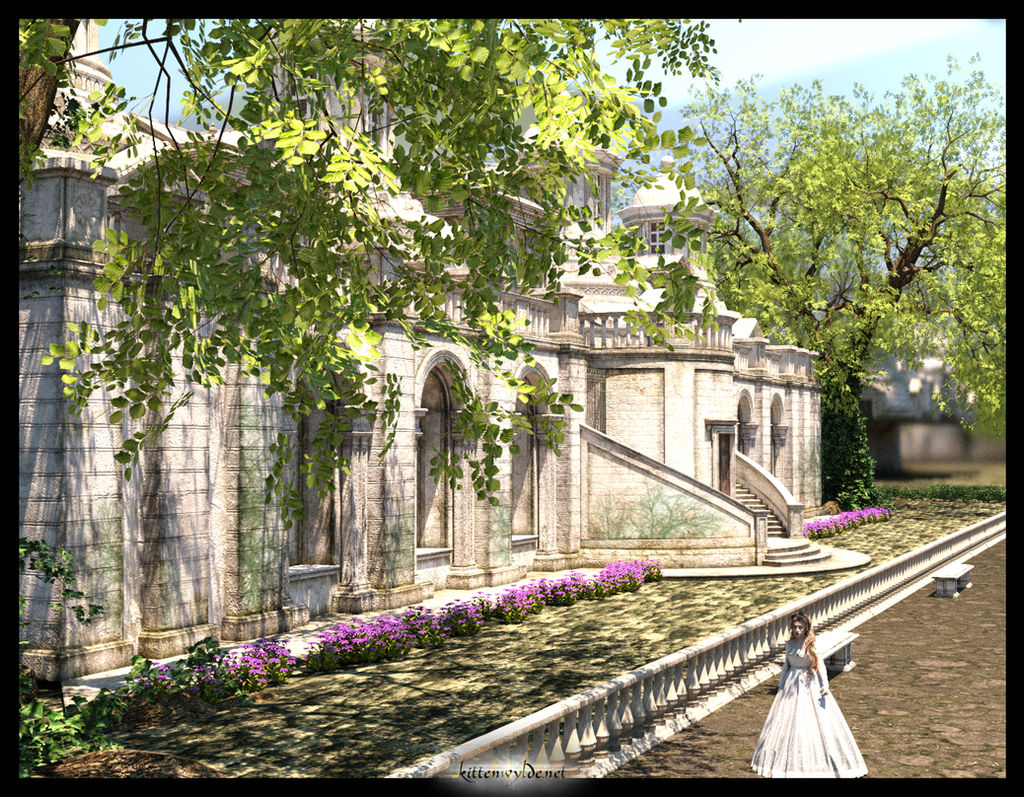 Watch
This bit of randomness started out as something else entirely. I saw a damn cool picture of a row of stupas and thought I'd try to recreate it, or something close to it. But somehow, during the process, it switched from a row of tombs into some kind of palace or elaborate manor house. With a girl. Had to be a girl.
And anyone remember the
Kaleidoscope
? Bit of a weird, quirky product, came out right before Iray? Well, it works in Iray, with an appropriate mirror shader. It's still just as quirky as ever, too.
And just 'cause it's cool, here's the pic I saw:
What's in there:
Ceridwen for G3F
Cosmic Belle
Dragonfly Hair
Traveler's Naturals - Jungle Flowers Vol 2
Poseable Trees With Ivy
MD Shaders 2018 Set 1
Nature Shaders
Um. I don't remember the rest. I just picked through my "graveyard" category and threw stuff together that looks good.
Daz Studio 4.10, Iray, Photoshop CC

This is a lovely scene. The garden looks beautiful.

Reply

You need to do RRRR. Why do you not do RRRR? Seeing all this amazing, miscellaneous stuff thrown together in one perfectly-composed render made me instantly think, "This would be an excellent RRRR entry!" You have just the right kind of vast, quirky, irrepressible imagination required for it.

In any event, I love all the details you put in this! It's so pretty!!

Reply

You really want to know why I don't do RRRR? Two reasons. One, I'm rarely in the Daz forums anymore, but may change that soon. And two, have never figured out how to randomize my mountains of content.
Reply

I am selective with my Daz forum posting/lurking. I generally only turn up to ask about mysterious things like... Smart Content (which I'm apparently too dumb to understand, lol), or I point out mistakes in the sales. Otherwise, it's just RRRR mainly!
You can actually use your DAZ Account Product Library and Random.org to choose content -- no compiling needed. First, generate random numbers in pairs. The first number should be between 1 and the last page of your Product Library. Since there are 40 items on each page of your Product Library, the second number should be between 1 and 40. Ergo, if you drew 64 and then 33, you'd go to the 64th page in your Product Library list and pick the 33rd item on your list. Do that 4 times and you're rolling. Many people only use Daz content on RRRR. I'm one of the few weirdos who keeps track of EVERYTHING.

As a result, I have made an Excel macro-enabled spreadsheet that I am always happy to share. Getting DAZ content into it is easy. Log into the DIM (even if you don't use it for installing, you should download it and log in just to get the list of stuff you own). Once you're logged in, check the box at the top of the "Installed" (or "ready to download" if you don't use DIM) tab and select ALL the items. Then right-click and export as a csv. You only need the name of the item. You can then open my Excel sheet and the csv file, copy/paste all the content into the spreadsheet, and voila. There's a giant "click here to draw items" button that randomly pulls 4 things from the list.
I've been keeping a list from Rendo, too, but that's a bigger pain in the bootie. You can go into your account and brows all your purchased products, then change the page so that it lists as many as possible. Doing this lets you copy/paste page after page into a spreadsheet. It takes a lot of time and requires a lot of cleanup at the end, but it's doable.
This round just ended, but I shall bug you when the next one starts!!!

Reply

I can't understand Smart Content, either. Thought I was the only one. But then, probably no one else would understand my own content organization, so that works for me.
Thanks for the info on how to do the random thing, your ways sound easier than what I've run across before. So I saved the instructions, even though I have a genuine terror of spreadsheets. The first method should do just fine.

I'll give it a try next time, if I have my new computer. Because this poor thing's all but given up on Studio.
Reply

I, too, have an elaborate content filing system! Alas, if I move DIM-installed content, it gets confused on updating. Thankfully, DAZ does a good job of putting things in places that (mostly) make sense. My non-Daz content gets regularly organized, however!
And I'll bug you when the next RRRR starts!

Reply

I keep trying to simplify my content... but it winds up sprawling all over the place, in a zillion different categories, with me wondering "didn't I have a such-and-such at some point?"
Reply

Of course there's a girl in a white dress, it's required by law in places like that (where the servants come with the place).

Kaleidescope! I think that's one of those plugin-scripty things that I bought and never used.
Reply

Kaleidoscope's a collection of shapes with mirror surfaces. Remarkably unpopular, 'cause it's a beast to get the sky and angles to behave.

Reply

Absolutely gorgeous scene, love the environment, the character and all the details. The natural light and shadows are beautiful
Reply

It's a very nice image. I'm a bit confused, though; what did you use Kaleidoscope to do?
Reply

Not much, in this one. Mostly it gave me a kind of oddball sky, and a weird DoF effect. At the far end of the building, there's what looks like another blurry building and some shadows--that's the mirror. It would be far more obvious with a different angle and a smaller building in the foreground.
Reply