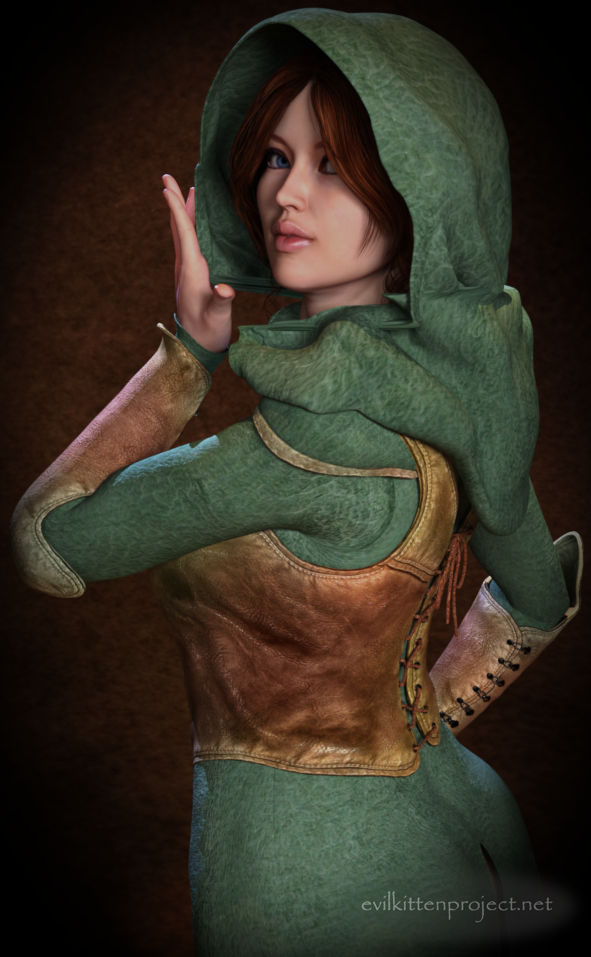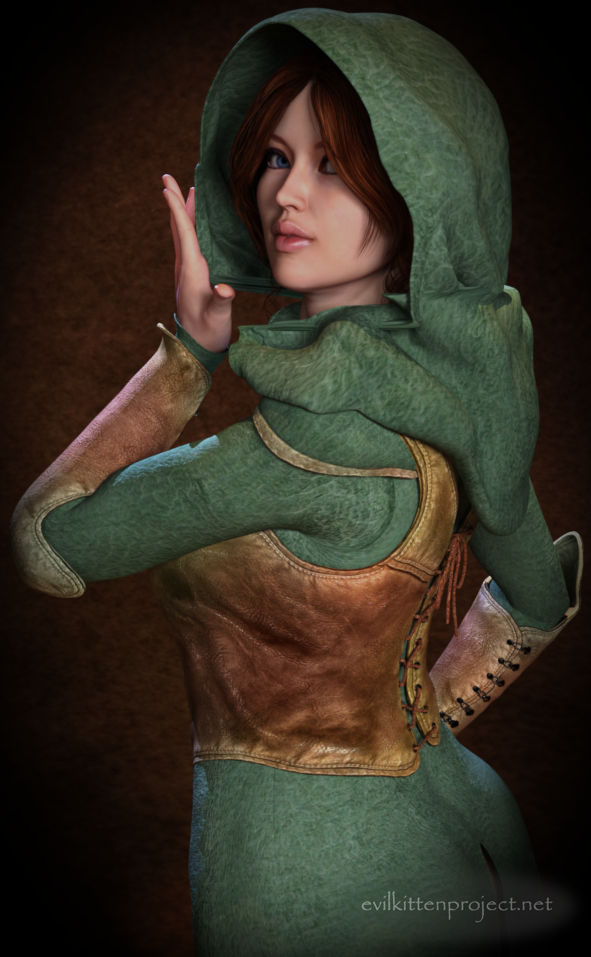 Watch
Again, just playing around. I wound up really liking this outfit based on two things: one, it covers all her parts; and two, it's divided, so riding a horse becomes quite practical.

What you see:
randomized Lilith
Elven
Render Studio Iray

Daz Studio 4.9, Iray, Photoshop CS4

Nice, a sweet and mysterious look about her.
Reply

Very pretty!

Reply

I love your render. But the outfit (and props...) embody a lot of things that I dislike about fantasy-themed sets... if anything, that static bowstring alone. Where were the QA folks looking?
Reply

Clearly not at the bow... you notice it's not here. I tend to dismiss most of the 3D bows right away, they're pretty crappy.
What's wrong with the outfit? As I mentioned, it's a winner for me. Boobs covered, tail of coat split so it'll work on a horse, what more could you want?

Reply

Not in your picture, but it's in the main promo, where she's even supposed to be "drawing the string" *headdesk*
I'm indeed the sort who would want more

Random nitpicks: the bodice is laced at the back, so you likely need help to put it on. The belt that holds the quiver is floating in the air (and the way the quiver is attached to it is kinda impractical). The boots have those impractically fussy buckles or whatever those million little glittery things are. And the cloak itself is textured in a last-minute sort of way: if you look hard, you notice there are supposed to be seams on sleeves and some trim all around, but in most renders those details are invisible because the texture looks to be just a flood fill.
I also dislike it that the promos don't show pants without the cloak/boots.
And overall, it's a terribly boring design. This particular product has lovely detailing in many places, but on the whole it is still very... generic. Oh yeah, "elven" suuurely must only mean cloaks and tall boots and earthy colours and frilly arrows and everything else we've seen in LotR and before that in WarCraft II (1995). The fantasy genre seems to be really lacking in actual fantasy these days.
Reply

Thanks for clarifying. I love hearing what other people like/don't like, especially when it's opposite my own tastes. The "terribly boring" part, especially, is what I really like!

You see boring, I see practical. And the texture, I agree, looks like crap. But I have a gazillion shaders for three different render engines to fix that with.

Even though this time I was lazy and went with the originals.
Reply

I'm not sure about that much practicality actually

Specifically the "bodice over cloak" part (and the back lacing on the bodice that I mentioned). Adjusting thermal regulation gotta be hell with that particular sort of layering. If the bodice were worn under the cloak, then it would make more sense.
It's probably trying to be a stylistic hybrid of historical European feminine sort of layering, where a laced bodice was often worn over dress-shaped undergarments, and that fantasy trope of "leather armour" (which, to my knowledge, wasn't much of a thing in real history, but I may be mistaken supposing any recent research popped up without me noticing). So it kinda sits on the fence and just looks pretty...
And then there's the question of just the cloak. For "civilized"/"urbanised" scenarios, or any other sort of open spaces where you'd do a lot of horse riding, sure, it is practical. But not for crawling around in dense forests or swinging from one tree branch to another... "High Elf" vs "Wood Elf", y'know, if we use the stereotypes: this is a cloak for a High Elf. Like most other "Elven"-themed stuff around.
I reeeeeally want to balance this sort of negativity with a great counterexample of a superbly interesting, sensible and creative clothing design, but I honestly cannot recall ever seeing one in "genre" artwork. But I have seen actual runway designs that are just begging to be introduced into SF/F.
Phew, that was a load, right? Sorry

You just caught me riding one of my "hobby horses"

I don't care for fashion as a social phenomenon, but fashion - clothing design - as an art form that is engineering at the same time - it's a passion

Back to this particular outfit... does the cloak have a displacement map or something to accentuate the seams and trim? Those things are sadly UV-dependent. Shader will only help if these parts have their own mat zones - but I don't even hope for that... or am I losing hope too early?
Reply

That bodice/vest thingie: I know how to work back-lacing things, because I have a couple. The trick is to lace it so the tie is at the bottom... which this one isn't, granted. If it ties correctly, there's no difficulty in getting in or out of a thing that laces in the back all alone. The problem comes if you're driving a vehicle, in which case the knot causes a bruise in your back. Ouch!
I think I see the fundamental difference in our opinions now. You're seeing the "Elven" title, and getting sorely disappointed by blah-ness. I'm seeing something one of my Anarillian Rangers might wear. They tend to dress rather plainly. If it were one of my characters, that corset-thingie would be reinforced with steel strips or rings under the leather. So would the boots, and the bracers.
No apologies for going on about something you're passionate about, it's interesting to see an informed opinion. Especially since my knowledge of fashion is limited to fabrics and construction. (I like to sew, when I have the space for it.)
No displacement map, no separate material zones. But the mesh is very smooth and regular, and it would be very easy to define a new mat zone around waist, edges, seams, and one very nicely defined stripe on the upper portion of the sleeves. It kind of looks like the person that made it intended to put in detailing, then either blew it off, got lazy, or just plain forgot in the rush to get the thing done before the big sale. And if it helps any, the thing you're calling a cloak is officially labeled as a tunic.
And I've had this damned outfit in my head all day now, wanting to get put into different images so you could see how one of my Rangers would wear it...

Reply

Yeah, the "Elven" part is a major trigger. But not only that. Most likely the impression the design gives of being second generation derivative, so to speak: it doesn't seem to be truly inspired by any real world ones, but by other "fantasy" artwork. It's something that ticks me off big time.
I'm sure that with the right texture work, this particular mesh can be made into a nice design (which it would be definitely interesting to see in the context of Anarill), but as-is, it's kinda... unfinished in all its blah-ness. You're probably right that the author rushed a lot of it. I take your word for the effects of the tie position

, and yet if we suppose it's an armoured bodice, that gap on the back is rather unfortunate. Most cuirass-type stuff seems to cover the chest and the back square, having weak spots along the sides, where arms kinda provide a bit of protection for those spots. So again, not a very well-thought-out choice, that bodice.
If you're serious about using it all for something serious

, you may want to think about the "tunic" seams (if it's supposed to be leather) in terms of animal hide (especially strong and supple enough) not coming in infinitely large strips

so more seams may need to be added than if we were making it out of fabric. And for reinforced bits, you may want to take a look at the first page of this thread -
myarmoury.com/talk/viewtopic.p…
- there are a handful of non-dead links that show a brigandine. The point is, unless you specifically add an extra layer of covering (which will make the stuff less "plain"), the outer part will show that metal bits were attached to its inside. So you'd need to add some detailing to the bump map.
I'm probably overcomplicating things, but it's just how my mind works

Everyone (but the end-user) should be happy I'm not working for any QA.
Reply

Serious? Me, do something serious?

Not in 3D... I've gotten used to the notion of things being approximately what I want. If it's close, that's fine by me.

And that discussion of armor looks fascinating already... whenever I get to a renfaire (sadly, not very often at all), I always pester the armorer shamelessly with dumb questions.
Reply
(1 Reply)

Looks good! That really is a nice outfit. If one day I'll upgrade and start using G3, I'll have to grab it

Reply

Thanks! And there's no need to use G3, valzheimer made those super-awesome clones so G2s can wear all the new stuff.

Reply