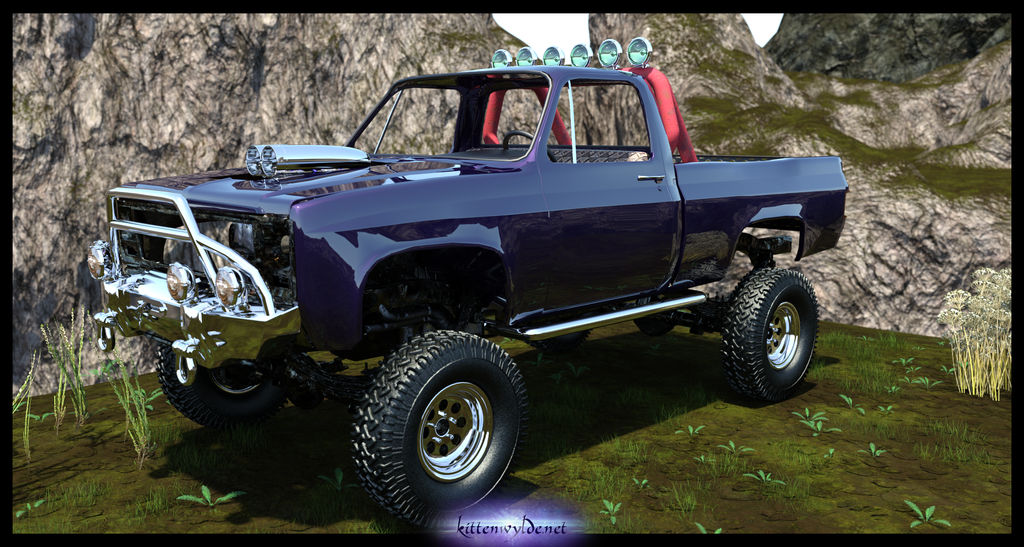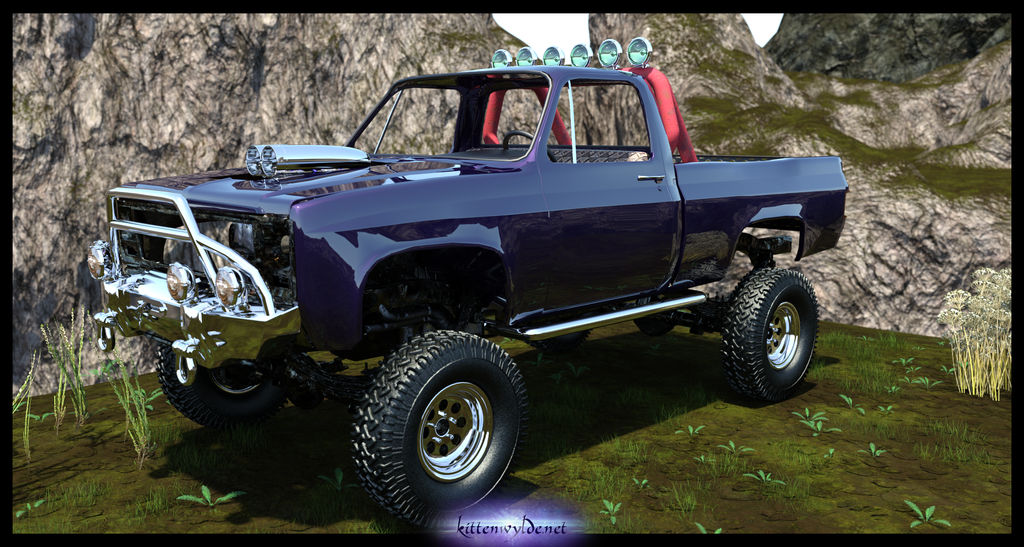 Watch
See my beautiful new truck?

I wish! But even though it's not real, I love it anyway.
What's there:
Wasteland Vehicle Construction Set (plus add-ons)
TerraDome3
assorted plants, shaders, who knows what the sky ended up as 'cause I don't remember
Daz Studio 4.10, Iray, Photoshop CC (border only. see? I can do a render without postwork, I really can!)

This truck is parked in every third driveway in my neighborhood.
Reply


You must live with all the cool people! There's only one around here. (And it ain't mine, unfortunately.)
Reply

Edmonton is 50% sport utility vehicles and 4x4's. The rest are an eclectic mix of minivans and a few other cars.
Reply

I live in the Land of the SUV... and the Prius. AKA "Colorado." There are loads of cool off-road vehicles, though, but I live in the almost-cheap section of Broomfield and most of us can't afford the awesome toys.
Reply

People here go into debt for these things. I mean, this is not exactly rugged country, it's all urban safari types. What's hilarious, is the SUV's are always the ones that wind up in the ditch (and upside down!) on highway 2 to Calgary during blizzards. It's the little econo-cars that do well on that stretch.
Reply

That is kind of funny, must be the drivers. Because out here, the little guys slide around like they're ice-skating and my SUV (the boring kind, not the offroad kind) just chugs on by.
Reply

Well, we have notoriously bad drivers, especially in the SUV crowd because they always get overconfident and sloppy. It's funny because you'd think a province that gets 7 months of winter a year would produce drivers that expect it, but nope. November 1st is the beginning of crash season here. It takes them a better part of a month to wrap their heads around the fact it's winter.
Reply

Digging the reflections! My GPU threw up in its mouth a little when it contemplated all those raytrace bounces...
Reply

omg that is seriously sexy as hell. Being a guy I want skulls on the doors and a small no large machinegun mounted in the bed.
Reply

Ain't it purty?

And one of the future builds will have a large weapon in the back, although probably no skulls. Not sure yet if it'll be a normal machine gun or a sci-fi type thing, but it'll be aimed at attacking aliens. I love the Wasteland vehicles!
Reply

Damn... I thought for a minute you had really gotten a "new" vehicle. Not that I'm complaining about the looks of it, mind you; I happen to have a very similar looking one parked in my driveway in real life.
Reply

Ohhhh!!! JEALOUS!!! I hope you take it out often and get it filthy as hell.
Reply

WOW amazing realism. love the reflections
Reply