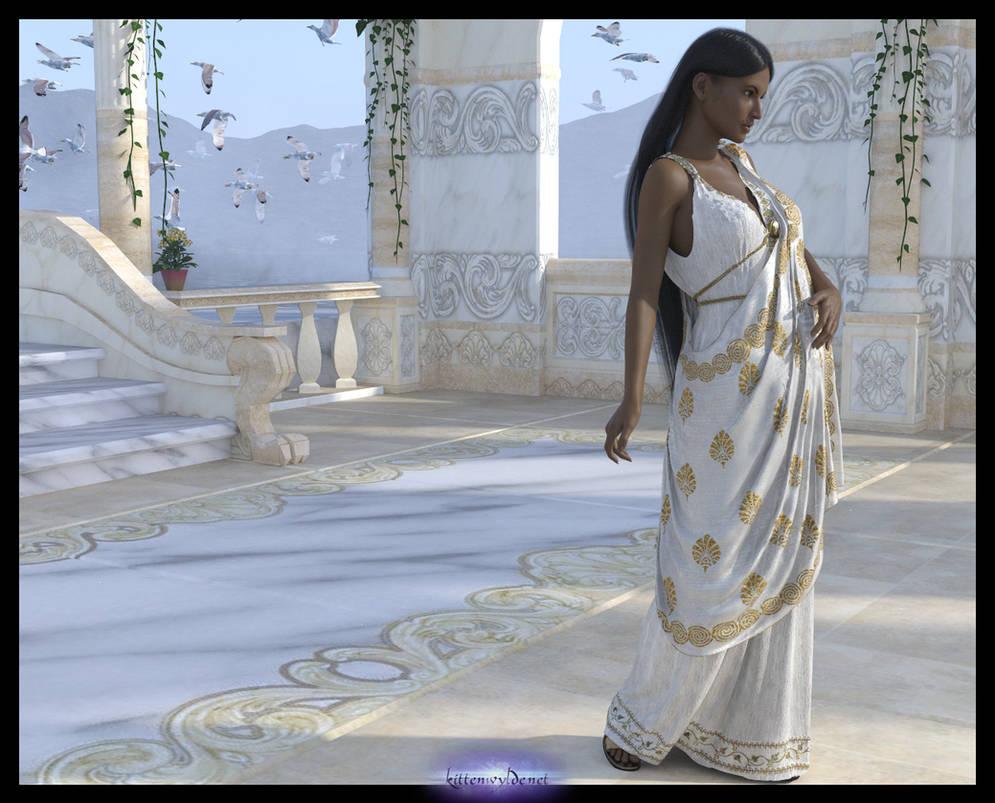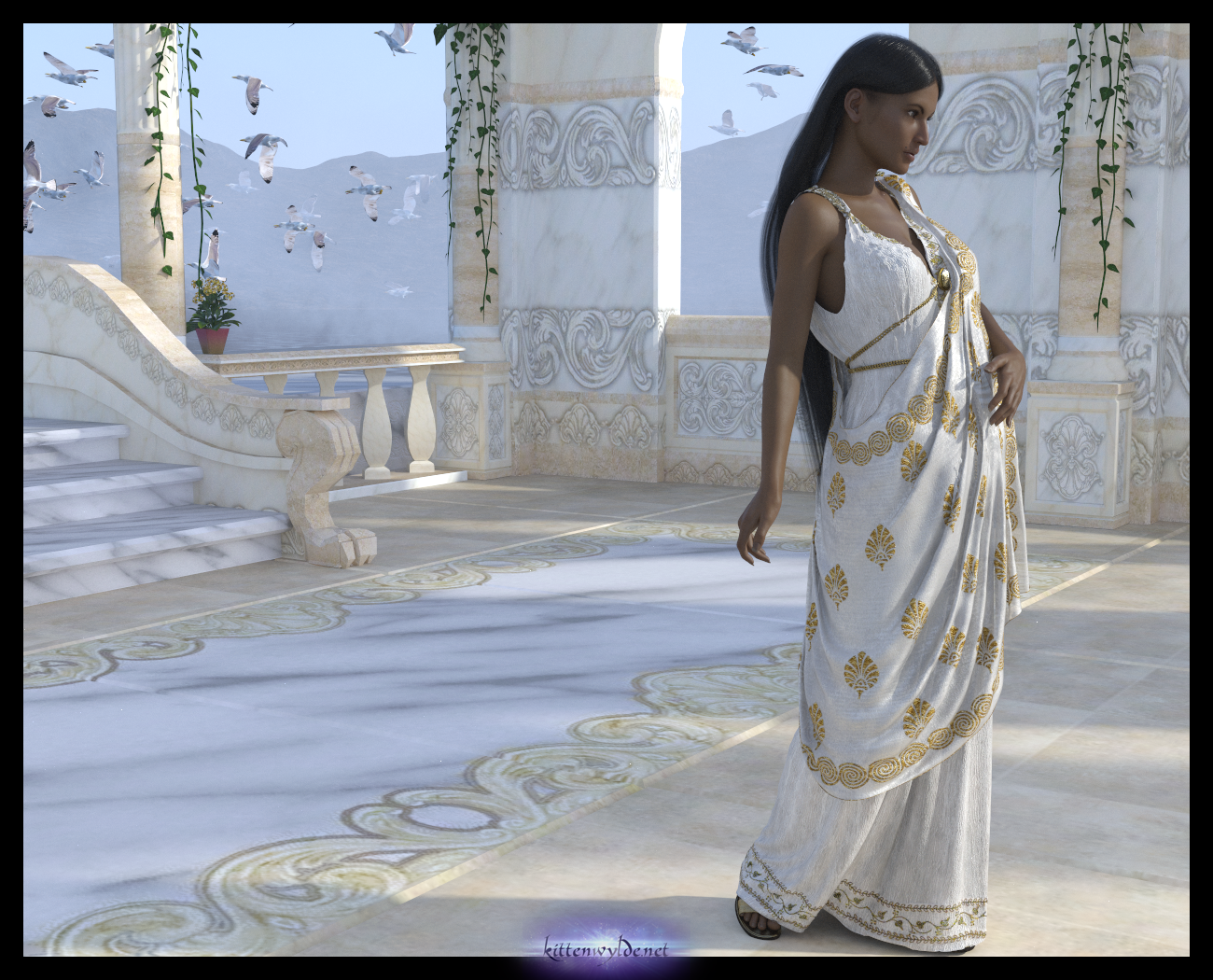 Watch
This started as an attempt to get dForce to play nicely. It worked okay on the dress, but the hair... ugh! Even using the "dForce Master - Hair Simulation Presets," well, it looked exceptionally shitty. *sigh* But at least I got one thing to work close to right! (Just don't look at her left thigh. For whatever reason, the dress chose to sink right into it.)
No postwork on this one, other than adding a frame.

What you see:
FW Sushmita HD
Hellenic for G3F
Super Sleeky Hair
Villa Venus: ENTRANCE
The Flock
SY Fast Fog Iray
IG Iray Dawn to Dusk 2
some other stuff here and there

Daz Studio 4.10, Iray, Photoshop CC (frame only!)

Great image! Beautiful character and setting.
Reply

Thank you! I want to be there.

Reply

Did you take a look at weight paining? I think that would be the way to go for that hair - but I am not sure how rigged hair/clothes reacts to d-force.

I have been curious about the d-force hair settings product but have seen mixed reviews.
Reply

I haven't tried weight mapping yet. It kind of scares me.

I'll try it someday, because I want to make the hair work, but... not yet. I'm going to get a new computer soon, will be able to do real experiments with dForce without crashing every ten minutes. Hopefully I'll get better results out of the hair product then.
Reply

Ah nice - new hardware is always fun!

Another thing to try is working with D-formers inside of Daz Studio. I tend to fall back to those when I can't get d-force to work the way I want.
Reply

I have rough luck with d-formers. When I can make them behave, they're awesome. But sometimes I get a case of terminal stupidity and can't make them work to save my life. My problem is lack of practice. That will also go away when the new hardware arrives.

Assuming, that is, all parts work on arrival, and I don't f-up something ferociously expensive out of nervousness.
Reply

Are you building a new system yourself or getting one prebuilt?
Reply

I do it myself, cheaper that way.

Reply
(2 Replies)

It's funny, because I saw this and thought, "Wow -- I love the hair." Then I read your comments, lol!! I've yet to get dForce to consistently "play nice" with hair, so I think you did great!!
Reply

Er...

That's the normal hair, with all dForce modifiers removed... The part I got to work right was the skirt.
Reply

Thos a truly a lovely scene. I think you did a wonderful job with the hair. You may see a flaw, but other people will see your complete vision- and it is serene and beautiful.

Reply

Dforce can be a real pain at the best of times. It really has a

NO TOUCHING!

rule or it explodes.

Reply

Yes, I have seen this in action. Not pretty results!
Reply

when it does work, it generally does a decent job, but getting to cooperate is like herding cats.
Reply

Which of course the Myth Busters proved is impossible.

Reply

Nice! Beautiful color scheme, nicely unified. Nice asymmetrical composition and framing of the head and shoulders within the architecture. Like a portrait within the picture for the eye to rest on. Good job.

Reply

Stunningly gorgeous, love the character and the patterns in the environment and her clothing. Everything looks so pure. The birds are a great detail
Reply

A very nice image!
Someone in the forum was noting that to get dForced hair to look better, what they wound up doing was putting a geoshell around it and then after the sim, adding the hair textures to the geoshell. Otherwise it tends to look really thin, apparently. (Haven't tried to dForce hair, myself.)

Reply

A geoshell?
Never would've thought of it. I'll give it a go. And yeah, really thin, with a tendency to fall through the head even when the skullcap is set to static. Very annoying.
Reply

What they were also saying was that you need to weightmap where the hair connects to the skullcap so that there's no influence at the roots. Works best with hair that has a clear part, apparently. Then, depending on position and what's falling away and how, once the sim is completed, paint your weightmaps on the parts that have fallen out, and THEN clear the sim, but not until after you do the weight map.

If the skullcap is what's falling through the head, try setting dynamic strength on that to zero, if that's an option.
Reply

Weightmaps scare me. But I've got a lot of days off left, so I'd better just suck it up and learn how to do this. Thanks!
Reply