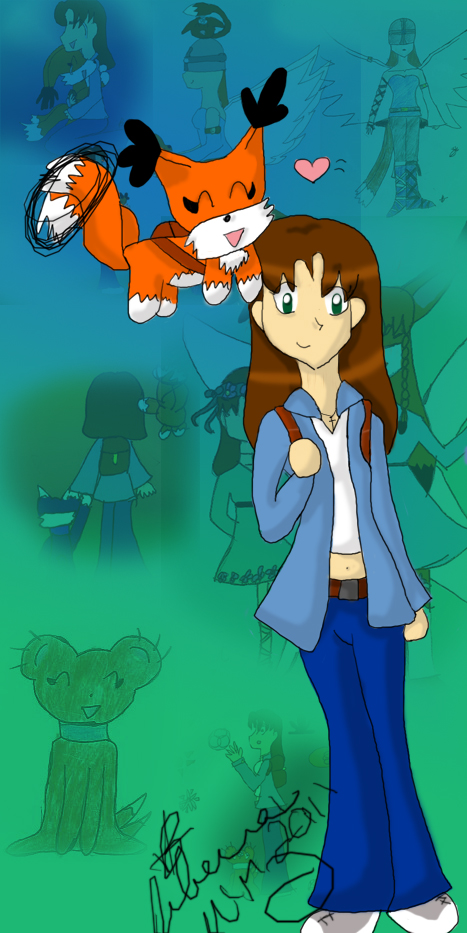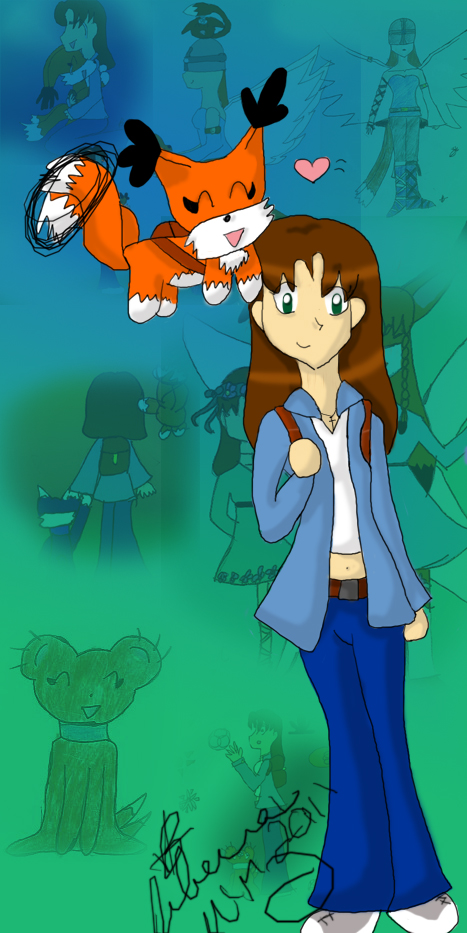 Watch
Wow, talk about a really long - and still not really out of it - art block. Here's my submission for the 10 year FDD collage. I sketched this MONTHS ago when it was announced, but every time I tried to ink and color it (as well as the multiple other sketched I did), they just didn't come out right.

However, I really badly wanted to submit something for it since I so admired the Digimon FDD back in the day. I'm not super happy with it, but with the deadline so close, I'll just have to deal with it. >.<

Ah, Foxinmon and Becca. Digimon forever! I decided the make the background a collage of Becca and Foxinmon. I hope that still counts for the all new art >.< If not, I'll just remove the background.

...I totally didn't keep up with how long this took me >.< Bad me. Sketched in pencil, scanned, ink, and colored in Photoshop

Wah! I love it! I think you did great with the colors, and the background is awesome showing different times with Foxinmon and Becca.

The way you colored them both really made it pop.


Reply

Thank you

It's the first thing I've colored in like FOREVER so I was afraid it looked a little unpolished. *hugs* Thanks so much!
Reply

This really did come out nice. I'm just sorry I won't be able to use it for the collage >_<*
I sent a note mentioning why of course, I hope you received it.
As for anyone who views this, please refresh yourselves on the submission rules if you wish to participate:
*
The image must contain characters from Digimon FDD!
* No recycled fan art, All art work must be fresh and entirely original. (in other words, please don't resubmit a fan art you made for DFDD years ago.) in order to maintain the commemorative theme, I prefer all art be new and made specifically for this occasion.
*Edited images are okay, as long as they are made with official images (images from the Digimon TV show like bio pics, screen shots, CD cover art etc.) You also have my permission to use images from the DFDD fanfic if needed (As long as you don't color over or deface the artwork in any way, and be sure to credit the artist somewhere on the image.... if your not sure who drew the picture, ask me and I'll tell you.)
*Of course absolutely no hentai!
Reply