Despite the fact that I hadn't been around here in a VERY long time, i've randomly decided to saddle back and start posting again X)
nammuch in the way of anything truly interesting, but i'm amusing myself, and that's really what counts.

Anywho, tryin out this snazzy journal jazz. uninteresting subject matter within.
Humorously Annoyed
Recently gotten into a couple new fandoms, including Fullmetal Alchemist and Supernatural. Still kinda stalled on the original stuff, but at this point, I'll take whatever inspiration I can get to keep drawing.
What makes me truly happy tho, is that I'm actually finishing things, including comics (omgYAY!)
Otherwise, not much going on. Surviving, and just letting everyone know I'm still alive X) NAOUNOGAIZ.


:thumb86573306: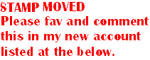 :thumb79888676::thumb66156571: