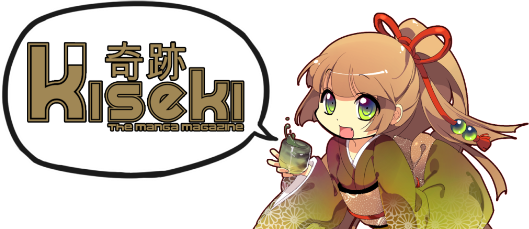 KISEKI ONESHOT COMPETITION




Do you want to be published in Australia's one and only Manga Magazine? Would you like to see your work in Print?
Kiseki Manga Magazine
is currently sold nationwide, including at Borders Bookstore Australia and over 40 stores.
Send us your Original Oneshot. Winners will be published and promoted in KISEKI Manga Magazine. Runner ups and notable contestants will be Featured and promoted by Kiseki Manga at
www.kisekimanga.com
, and featured in an upcoming issue of Kiseki Manga Magazine.
The page limit for the oneshot is between 15-20 pages. We are looking for
SIMPLE
and
WELL TOLD
stories contained in one chapter. To make a good oneshot within 20 pages, you will need to involve the three attributes in all successful Manga: exceptional
Storytelling, Panelling, and Creativity.
PLEASE READ THE RULES CAREFULLY


INFORMATION



Submission Deadline:

31st of March 2011 (The Competition will officially end on Midnight South Australian Time, Australia. GMT +9:30)

Eligibility:

Open to Australian and NZ residents only.
1. We are mainly looking for Japanese-styled manga. Digital submissions preferred.
2. Provide contact information along with your submission:
(Name, Age, Contact number, E-mail Address, City/State, etc.)
This information is for Kiseki Manga only, your details will be kept confidential.
3. Selected Artists will have their work published in Kiseki Manga Magazine.
You will retain all rights, and intellectual property to your submitted work and a) grant the rights to Kiseki to reproduce the copyrighted material in copies, (b) the right to distribute these copies of the copyrighted Material to the public, (c) the right to display the copyrighted work publicly and (d) the right to market it and use it for advertising materials
(A Submissions for One Shot Agreement will be made available)
4. All manga must be original and not fan art or copied from other people's work.
5. All manga must not have been licensed or published in any form.
6. No explicit or sexual content will be accepted.
7. With the font, we recommend you use Wild Words or Animeace.
8. All manga must be right to left.
9. The magazine will be
180mm x 255mm and a 3mm
Bleed around.
10. One color page is allowed to be used and has to be the introduction page in the manga.
11. Keep in mind if you are published, that even pages (pages on the right of the magazine) need to have at least an
EXTRA 12mm bleed on the left
and odd pages (pages on the left of the magazine)need to have at least an
EXTRA 12mm bleed on the right.
12.
With double page spreads
, the same bleed rules apply.
YOU must make sure
that the double page spread needs to be
adjacent pages
and therefore, begin as an even page(right of the magazine)
13. The manga should be at 600dpi but it is acceptable to send the manga at a low-res initially. The 600 dpi versions will be asked if you are published.
14.
If you have chosen Toning. it is important to know that the process you have chosen affects
how much work you may have to redo if your submission is published. Manga studio is the primary choice, Photoshop is acceptable but this will have to be print tested. You can always print test yourself to check if your tones are working properly.
15. All submitted Mangas following the approved guidelines will be receive promotion via the Kiseki main website
(www.kisekimanga.com)
.


METHOD OF SENDING


Do not send us your original art as we are not responsible for the safe return of your artwork. Make sure you keep your originals and send us your digital images on CD/DVD.
We accept electronic or paper submissions.
You can mail this to:
Kiseki
PO BOX 1212, Kensington Gardens 5068
South Australia, Australia

OR email to kisekimanga@gmail.com. *UPDATED* ==> It is 180 x 255mm PORTRAIT and please re read the bleeds instructions. Thanks

Since there has been some confusion and typos on our part, here is the jpeg for the dimensions. We hope it makes it all clear!