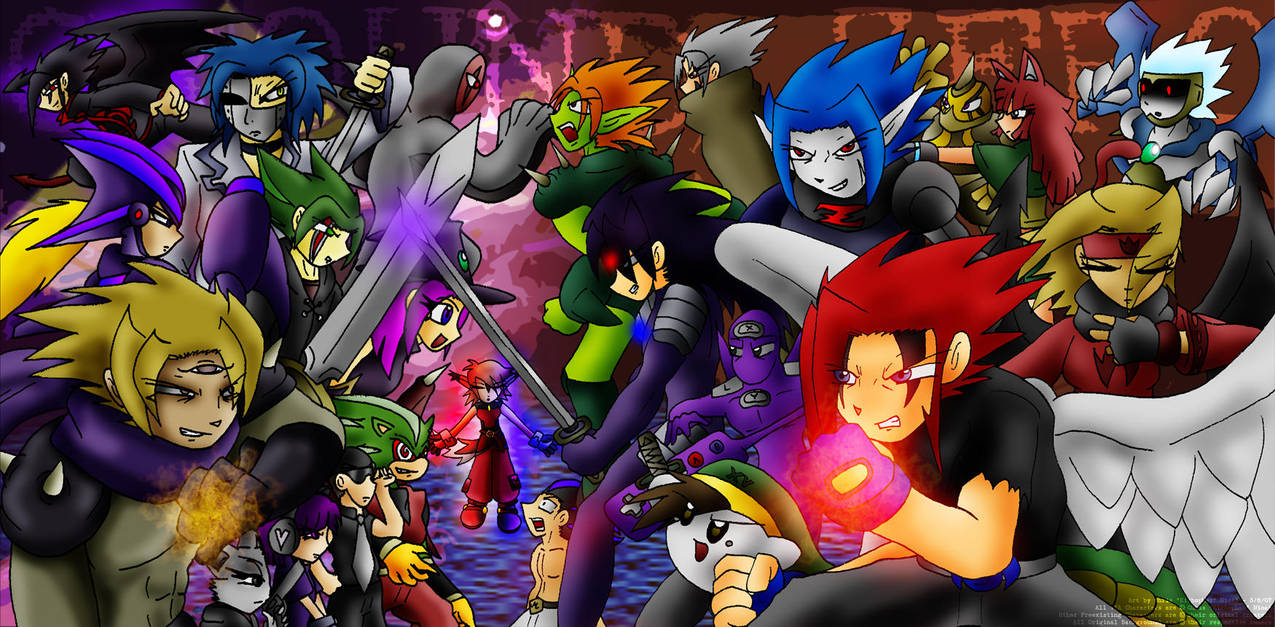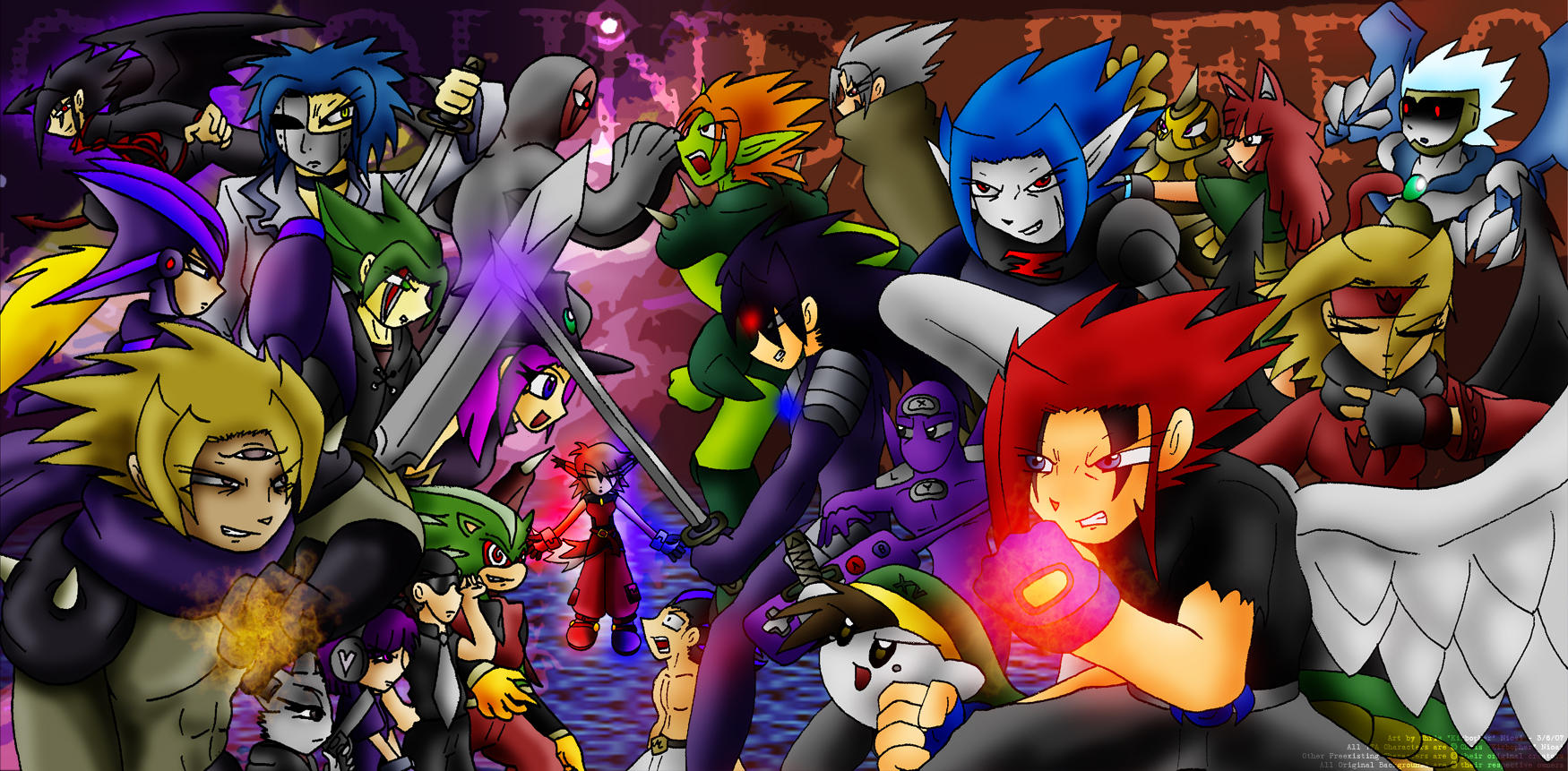 Watch
EDIT (6/16/08): This project is no longer in production and hasn't been for months. If you are just finding this picture now, take note that the description below is not coming to pass, I'm only keeping it for archival purposes.
The Site has been revamped with a new look! The banner above the site is subject to change in the future, but this is how things will be for the time being.
TTA fans...
prepare to shit yourselves.
One more month has passed since the prevention of another D-Bug infection, thanks to the efforts of our heroes...who are beginning to not only lose their interest in the game, but their trust in the Netkings as well. Ultimate Creature II has become more and more elusive to the public eye of TOME since the end of the 'mission', and Kirbopher and the rest of the gang start to ponder as to what they should do next. Gamecrazed, still in his redemption state, works closely with the Netkings in order to remove the now fully absorbed second half of the D-Bug virus from his character model, in an attempt to further prevent the chance of the infection taking over TOME.

...however, little do the good guys know that their next, final, and biggest threat of all is already slowly making its presence known. The mysterious virus programmer, self-procclaimed "Seventh Netking", and the root of all dangerous activity that has sneaked its way into TOME has finally come back...DarkEyesofAnubis. With him, he brings a team of incredibly powerful users, who call themselves "The Guild of Anubis". Alpha must return to the game with full force, and will soon realize the true power of the various viruses that plague the virtual world, including a brand new virus more powerful than Kagemamoru and the D-Bug combined. Lives will be put at risk, as DarkEyes initiates his sick and twisted scheme of revenge upon the long-running game, and heroes and villains, new AND old will need to put aside their differences in an effort to stop THE worst possible scenario to befall TOME from happening. There are many mysteries yet to be resolved, but one thing is for certain...everything is linked back to the original beta-version of TOME, the rumors surrounding it, and something that even the Netkings completely overlooked...

If our heroes don't take action, TOME may indeed, literally become...Ground Zero.
SUMMER 2007
Alright, now that I have your attention, it's about time I got into the details. I'm going to say this outright, I am NOT going to be doing Season 4...or at least, not in the way you're used to seeing TTA. I reffered to Episode 073 as the last episode of its kind. To elaborate, Season 4 was going to encompass Episodes 074 all the way up to 100 being the finale. I have come to the conclusion that TTA isn't really getting me anywhere in the grand scheme of things. I WILL admit, that I enjoyed working on Season 3 a lot more than I originally thought, despite its very derivative storyline. Nonetheless, Go! Go! Parody Rangers! (the second episode of which will be my next current project, probably to be released in May) proved to be MUCH more successful as a full-fledged hand-drawn flash movie as opposed to TTA...in its format with sprites, and no voice acting. I appreciate all of the feedback and fans I've gained from the 70+ episodes I've made up to this point, but I've reached my limit, and I CANNOT animate over 25 more of these types of flash movies. It's time to move on to other things.
However! I was VERY proud of Season 4's storyline, and I don't want it to go to waste, so you WILL be able to get the experience (somewhat) in animated form. I know this decision of mine will probably be controversial with many of you, but this is what I'm going to do. I have planned out scripts and layouts for two "OVA"s, if you will, which I will be placing as Episodes 074 & 075. These two movies, which will be fully hand-drawn and voice acted, will essentially cover the ENTIRE story arc of Season 4 into condensed, Parody Rangers style (for lack of a better term), special movies. This way, they have a better chance of getting some actual attention on Newgrounds and other places, in order to mildly accomplish something, and it will also give me a way to end the story the way I wanted to. Additional information on the other Season 4 characters and details of the storyline will be present in the official art pics of them I'll be submitting to DeviantArt (I have a large amount of them already done, too!). I will start on these two movies after Parody Rangers 2 is complete, so expect them to be around by this summer, hopefully before Otakon if I'm given enough time. I'll have even more information after GGPR2, so stay tuned!