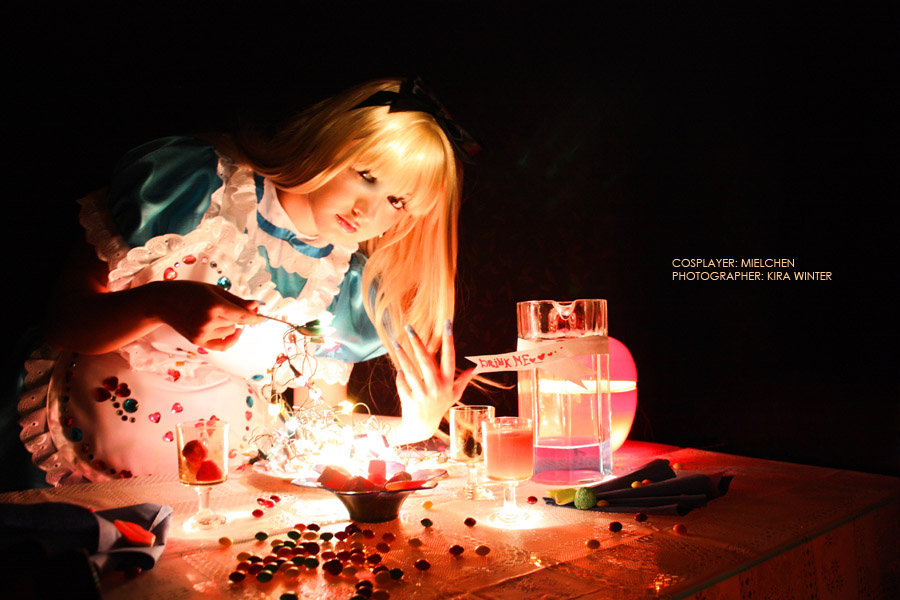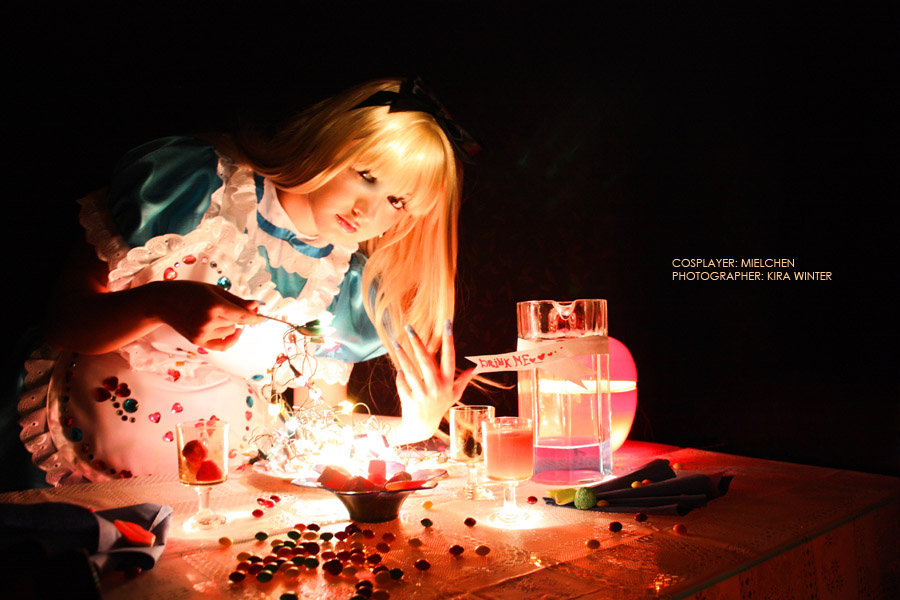 Watch
I am so proud of myself xD
I had an idea how to do Alice photoshoot, but I wasn't shoor if light will be ok.
But I think its more than just ok *_*
So, Mielchen as Alice.
Photographer me.
---
ETSY SHOP
www.etsy.com/shop/cosplayidols
Follow my instagram @kirawintercosplay
微博账号 kira_winter
This is my first critic ever.
The lighting focusing from the center out and the colors gives an appealing allure to ones eye bringing out ones interest to further look at their affect on Alice, the objects on the table, and the table itself. The lighting and coloring combined together makes the intermediate colors, such as the blue/green of Alice's dress and the pink hues of the foods and liquids in the containers, become very soft and glowing yet pop out against the darkness of the backdrop and the ends of the table giving off an enchanting magical like reality. Alice's hair has has a golden glow to it but the bow on her head, sadly, is too dark and without having some of Alice's hair showing a bit around the bow, the bow itself would fade into the darkness surrounding Alice. My attention was pulled towards the lettering of "Drink Me" on the bottles tag, at a second take of the words drink looks to be spelled oddly the D looks like a lowercase b and the N looks like an upside down R. Im sure the words are spelled correctly but in the way its written it gives quite a mind twisting illusion it is to me a very neat affect. The dessert cups reflection of the light give a small glow around their area and in a way applies more light to their area which helps keep some areas from being too dark. The glass table's lace like cloth gives the table more personality and detail along with the scattered candies which in my oppion make it so there's very little dead (empty) space so that ones eye has more things to focus on then just Alice and the glasses and other objects cluttered/closely placed near Alice. There is deffinately no lack in color here and all the colors are either intermediate or complimentary to one another even the yellows and green flow into the whole image of the setting. There's really nothing negative to say here everything together overall is very beautiful, an amazing job was done.
The Artist thought this was FAIR
10 out of 10 deviants thought this was fair.