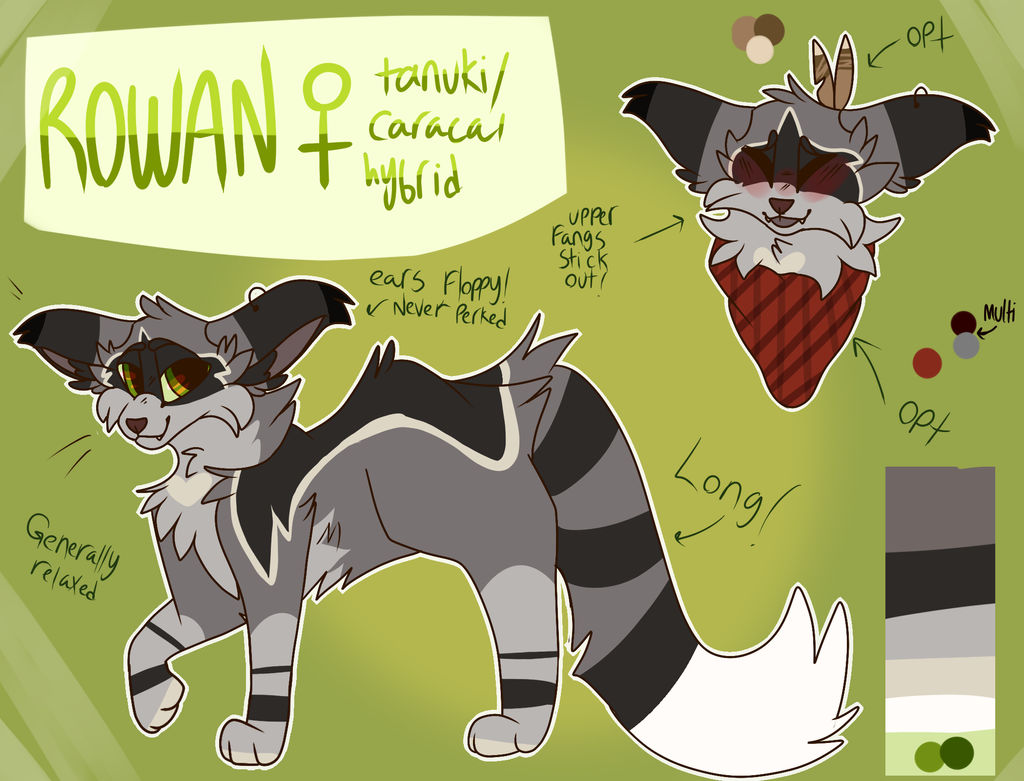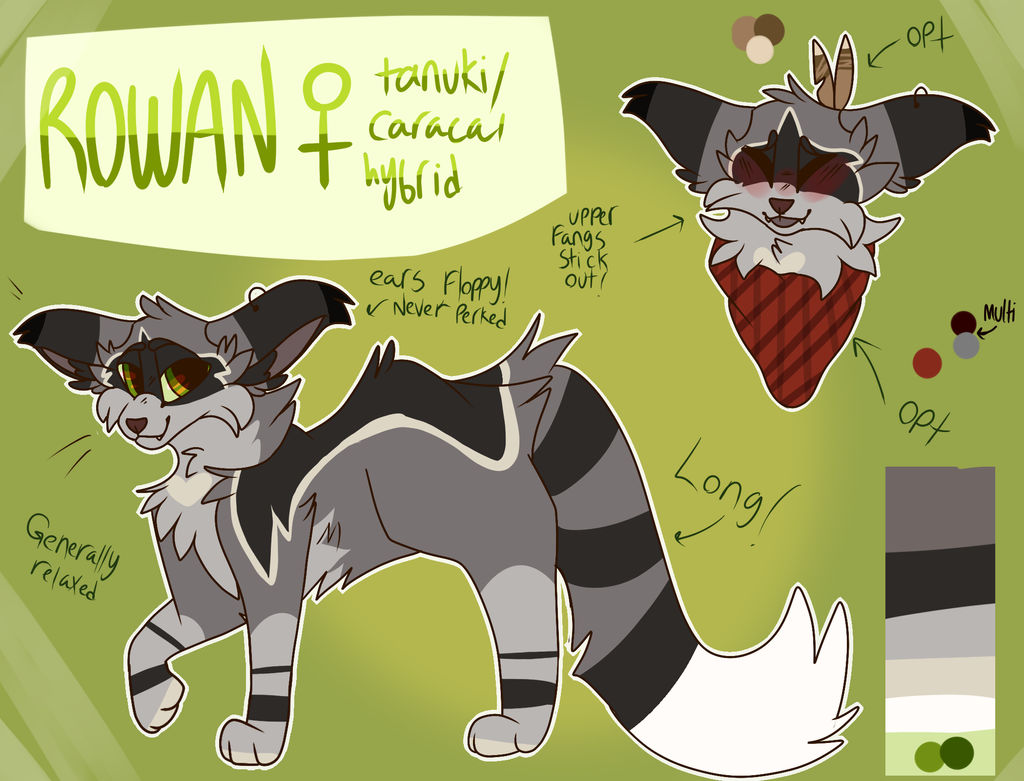 Watch
***
How to draw markings -
How to draw Rowan!
Voice headcannon - Will link later
Theme song -
www.youtube.com/watch?v=CLtwSq…
__________
Current Name: Rowan
Alt Names: Erik, Eleven/El, Peter
Nicknames: Holly, Rowboat, Ro
Sex: Female
Species: Tanuki/Caracal hybrid
Sexuality: Biromantic asexual
Preferred Pronouns: She/her or He/Him
Age: 15 years in human years (so like 1-2 in animal)
Season Of Birth: Winter
Personality Type: INFP-T
Native Country: USA
Alignment: Chaotic Neutral
Introvert Or Extrovert: Introvert
Self-Confidence: On a good day
Appearance
Pelt: Olive-ish gray, very thick.
Eyes: green
Accessories: Bandana, feathers,
Height: 1.4 ft
Weight: 10 lbs
Build: chubby, muscular, short
Species: tanuki/caracal
Voice: Projects; loud when she's riled up, but if she's talking to you one-on-one she's quiet and soft.
Personality
Basic: She has a very sarcastic personality, her dry sense of humor makes her seem very abrasive, but she's very soft and just wants a hug. She's affectionate to her close friends and hugs on them a lot, but to strangers/acquaintances, she likes to keep them at a distance. She doesn't trust easily and is likely to grow distant if she feels someone close hates her to soften the blow if they leave, but that doesn't mean she hates you. She's scared of opening up to others and may not tell her full past to you; she only trusts a select few people. Its easy to make her feel guilty, and she apologizes a ton. She'll dwell on the wrong she's done. Other than the negative, she tends to be hyper and loves to go out with friends, being out really helps her loosen up, even though she is quite a homebody, her friends always help her unwind and relax. She loves to help people, she's the "mom friend" so to speak. She's there for everyone and loves her friends to death and will protect every one of them. She loves to talk to new people, even though at first she may seem nervous, initiating the conversation is a sure-fire way to get her talking. She's empathetic, creative, soft, and tired.
Medical
Scars: (not on ref) Barbed wire scare on her right leg, lots of mosquito bite scars.
Psychological: Asperger's, severe anxiety, depression, guilt complex, trust issues
Physical: Flat footed, mydriasis
Health: gucci
Love Life:
Sexual Orientation: asexual
Romantic Orientation: Biromantic
Status: Complicated
Current Mate:
Shippings:

- Crackshipping

- Canonshipping

Rowan x Chase
Sons -


Irl friend group - Beau, James, Ed, Justin, Thomas, Colton, David, Austin, Zack, Sebastian, Ashley
Online Friend Group -