Comic#2 has finally been released:
A Femdom Comic Series (18+)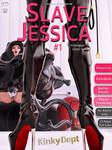 When CAPTAIN JIM tried to trade illegal goods on Planet XX, he accidentally crash-landed on the surface. Waking up dazed, he found himself in some sort of biomedical clinic! Restrained by a strange-looking liquid rubber, his body began to feel oddly weird...
What he doesn't know yet: The alien traditions on this Planet are highly 'different' than any other planet he has ever visited before! It'll take some time to adjust to this matriarchal 'culture'.

The owner of the Clinic, a cheerful MISTRESS XENIA, is about to welcome her sleeping patient to his her new life...
Extended Edition - with 33 FULL Color Pages
Femdom & Chastity (with lots of teasing!)
Enslavement & Slave Training
Male to Female Sex change - and becoming a lesbian 'Slave Girl' on an alien Planet
Planned to become a 5-part Comic SERIES

Available as:
"PDF version" (90mb)
and
"Extracted JPG version" (25mb)
Enjoy!