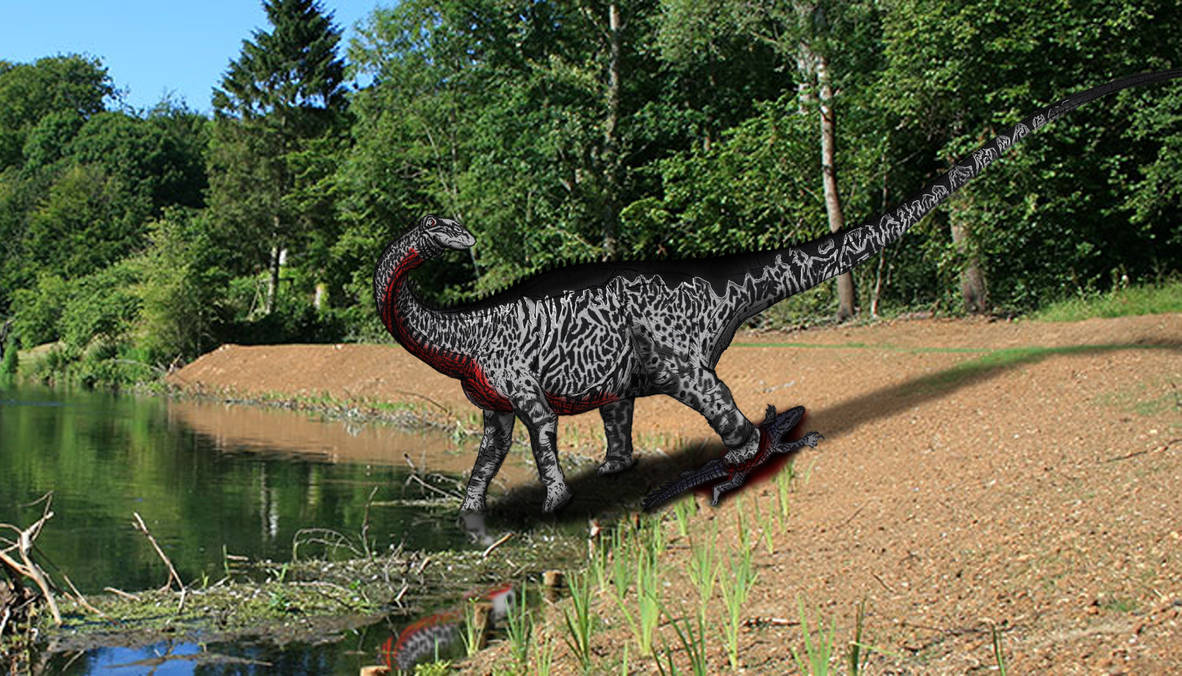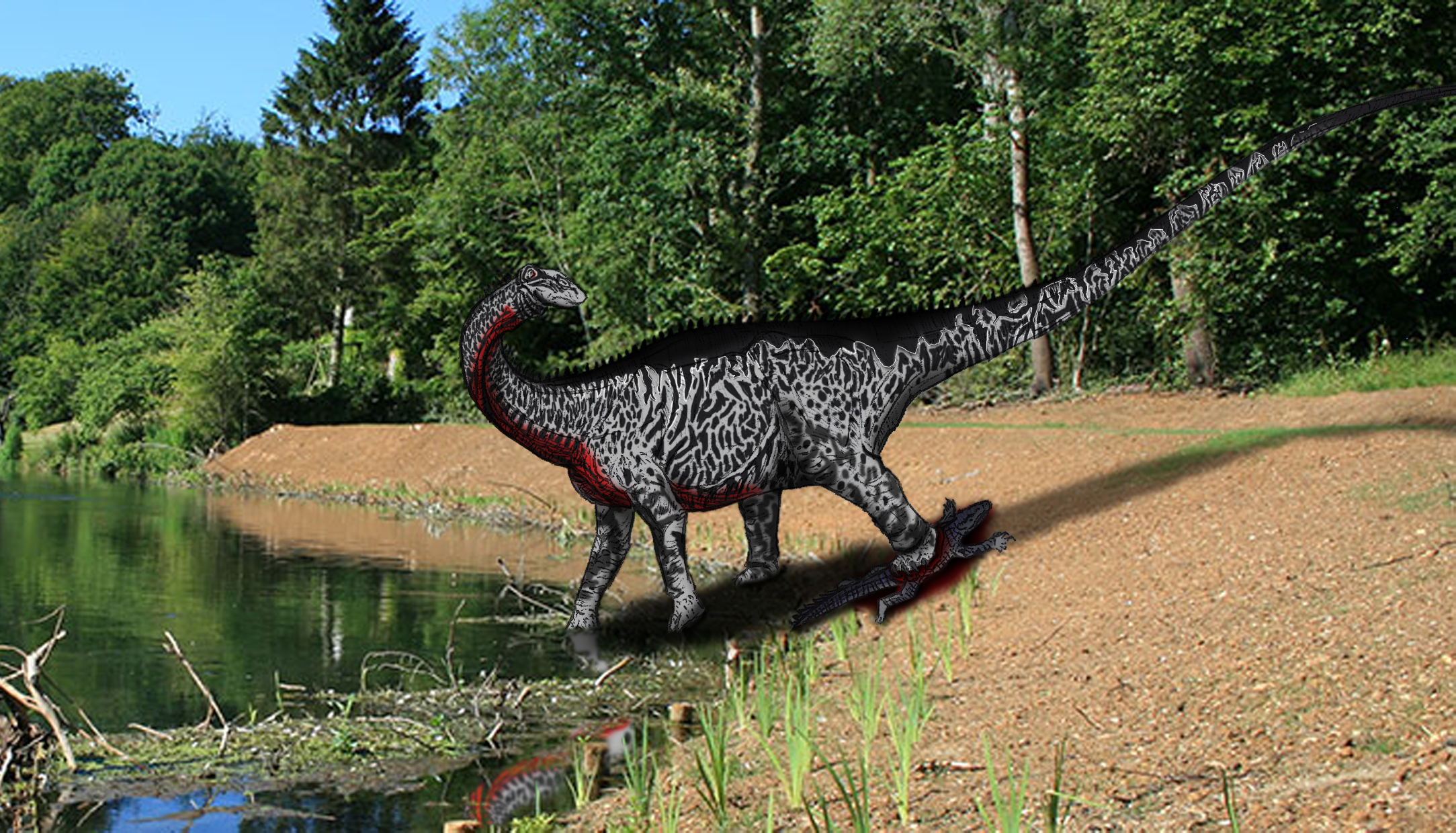 Watch
Species: Nigersaurus taqueti
Etymology: Nigerian lizard
Classification: Saurischia, Sauropoda, rebbachisauridae
Diet: Herbivorous
Range: Niger
Environment: Inland floodplain (Riparian zone)
Era: Mesozoic
Time period: Cretaceous
Stage: Aptian-Albian
Appearance: unknown
Description: Nigersaurus is a genus of rebbachisaurid sauropod dinosaur that lived during the middle Cretaceous period, about 115 to 105 million years ago. It was discovered in the Elrhaz Formation in an area called Gadoufaoua, in the Republic of Niger. Fossils of this dinosaur were first described in 1976, but it was only named Nigersaurus taqueti in 1999, after further and more complete remains were found and described. The genus name means "Niger reptile", and the specific name honours the French palaeontologist Philippe Taquet, who discovered the first remains.

Small for a sauropod, Nigersaurus was about 9 metres (30 feet) long, and had a short neck. It weighed around four tonnes, comparable to a modern elephant. Its skeleton was highly pneumatised (filled with air spaces connected to air sacs), but the limbs were robustly built. Its skull was very specialised for feeding, with large fenestrae and thin bones. It had a wide muzzle filled with more than 500 teeth, which were replaced at a rapid rate: around every 14 days. The jaws may have borne a keratinous sheath. Unlike other tetrapods, the tooth-bearing bones of its jaws were rotated transversely relative to the rest of the skull, so that all of its teeth were located far to the front.

Nigersaurus and its closest relatives are grouped within the subfamily Rebbachisaurinae (formerly thought to be grouped in the eponymous Nigersaurinae) of the family Rebbachisauridae, which is part of the sauropod superfamily Diplodocoidea. Nigersaurus was probably a browser, and fed with its head close to the ground. The region of its brain that detected smell was underdeveloped, although its brain size was comparable to that of other dinosaurs. There has been debate on whether its head was habitually held downwards, or horizontally like other sauropods. It lived in a riparian habitat, and its diet probably consisted of soft plants, such as ferns, horsetails, and angiosperms. It is one of the most common fossil vertebrates found in the area, and shared its habitat with other dinosaurian megaherbivores, as well as large theropods and crocodylomorphs.

In the Picture: A Nigersaurus accidentaly steps and kills an araripesuchus while it makes its way towards to the river. The gigantic beast will heartlessly and mindlessly lumber into and across the river like as if nothing really happened.

Just Some youtube videos:
Sorry, got none


Before ya ask, yes, its design is based off of the Pectinodon from Jurassic Park the game. The araripesuchus had its design based on the JW apatosaurus. The patterns aren't really visible though.

That's one racist name XD
Reply

I AM GONNA SAY THE N WORD
Reply

Reply

Didn't think the JPTG Troodon coloration would work on much, especially Sauropods. Nice work
Reply

Thank you! Tbh, the pectinodon has to be the most Jurassic and awesome design from the franchise if not the history of dino media that it works on everything.

Shame that the game could make a way better design than the new movies that are just so bad and suckish that they can't come up with anything original or even good designs. Nah, they're busy with making dinocrocs and dinosaurs that look nothing like what they are named after.
Reply

You used the coloration from JP troodon in Nigersaurus? Incredible :v
Reply

How about adding the Weird Dinosaurs clip of it?
Reply

Wait, it appeared in it? I haven't seen that docu since I was little. I didn't even remember that it existed until you pointed it out rn. Now I can remember a few docus from my childhood, like dino death trap that introduced me to guanlong.
Ahhhh, the childhood days.
Reply

Nice! Minor correction in the description though, you wrote "Nigerian lizard", while something from Niger is actually called "Nigerien".
Reply

Reply

Reply