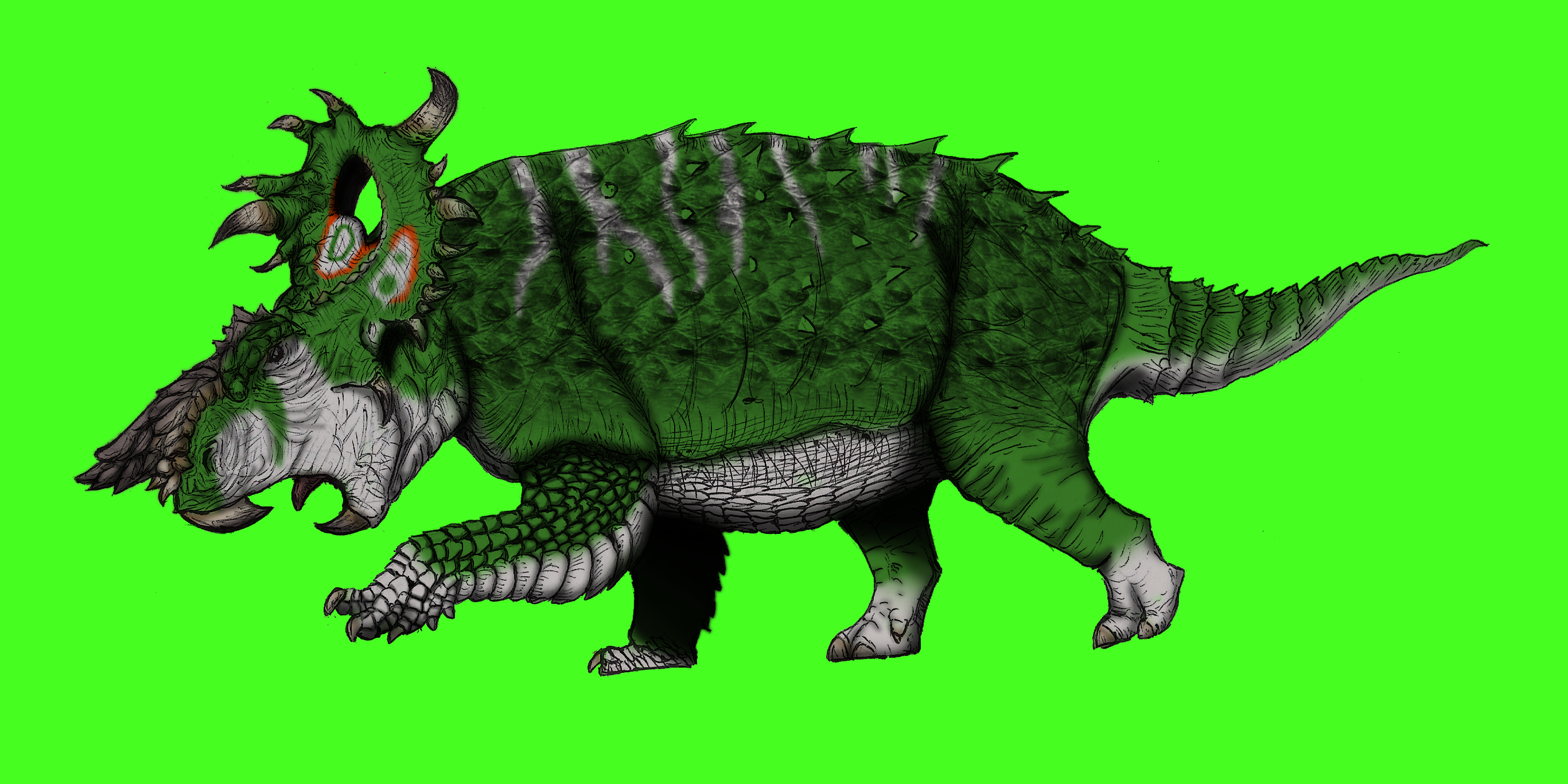 Watch
You all know why I hate this thing so much, but incase you don't, here's the story;
You see, even though my internet self (KingRexy) uses a velociraptor as a mascot, pachyrhinosaurus is my favourite dinosaur because it is unlike the other ceratopsids. While most other ceratopsids simply sport a horn or none, pachyrhinosaurus had a bony lump on its face called a boss because pachy is a boss. Its head ornamentation makes it unique and stand out from the rest, and if you remove that, there will be no such thing as a pachyrhinosaurus, and that's the exact atrocity that Fallen Kingdom commited because monstery spiky abomination matters more than a good and memorable design that won't make people hate it like every other Jurassic series dinosaur apart from the bary and this thing.
And if you live under a rock and are confused as to why I'm calling the sinoceratops a pachyrhinosaur, then here's why;
You see, the "sinoceratops" they released was actually a pachyrhinosaurus, not a sinoceratops. Yes, this
thing
was a pachyrhinosaur. Fans were so angry about it that it caused the filmakers to change it to a sinoceratops because their design was so screwed up that it not only didn't resemble pachyrhinosaurus, but any other ceratopsian out there except for sinoceratops, while still having inconsistencies with everything related to the frill. This is something that the designer should be ashamed of.
But hey, let me clear up this one little thing before any Jurassic SJW gets butthurt about without even realizing what I'm ranting about and paint me as a "feather nazi" who hates on the Jurassic franchise for not having accurate dinosaurs;
Yes, I know the context of why the dinosaurs don't look like their real-life counterparts.
Yes, I know they have to be purposefully accurate.
No, I'm not screaming about wanting to see accurate dinosaurs in the movies.
No, I'm not hating the "sinopachy" for not being aesthetically pleasing to me (I love its design tbh)
I hope that clears it up. I know about them having to be inaccurate (Even though pretty muchh all the dinosaurs in the original trilogy with the exception of one or two were meant to be accurate for their time.) and I'm not asking for accuracy (Although I do for any new inclusion to the franchise) but I am asking for a very memorable design that keeps the
defining features
of the genera it's tryna represent. You can easily see that in the troodon from JPTG. Who doesn't love it? It has its killing claws, and the giant bulging glowy eyes. And like the troodon's eyes, why not slightly exagerrate the feature to make it appear even cooler, because after all, they're supposed to be inaccurate aren't they? They've taken away the ornamental features of the poor pachyrhino to the point it looks nothing like one.
But on a positive note, at least they changed it to something else, eh? And it was an obscure genus that they have frustatingly stopped featuring since JP3. (don't forget the reason why they changed it to an obscure genus. With no intent of featuring an obscure genus.) But I am happy that it was a sinoceratops then, because who doesn't love bring introduced to obscure genera, eh? In fact, this is one that I hadn't even heard about until Jurassic Outpost talked about it.
But yeah, back to the topic. So you see, I'm totally okay with the inaccurate designs because I know the context, just as long as they don't take out the defining features. I kept the hole in the frill because it's a cool inaccurate feature despite there being
direct evidence of ceratopsians not having it
. I also had to keep that dew claw and its long sausage, cocaine hippo body.
But I did make a few additions like the croc armor and the seperate fingers rather than the elephant toes because those are waaay cooler. Why croc armor? Well, you see, we have discovered skin imprints from the belly of ceratopsians that show scutes. Some ceratopsians have also been found with spikes on their body, like the ones on this redsign. Wouldn't that be so cool? And we know that some ceratopsians had large scales on them, like the hexagonal scales of triceratops, or the rounded ones of chasmosaurus etc. If the new JW trilogy is so fond of making crocosaurs, why not give the herbivores that exact treatement. That would make them infinitely cooler than the theropods.
But hey guys, if you're gonna judge this design, judge the head. That is the whole point of this design, the lack of defining ornamental features. If the design doesn't look good with the body I have added, no problem, just imagine it with the normal, scalless, smooth sino body. I also tried to keep it kinda awesomebro, cuz that's what most JW fans. Keyword: most. Not all.