Hi there,
Uh. I was awarded a Daily Deviation again. This time for: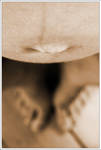 I dunnot about this, which is also why I'm writing this journal entry. I am of the belief that the Daily Deviations should be given to outstanding work, but to be honest, I don't think this photo is all that spectacular.
Not that I don't like it - I do a lot, but most of all for personal reasons. Why'd I post it then, people might ask. Well, in the process of learning photography it's nice to get some feedback on my work. And in getting a DD for that piece I have certainly achieved that. But I sortof feel that I took the spot from someone else.
Anyway, life is great. I've got plenty to do with my wife, studying, work, friends and photography. And when the baby arrives, I'm gonna have even more to see into. I'm glad and looking forward

Photography-wise I'm currently working on a number of projects - mostly on the drawing board, but some om them will be realized somewhere in the near future. I might even post some of the work here.
Right. Dinner time.
--
Kim