Profile picture by

Besties~!




Awesome People On DA:














Triplets:


(Also my younger cousin)
Best Friend(s) :

Other Accounts:

(<--- Older account)

(<--- Alt account)

(<--- Base making account.)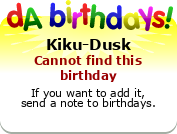 /l、
゙(゚、 。 7
 l、゙ ~ヽ
 じしf_, )ノ
This is Kitty, copy this into you signature to help her rule the world.
What I Like/Love:
Anime, manga, cosplay Sleeping, night time, taking pictures, art, drawing, swimming, water parks, cliff jumping, road trips and camping, rollerblading, biking, animals, hanging with friends, vampires, music, video games, Minecraft, World of Warcraft, horror movies, amusement parks, ect.
Favourite Movies
The Harry Potter series and Crimson Peak
Favourite TV Shows
Total Drama, Naruto, Walking Dead, ect.
Favourite Bands / Musical Artists
Black Veil Brides, Mindless Self Indulgence, Blood on the Dance Floor, and many others
Favourite Books
The Chronicles Of Vladimir Tod
Favourite Writers
Heather Brewer
Favourite Games
World of Warcraft and Minecraft
Favourite Gaming Platform
PC
Other Interests
Photography, swimming, cliff jumping, camping, rollerblading, drawing writing, ect.