Journal Entry:
Sat Apr 6, 2013, 10:17 PM
❤
My Profile Page
❤
My Gallery
❤
My Tumblr
❤
Yo yo yo
yo
yo
YO
It's been a while hey? How are you all, I hope you're all well. (:
SORRY for being dead on here for a million months, I'm super lazy and busy all at the same time [and I reside on tumblr much more because I'm really slow to draw things, so I feel bad lurking around here with nothing to show for it. Ehh
Anyway I am attending Melbourne's Supanova Festival next weekend [13th and 14th of April]! I would love love LOVE to meet up with anyone if you're coming!!!!!! I will be going for both days as the following:
Saturday: Meulin Leijon from Homestuck.
I'll be most likely walking around with my radical Kurloz just in case there are like 50 Meulins ahah~
Sunday: Aradia Megido [Alive] from Homestuck.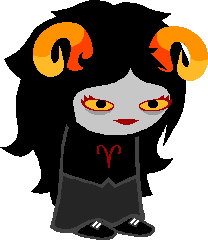 Once again if there are many of them, I will be the one with a Sollux (:
SO PLEASE COME SAY HELLO if you're coming, just tell me who you are and who you'll be cosplaying and I'll keep a lookout for you too uVu ♥
I'm super duper pumped ahhhhhh~
ANYWAY not much more to say, but I promise I'll be a bit...more...active...ok...
Bye 4 now! ♥
Skin created by (c) r0se-designs

Watch

IF YOU SEE ME SAY HIIIIII~! im going as Ciel Phantomhive :'D its always nice to talk to you at conventions ~! (ignore me being an awkward stalker)
Reply

I will!!!!!! You're going to look so fab as always ahhhhh~
Reply

Hey, long time no see. How have you been?
I am not going to Supernova this yeah, coz I am going to Comic Con instead.
But on the other hand, my little cousin

will be going both days too.
And it will be her first con.
She will be going as Dave, but dressed in a fancy suite.
If you see her don't hesitate to say "Hi" she loves meeting all my Homestuck friends but she can be shy at times.
She went to her first MelbSPA meet just the other day.
Reply

Hello! I've been pretty well thanks (: That's such a shame you're not coming, but I'll be sure to see your cousin and say hello

Reply

Awesome! Thanks!
So who are you going to Supernova as? Roxy, Rose or someone else?

Also why haven't you been on DA? Been on Tumblr too much?
Reply

I'll be Meulin on Saturday and Aradia on Sunday!

I tend to forget about dA since I'm lazy and also have a lot of homework

But I do try my best to stay as active as I can!
Reply

OMG YOU WOULD MAKE THE BEST MEULIN!

oh ok then.

also I was just wondering, are you apart of any other group besides MelbSPA and the lolita group? (sorry idk what it is called)
Reply

what train you catching yo?
Reply