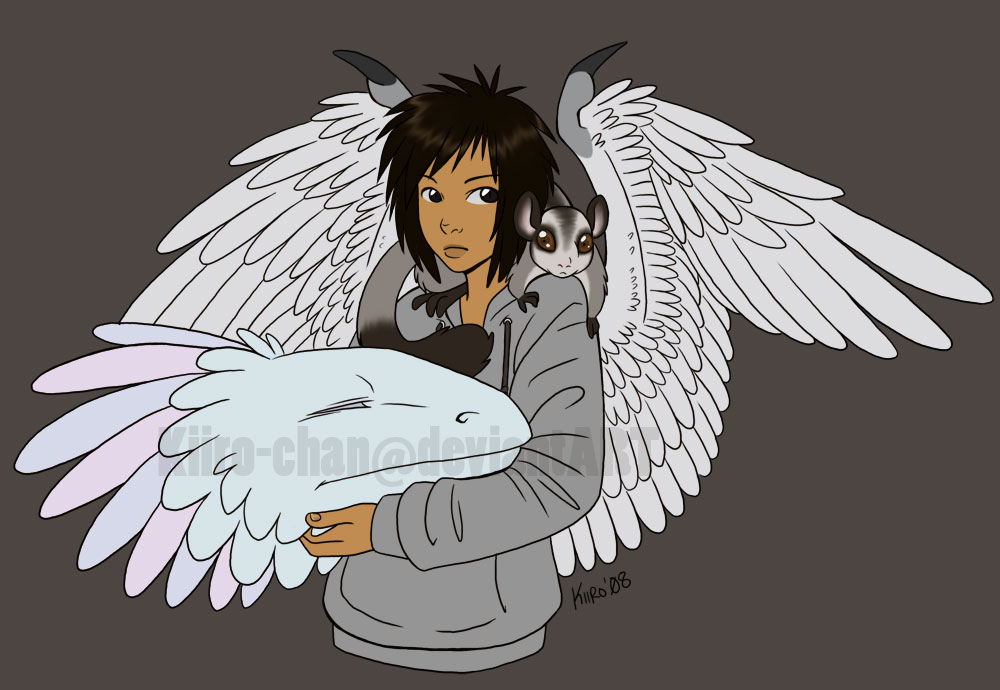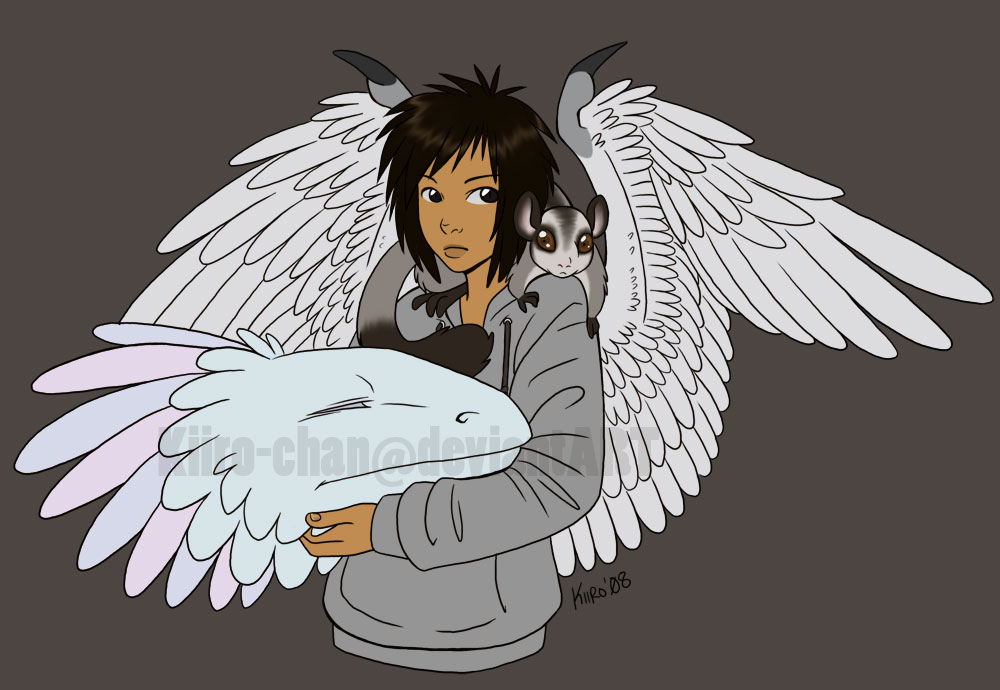 the color WIP of my previous two submissions;
not sure if I'm going to go back and shade it later, or not...
I just needed to throw in some flat-color before I forgot.

A "little" backstory:
This boy was featured in a dream I had a few nights ago (actually, he was the "vessel" I occupied while the dream took place). I think he was about 12, but he was on a college-campus. I remember the campus being so bright and green with all the flowers in full-bloom and a sunny sky (I've never had a dream in such vivid color before). The college was a school for "mythological creatures" or anyone with "mythic-blood." Aaron, here, is a half-dragon. His mother was a dragon, and his father was human (I think). Aaron can fully retract his wings into his body, so normal people wouldn't be able to tell he's not human.
That's his mother's head in his arms. No, he didn't kill her - he found her like that on a shelf in an office on campus while he was hiding from the "strangers." Most of the dream was spent running/hiding from these "strangers" who were rounding up all the mythic-people and taking them away to be exterminated.
When the "strangers" first arrived, Aaron's mother could sense something was wrong right away and tried to flee with her son before the genocide took place. Being somewhat of a courageous fool, Aaron decided that he needed to go back for his best friend, who was still on campus. Just as he got back, the strangers began appearing in droves with guns and cattle-prods, and started rounding up everyone on campus.
There was a boy who seemed to be leading a troupe of them, and I felt like this boy was Aaron's arch-rival - he looked like his dark-twin. At some point, the strangers started chasing Aaron at the Dark-Twin's command, but before he was caught, his mother came down to defend him from them. Aaron went on ahead to "rescue" his friend, but she stayed behind to "distract" the strangers (an act that lead to her death).
When Aaron got to his friend's dorm, the place was completely gutted. Inside this building it was dark, and ominous. Overhead lights flickered and sparked, and remnants of the terrible massacre were everywhere. It was here that Aaron found that strange monkey thing. It sounded like a spider-monkey, but it had the body of a sugar-glider (except monkey-sized), had they eyes of a nocturnal-lemur, and had monkey hands/feet. At the time we didn't know what/who this thing was, but now that I'm fully awake, I want to say that it was the friend he'd come to rescue, in beast-form (he didn't know she had that power). I think Aaron's friend was a witch, and the two of them had been best friends for years, though I think Aaron was starting to like her a little more than "just friends."
When the strangers caught up with him, Aaron put the lemur-thing in the pouch-pocket of his hoodie and ran up the stairs to the roof of the building. The strangers were just hairs away from grabbing him when he dove off the ledge and opened his wings. Everything outside was so gorgeously bright with a warm wind cushioning his feathers, - but this bliss was fleeting. The strangers soon began to shoot at him in mid-air. He didn't get hit, but nearly fell out of the sky because he was trying too hard to fly under such stress.
Aaron landed by a raspberry bush and ducked into a nearby building to avoid a passing patrol. He didn't think anyone saw him, so he decided to lay low in one of the faculty offices until things settled down a bit. It was inside one of these offices that he found his mother's head, but for some odd reason, he didn't feel sad at the sight of it. Her spirit was still attached to it, and it called to him. She told him that if he touched her head, she would use the last of her strength to unlock the secret power within him - unleashing his inner-dragon.
If you've read this far, I'm impressed.