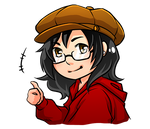 Hello and hello! Some of you may already know me as jey, kido, or kidoairaku~ but for those new to my page, welcome to Kidoka Project!
Thanks for stopping by~! Feel free to browse around here or connect with me on any of the social media sites below!
U P D A T E
So I gotta admit, I've been pretty m.i.a here on deviantart and I gotta apologize for that! I have to say, I was inclined not to post something new since without my subscription, the journal wouldn't let me keep all the pretty thumbnails and stuff~ Also, I've just been suuuuuper busy with travelling for work so I actually haven't drawn much over the last two months TT__TT but in any case... Crunchyroll Expo is this weekend and I'll have a booth there! Come visit me at booth

722!

It'll be good times! Man~ I haven't tabled since Fanime, but here we go again! ✧(๑˃̵ᴗ˂̵)و ✧ (•́⌄•́๑)૭✧ I'm hoping that this con will jumpstart my drawing days again~ so come and hangout with me and chat about all the good things and be my inspiration! In exchange, if you tell me that you're from deviantart and follow me here, for the first time ever, I'm offering 10% off to my followers

S T A T U S
note or email: kidokaproject@gmail.com

1. Bryan 2. Motoko 3. ---
ART TRADES/COLLAB/REQUESTS - FRIENDS ONLY

note or message me~
KIRIBAN - 122,222

must be watching me! take a screenshot of the pageview! you get a request!
~~~~~~~~~~~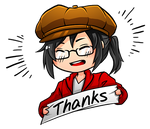 ~~~~~~~~~~~