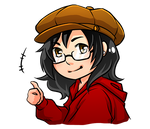 Hello and hello! Some of you may already know me as jey, kido, or kidoairaku~ but for those new to my page, welcome to Kidoka Project!
Thanks for stopping by~! Feel free to browse around here or connect with me on any of the social media sites below!
U P D A T E
Huhuhuhu, hello everyone!!! Y'all still alive? I certainly am not TT u TT......... too bad I can't create a poll and ask. HOW ARE YOU ALL?!?! I'm sorry I really haven't been around DA. In fact.... I haven't been drawing much at all period T_T;;;; What is wrong with me you ask? I've been spending too much time making cosplay and stuff for fun and neglecting my draws. Either that or I draw and never post anything hahahahahah... welp. I just wanted to say hi because I miss art. I will update again soon! But for now, I bid you adieu
S T A T U S
note or email: kidokaproject@gmail.com

1. ---
ART TRADES/COLLAB/REQUESTS - FRIENDS ONLY

note or message me~
KIRIBAN - 122,222

must be watching me! take a screenshot of the pageview! you get a request!
~~~~~~~~~~~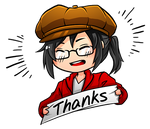 ~~~~~~~~~~~