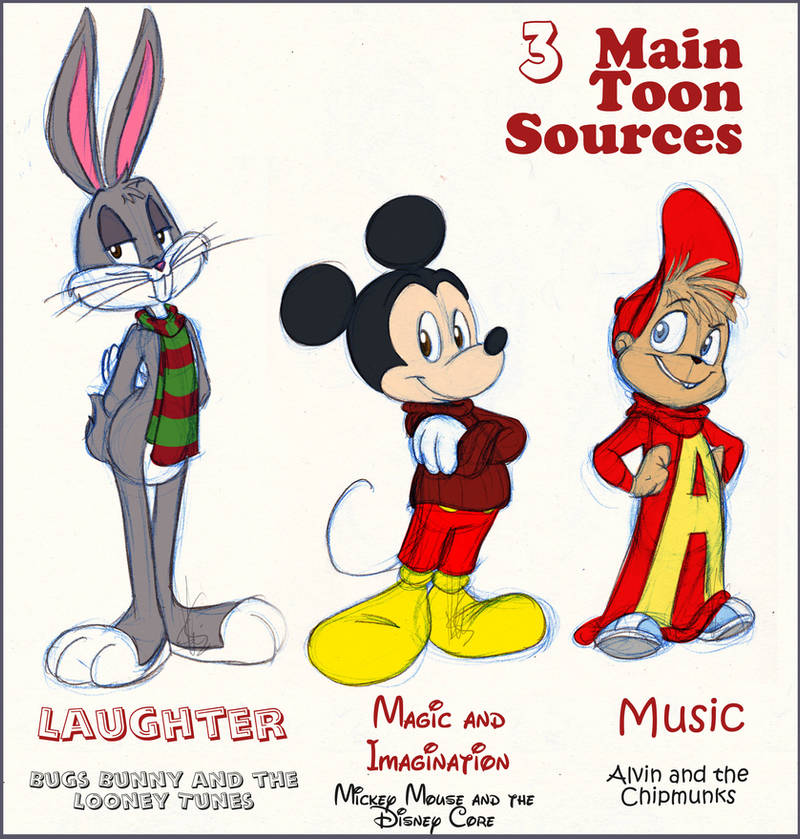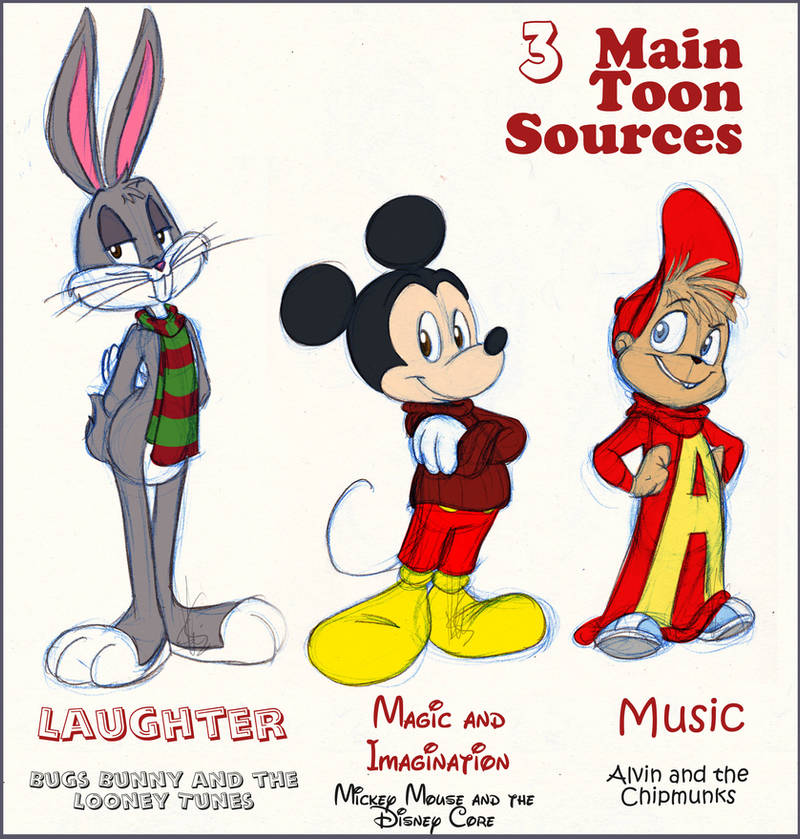 Watch
This image is mainly to clarify certain things for the upcoming story I hope to post. The way these 3 appear in the image are how they will appear for the most part in the story. These are also their heights.
In this image here:
[link]
I briefly mentioned
Sources
. First off, I did not come up with the initial theory. I discovered it while watching an episode of
Tiny Toons
for Animation History this year. In the episode,
Fields of Honey,
Babs, on her quest to find herself a mentor (eventually finding it in one of the first and unfortunately forgotten Looney Tune, Honey), she learns that Bugs Bunny is actually over 50 years old.
Quote:
"Bugs Bunny is over 50 years old [...] it is laughter that keeps a Toon young. When the laughter stops, a toon grows old and forgotten."
I love that theory so much. It just makes it feel like there really is a heart behind the cartoon characters we all know and love, and that without us, they wouldn't be around. So I adapted that into my story line.
A Source is what keeps the Toon alive. for Bugs and the Looney Tunes, it's Laughter. No one can make someone laugh harder than the Toons at WB, and because of that, Bugs and his team are still around. Most stories take place in 2012-2013, so Bugs is about 72-73 years old. Bugs, being the most popular Looney Tune, as well as Warner Brothers' mascot, was given the special ability to make anyone laugh no matter what, all the while remaining honest and level-headed. He's often regarded as the leader of the Looney Tunes for this reason. He's aware of the reason behind his creation and how vital it is for him to keep people laughing at his cartoons. One child's laugh is often the only thing standing between him and his life coming to an end.

Mickey Mouse and the Disney Core, which include the Sensational Six, Pete, Clarabelle and new members Oswald and Ortensia, rely on the source of Magic and Imagination. Mickey, having grown very close to his creator, takes his job as Disney's mascot incredibly seriously. He knows how much hope and smiles he brings to children, and has vowed to keep doing so until his Source dies out. His friendship with Bugs often clashes at times, especially in humor--while Mickey does enjoy making others laugh, he's more level-headed than Bugs can be. Unlike the Looney Tunes, as well as the other Disney Characters, Mickey was granted a very special gift by his creator before his death, which is the gift of Magic. No one quite understands how it works save Mickey, but it part of the reason why Disney still has such a strong glow, and why so many people rely on the mouse to keep their spirits and hopes up in the darkest of times. (there are a few more secrest to Mickey's gift, but that's to remain unknown for now XD)

Alvin and the Chipmunks have the Source of Music. In the storyline I've got, Alvin held a grudge against any large company, in particular Disney and Warner Brothers due to them nearly causing his company, Bagdasarian Productions, to die out. He eventually makes up with Bugs and Mickey, though remains the most ferocious of the three main Toon mascots. His and his brothers' source relies on the fans they've had throughout the decades, and every ten years or so they nearly lose their Source until they can find a way to win back the new generations. The Chipmunks, like Mickey, were given very special gifts, and, unlike Disney and WB's Toons, they can age whenever they want to, often remaining in the physical appearances of 11-yr-olds because they target children more than others. The reason for this is because, unlike Mickey and Bugs, who were created to entertain, the chipmunks' creator created them out of the love for his family in attempting to support them (I'm not saying that Mickey and Bugs weren't created with love! Only that one of the reasons behind the chipmunks was so that Ross could support his family).

These are the three main Toons groups that interact in the series, although I've been able to make cameos of others from various companies. Usually, it's Looney Tunes, Disney, or Looney Tunes and Disney, due to the friendship between Bugs and Mickey (which will be explored in the story I will post).

One more biggie!
Because the Looney Kids and Disney Kids were born and not created, they are not connected to any Source until they reach the age of maturity. Then, they have the choice of searching for a Source or else living a normal life like any other human, eventually growing old and dying.
Big read! Hopefully it'll clarify things in the story I will eventually post.
CyberCookies to those who read this

Bugs Bunny (c) Warner Brothers
Mickey Mouse (c) Disney
Alvin Seville (c) Bagdasarian Productions
art (c) kicsterash