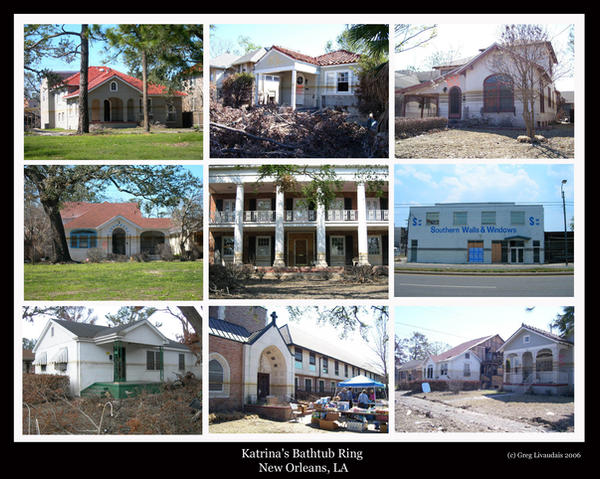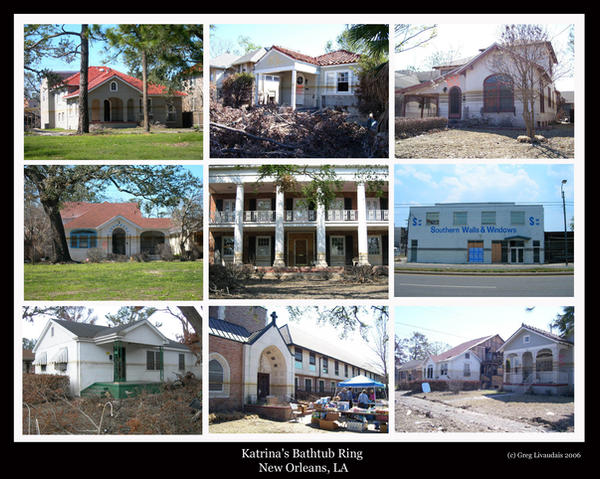 Katrina's Bathtub Ring

Its been two years since Hurricane Katrina hit the Gulf Coast on August 29, 2005 and flooded New Orleans. The waters stood for several weeks, leaving a nasty "bathtub ring" on every house, building, wall, fence, tree, pilings, etc from one end of the city to the other. The only place a ring is not found is where the waters went over the tops of houses.

Two years later the ring still remains on many houses and building, the ones that haven't been torn down or were able to be repaired and dawn a fresh coat of paint.

This is a collage of some of the photos I've taken over the past two years that show Katrina's dirty ring around the city.

LAKEVIEW REPRESENT!!

I recongize most of those. The one on the top left and the one with the blue window under it and the house in the middle are on Canal Blvd, I think.. And St Pauls too
Reply

You are right about all four of those. Then the top middle is on West End Blvd, top right is on Harrison Ave.
Middle row, far right is on Tulane Ave. Bottomw row on left is in the Filmore neighborhood just off Paris Ave, and the far right one is also on Harrison Ave.

Do you still live in the New Orleans area?
Reply