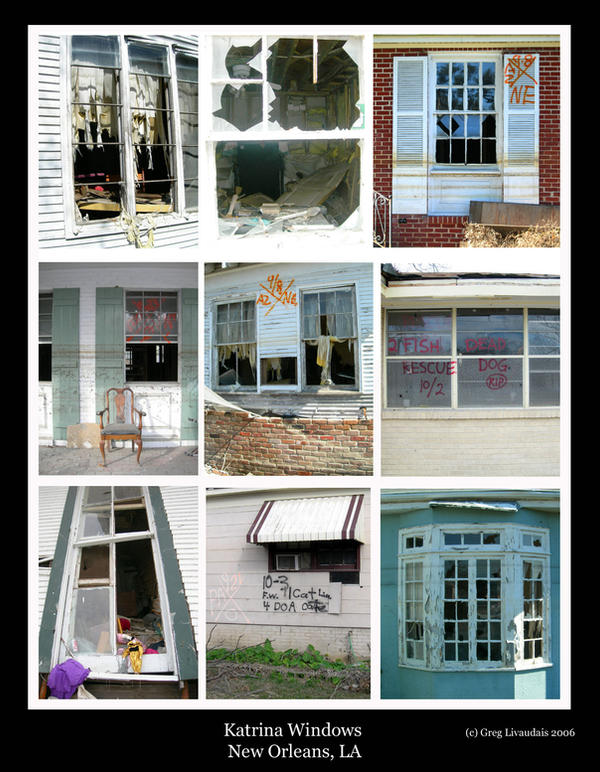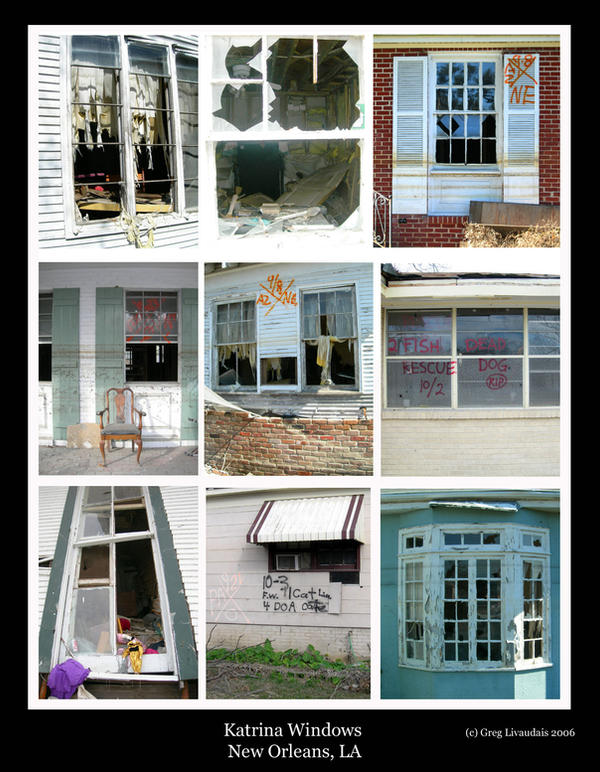 Katrina and the Windows of New Orleans

Its been two years since Hurricane Katrina hit the Gulf Coast on August 29, 2005 and flooded New Orleans. As the rescue workers searched houses for stranded people they spray painted marking on the houses indicating that it had been searched.

The date is at the top of the 'X'; the unit doing the search is on the left side of the 'X'. The right side wasn't always used. 'NE' = 'No Entry', the house wasn't searched. The the bottom number shows how many dead bodies were found in the house.

Then there are times where a message was left, such as "RESCUED" or "DOA". Some houses have the marks above the door or window level or even on the rooftops. That's because that's how high the water was when the search occured.

Two years later these markings still remain on many houses and building, the ones that haven't been torn down or were able to be repaired and dawn a fresh coat of paint.

This is a collage of some of the photos I've taken over the past two years that show evidence of the search and rescue that went on for weeks after the storm, and the body recovery that went on for months.

The middle right window is so sad...

I went down there this February to do relief work; the spray-paint was so tragic... it broke my heart to see a number at the bottom, or anything about animals. Great compilation, though.
Reply

Thanks for the comment, but mostly thank you so very much for coming here to do relief work. EVERYONE here says that we would not be as far along as were are if not for the many volunteers, both kids and adults, that have given of their time and energy to help us. God bless you and all those who have given so much to others. You make this a great nation.
Reply

Very cool my friend, like the top middle window very much from an artistic point of view, was wondering if I could use the origanal for one of my works. Good luck.
Reply

Thanks for the comment. Just send me a private note with your email and I'll send it your way.
Reply

Reply

I finally found the original, full sized image. I only had to look through 5,000 images! Do you still need it? I'll post it in scrapes, along with another similiar image. Let me know when you've downloaded it so I can remove it.
Reply