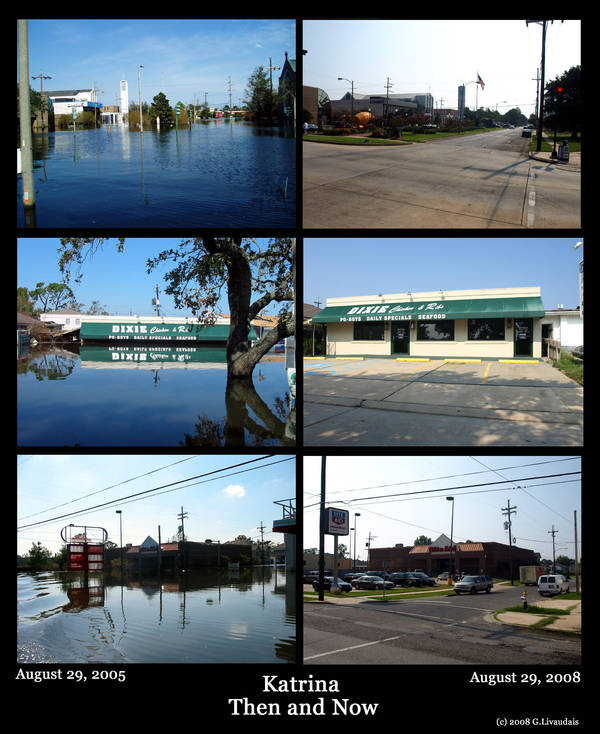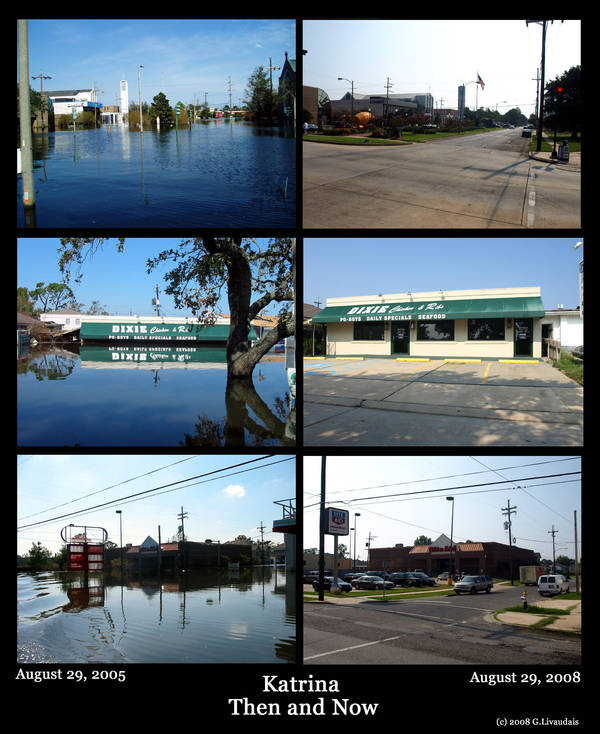 August 29, 2005 - August 29, 2008

August 29th, 2008 marks the third anniversary of Hurricane Katrina and the flooding of New Orleans. Much has been repaired or rebuilt, and much and not, and there is also some neglect. Today I toured the Lakeview area of New Orleans and took photos of this neighborhood's progress.

Lakeview was hit hard with flood waters when the 17th Street Canal breeched on August 29, 2005. Houses were flooded to the roofs, some were washed away; cars floated away; gas lines burst into flames; and people died.

Today, the third anniversary, we are under threat of yet another hurricane. This one's name is Gustav and predicted to hit in a few days. People are already evacuating and roads out of the state are congested.

I'm posting a few collages I made with the photos from three years ago and today.

This is touching, I remember growing up right by here, the library, the cathedrals, the banks, the rite aid. I miss Lakeview.
Reply

The people of Lakeview are very determined to come back. It may not look it now since so many homes have been torn down and the lots are still empty. It's taking time to get the government funds to rebuild. However, the ones that have repaired or rebuilt are doing a great job and the houses are very attractive. There's a lot of hope there.
Reply

I grew up around Canal blvd., it's a great area to live in.

Do you remember that man down Canal blvd. who sat on a trash can by the cemetery and danced all day? I wonder what happened to him, he used to be there everyday. It was very funny to watch him.
Reply

Yep, I remember that dude. He'd sit on the newspaper box and wave to me, and everyone, as I passed him every morning on my way to work on Bienville Street. He has about 9 brothers and sisters and evacuated for Katrina to one of their houses out of state. He never came back after the storm. He's being cared for by his siblings.
Reply

You actually knew him personally?
He, Buddy D, and Rod Ryan are several of the personalities I missed most, but Buddy D died before the storm. I have alot of memories of seeing that guy there, and I always heard Rod Ryan and Buddy D talk on the radio and news, I was upset when he died. I miss alot of the restaurants too, like R & O's, Camila Grill, Christian's, or Copeland's.
Every time I go to Louisiana now it is to see family and friends, and very seldomly do I spend much time in New Orleans itself, it's a very beautiful place.
Reply

That's so crazy how the water just sits there like it's a big lake or ocean!
Reply