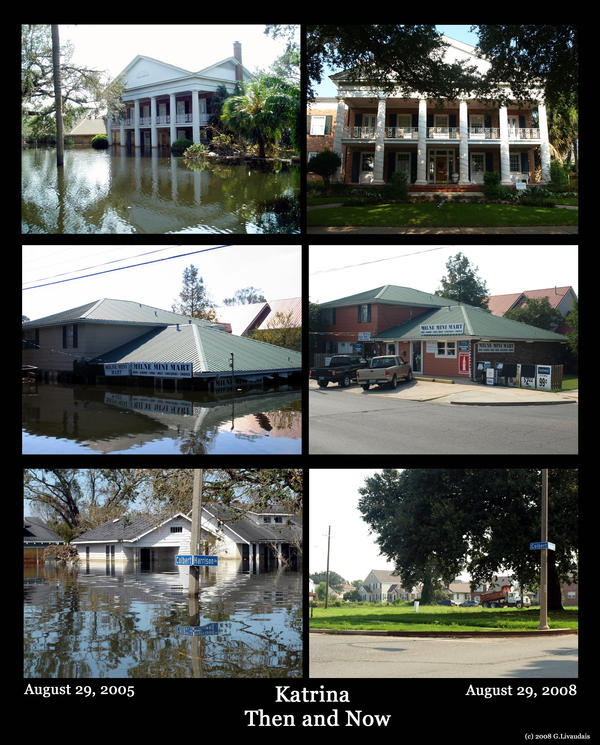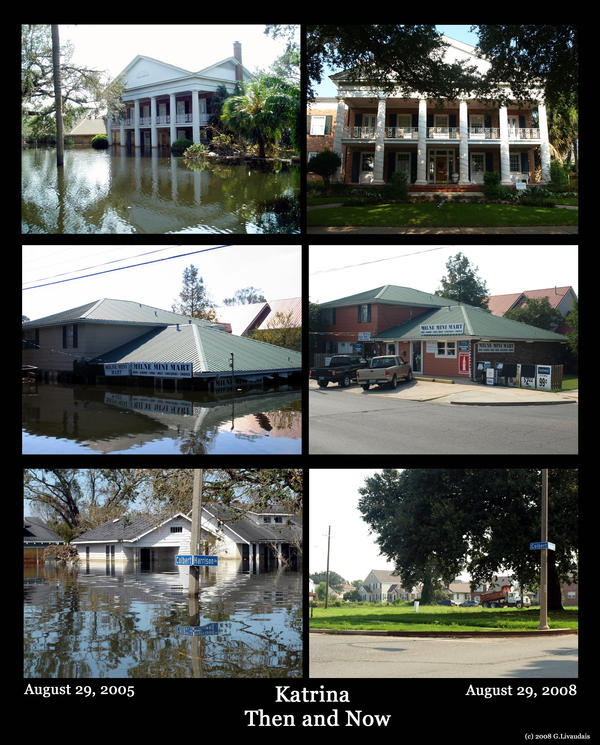 August 29, 2005 - August 29, 2008

Today marks the third anniversary of Hurricane Katrina and the flooding of New Orleans. Much has been repaired or rebuilt, and much and not, and there is also some neglect. Today I toured the Lakeview area of New Orleans and took photos of this neighborhood's progress.

Lakeview was hit hard with flood waters when the 17th Street Canal breeched on August 29, 2005. Houses were flooded to the roofs, some were washed away; cars floated away; gas lines burst into flames; and people died.

Today, the third anniversary, we are under threat of yet another hurricane. This one's name is Gustav and predicted to hit in a few days. People are already evacuating and roads out of the state are congested.

I'm posting a few collages I made with the photos from three years ago and today.

Excellent depiction. I was recently in New Orleans helping with clean up, and it's amazing to see what has not been rebuilt yet. We had women cooking for us because we gave our time. I wanted to hug them for being amazing.
Reply

Thanks. I hope you did hug them. I huged everyone I met from out of town that came down here to help us. I gave the kids (high school and college aged) gifts of appreciation to take home with them; New Orleans trinkets and foods and such. I appreciate so much eveyone for helping us.
Reply

Oh, we did. I also took pictures of all the houses of people that helped us, and plan on finding them when we go back down again in March. Here these people are saying we're amazing for helping, but they're amazing because they are cooking for complete strangers! These people who have nothing are giving what they have because they think we deserve it. I cried more on that trip last year than I think I have in a long, long time. It's an amazing place filled with amazingly strong people. Kudos to you. Kudos.
Reply

Thanks. When y'all come down in March please let me know. Are y'all coming to do recovery work or for a vacation? I'd like to meet the group and do some photos of y'all working. When I did that for the other groups I would post the photos on NOLA.com (local news agency on the internet) and the kids' families could see photos of their kids while they were still here.
Reply

It's a group of us that work in conjunction with a church and come down to help with the continued clean up efforts. I am hoping with my newfound love of photography that I could also do some photo journalism of sorts while I am down there. I know our Spring Break is March 16 - 20, but usually we go a couple days before and after.
Reply

I'd love to help you out with your photojournalism. I can meet with your adult leaders and help plan a tour of sorts.
Reply

Well, what we basically do is volunteer from 8am - 5pm, and then kind of get extra time after that to wander and tour New orleans. The way we did it last year was we winged it, but since the 3 drivers (myself, Pastor, and another girl) are more than likely all going back, we can get around this year with ease.
Reply

Wow... nice work getting all the photos... It's pretty incredible how much everything's changed...
Reply

How did you get the before pictures? Were you there on a boat?
Reply

I took some from a levee but not any of flood photos here. I'll have some of my flood photos posted on another collage.
Reply

With my mom being from Baton Rouge(some of our extended family was in New Orleans when Katrina hit) I still remember the tense feelings, and wondering if my family was ok. This collage really hits home for me.
Reply

wow amazing ....

keep the mind positive , there is always hope
Reply

Yep. I'll post more later this weekend if I have time. I still have to board up the house and maybe evacuate.
Reply