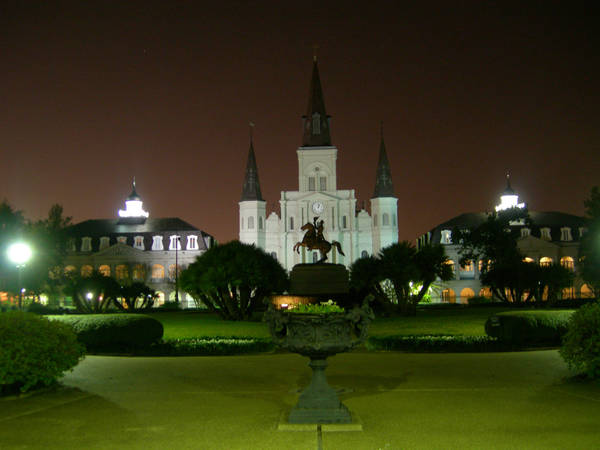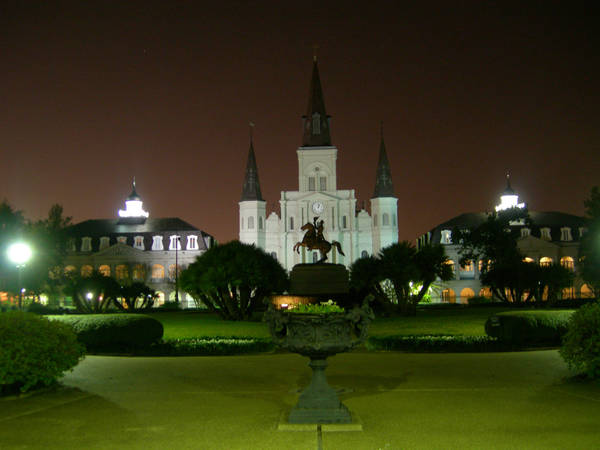 Jackson Square at Night in New Orleans

Reply

Oh, and I was going to tell you, on my night Jackson Square picture, I wasn't near the fence. I was actually on the street right across from the ferry boat dock, on the stairs.
Reply

What settings did you use to get this so clear? Slow shutter speed and a tripod?
Reply

I shot it with a Nikon Coolpix 7600, a small point and shoot camera. I put it on the Night setting and placed it on a horzontal cross beam on the fence in front of Jax Square and pressed slowly.
Reply

Damn fences - I wish I would have used the fence surrounding Jackson Square - this was one of the first shots I tried taking of that church. At least now I have the foresight to hijack my roommate's tripod and use level ground!
Reply

OK, but you still need to avoid camer shake when you press the shutter button. With my Olympus, when I use a tripod for shots like this I use my remote to activate the shutter.
Reply

Hmmm, remote. I don't know if his camera has one .. it's a Nikon D70s. I hate taking night pictures with my Kodak because you have to hold it absolutely still, and if you are just using your hands, it's virtually impossible.
Heads up - I am deleting nearly all my pictures. I fixed a lot of my pictures with the brightness and contrast. I'm amazed at how much better they look now!

Reply

Ahhhh, Jackson Square. Such a beautiful place at night. I especially enjoyed walking the streets around it and finding these little alleys that were just calling for their picture to be taken. Wonderful capture here!

Reply