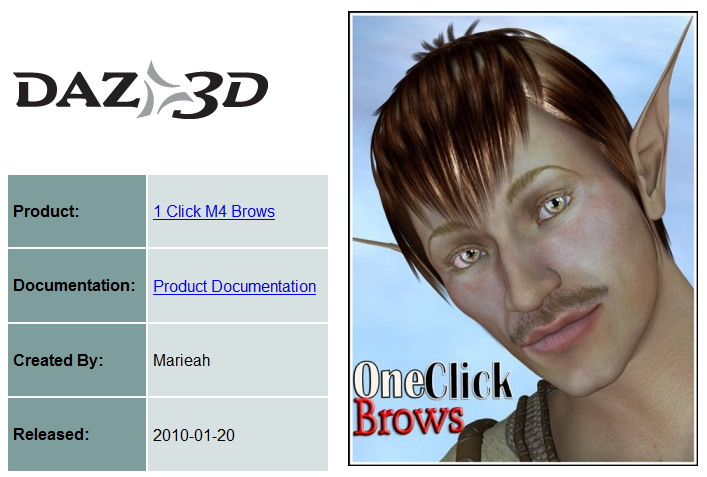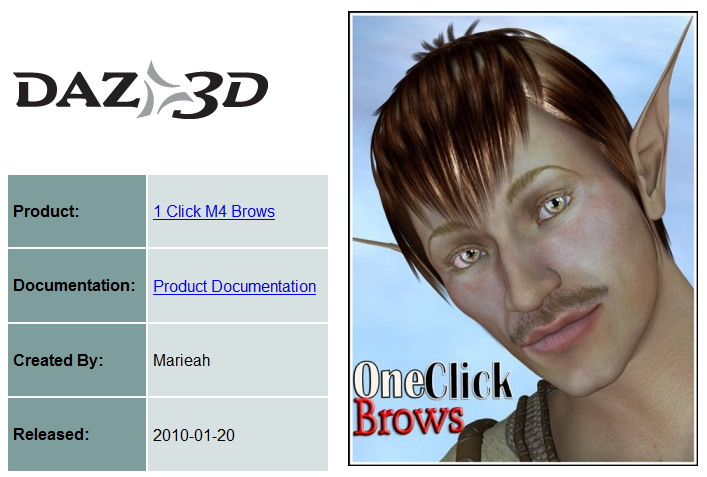 Watch
Here's a handy set of click-on eyebrows for Daz Studio that will transform your M4, F4 and H4 characters from blondes to brunettes, from black haired to white haired and to ginger and back again. You can use them with the
1-Click Face Hair
, or by themselves with matching head hair to completely change the look of your favourite textures. If you don't have a browless face texture already, you can quickly open the face map in your image editor, clone skin over the brow area and use this as your base for the 1-Click Brows.
This pack includes 15 brow presets comprising three styles in five colors – black, brown, blonde, ginger and white. The styles are:
• Normal Brow for average and exceptional human characters
• Mono Brow for old, hairy, unkempt and monster renders
• Manicured Brow that's perfect for elves, Goths, vampires and drag queens
The brows include displacement maps for extra realism.
The brows can also be applied in Poser via render nodes without displacement, but presets for this are not included. The Layered Image Editor is not needed to use this.
Product Features
• 15 high resolution .png brow texture maps
• Displacement maps
• Presets to apply displacement base and all options
• Fully compatible with DS2 and DS3
=======================
An oldie-but-goodie,
Marieah put up this excellent freebie in January 2010
. Since then the site has closed and she's lost the files to a hard-drive crash -- when I asked her about it today, she replied "You or anyone else who has it have my permission to to make it available." I had to re-zip this out of it's original installer to comply with deviantART's terms, so please either read and agree to the included license textfile or download the original zip from
ShareCG
.
This includes bonus no-eyebrow face textures for her products
Remendado
,
Dancaire
,
Zareb
,
Uncle Albert
, and
Dirty Boy
. Thanks Marieah!

Will this work on Poser also?
Reply

Not a Poser user so I'm not sure, but this needs DAZStudio's LIE, so unless Poser has an equivalent then no, not as intended. The maps and masks can be adapted for use on eyebrow geometry though, so you cold try that.

~
Reply

That's awesome

- So this is why you've been looking for textures without eyebrows lol
Reply

Reply