So I guess this is gonna be a thing

You can enter one contest or the other or both if you think you can handle

NOTE: These are two completely different contests!!!
Contest #1 Overcoming Weaknesses (for the artists):
DESCRIPTION:
This contest will be very much like the last Character Interaction Contest that I held in November. However, instead of being judged on the interaction, you will be judged on the way you are able to capture the pivotal moment in one of the character's lives where they overcome a weakness or character flaw or learn a lesson that might impact their character in a positive way.
For example:
What event might have caused Prism or Hot Head to become more humble?
What may have caused Cotton Candy to become better at working under pressure and not needing everything to be PERFECT
What may cause Dove to overcome her fear of unicorn magic?
When might Cloudy Skies become more confident in herself?
How might Amber cope with infertility?
When would T learn to become a leader rather than just a follower?
When might Fletcher learn to accept the fact that he's not perfect at everything?
When may Apollo learn to accept Nidra as a new member in the family
__________________________________________________________
These are just a few things. All of these characters have flaws and fears and obstacles and there are many different ways that they can overcome them.
So when doing this, take on the approach of an MLP episode where a character overcomes a meaningful challenge like in "Pinkie Pride" when Pinkie realizes that she's not necessarily the best of the best and that there are others who are just as talented as she is or in "Green Isn't Your Color" when Rarity comes to terms with her jealousy or in "Putting Your Hoof Down" when Fluttershy learns to..... well..... put her hoof down.
SO DIG DEEP! Really think about all the small weaknesses that I've hinted at in all my drawings with dialogues. Almost every single one of those highlights a weakness or two in the character.

__________________________________________________________
In this contest you will be drawing
at least ONE
my next gen or NEXTnext characters/characters canon in the "kilalaverse" which includes:
Valiant Heart, Illusion, Red June, Crystal Clarity, Crème de la Crème, Golden Delicious, Cotton Candy, Prism Bolt, Whirlwind, Nidra,Turquoise Blitz, Starburst, Anthea, Icy Storm, Night Light, Echo, Pixel Bit, Cloudy Skies, Sugar Rush, Api Apple, Dove, Fletcher, Epic Parody, Hot Head, Amber Lily, Lucky Star or Mint Leaf

Identity, Hayride, Cloud Skipper, Lyrical Stanza, Thunder Stomp, Striker, Hlín, Fraise, Raine, Daredevil, Gaillardia, Shamrock, Tanzanite, Crystal Cherry, Oasis, Apollo, Peridot Flame or Anastasia
(NOTE: Yes, you may focus on the NEXTnext gen this time but realize this may be a risk since there is little info about them. Make sure that you are able to pinpoint one of their weaknesses)
And you can draw them interacting with one or more of the characters mentioned above, any of their family members (aka most of the characters in the show).These characters include:
Twilight Sparkle, Flash Sentry, Rarity, Spike, Pinkie Pie, Pokey Pierce/Royal Pin, Applejack, Caramel, Rainbow Dash, Soarin, Fluttershy, Cheerilee, Big Mac, Sweetie Belle, Button Mash, Apple Bloom, Pipsqueak, Scootaloo, Rumble, Fleur de lis, Fancy Pants, Thunderlane, Cloudchaser, Celestia, Discord, Luna, Supernova, Trixie, Cheese Sandwich, Azalea or Berry Vine
ANYWAYS, basically, you are drawing at the very least one character from the first list, interacting with another character or characters in the first or second lists. In your drawing, there must be at least two characters. You can draw as many as you'd like as long as it's more than two. If this is confusing, don't hesitate to ask

__________________________________________________________



RULES:
You must have at least two characters interacting (one of them being from the first list) NOTE: Please limit yourself to the list. You have plenty choices.
Refrain from using OC's. And if you must add an OC, they cannot be a major part of the scene. As long as the focus on the characters in the lists above, you should be fine
You must have a dialogue in the description
Traditional and digital art is allowed
Bases are also allowed (but are not highly encouraged). And if you use them, credit them properly! (mention the base maker and link back to the base). Same goes for any sort of reference
No NSFW
You are allowed to submit a maximum of 3 entries but only one will win
Please title your entry as "Kilala97Contest#: (your own title)" The # is the entry number. So, if you're submitting your first entry, you would title it "Kilala97Contest1: (your own title)". If it is your second entry, then "Kilala97Contest2: (your own title)". This is just to make things easier for me, and will help me organize the entries. Even if you are only entering once, make sure to put the number in anyways.
Link all entries in the comment section and mention me in your description if possible
Absolutely NO stealing art! No tracing, no recolors, none of that. Try your very best to be as original with the drawing as possible
All submissions must be submitted to deviantART. Do not just put it in Stash.
__________________________________________________________



WHAT YOU WILL BE JUDGED ON:
1. The overall scene and how impactful the character changing event is
2. How well you characterize the characters
PRIZES:
There will be
TWO
winners for this contest and both will receive a drawing of any one of their OC's (pony or non-pony) from me. If any of the winners don't have an OC, we can work something out

Examples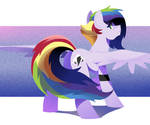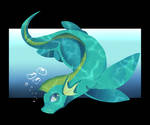 If anyone is willing to donate prizes, let me know

I would appreciate it!
Thank you
for offering a contest prize!
The
TWO
winners AND the
THREE
runners-up will also get a squish pony like these ones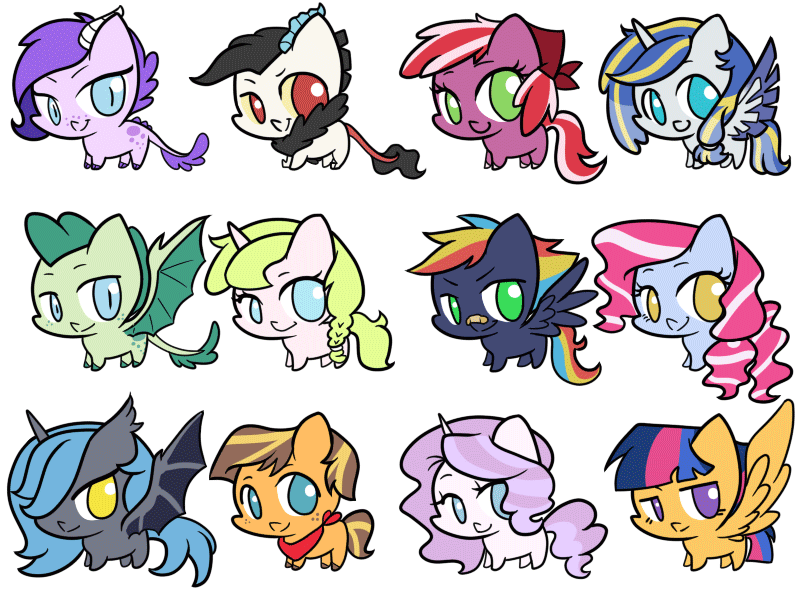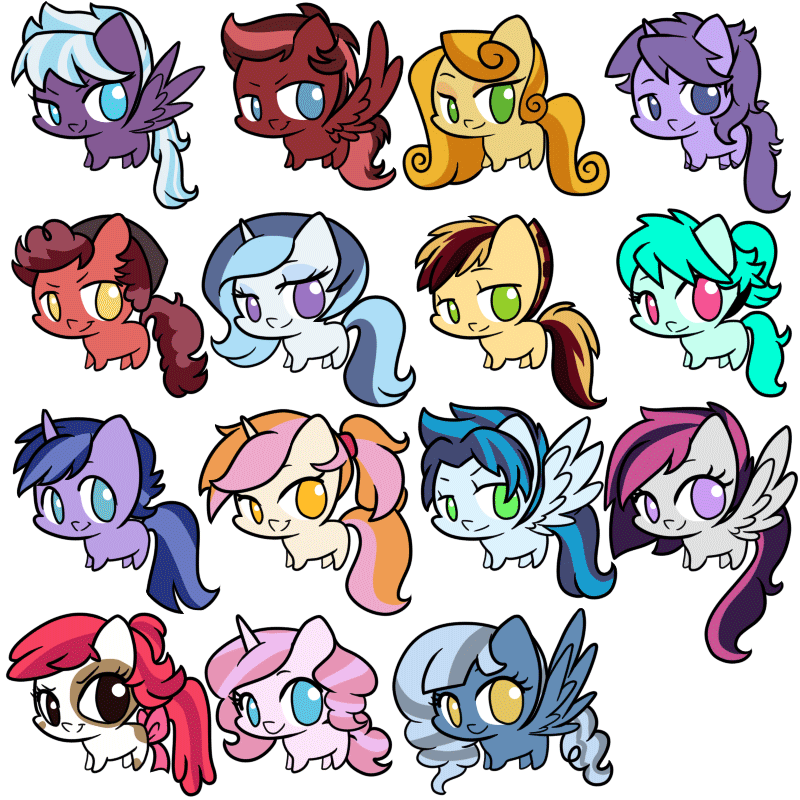 __________________________________________________________
DEADLINE:
Because this contest IS much more difficult in terms of content, the deadline will be in two months:
April 1st


__________________________________________________________
ENTRIES:

Can be found
here
*******************************************************



Contest #2 Fun Facts (for the writers):

ENTRIES:

Can be found here
and
Here
__________________________________________________________
DESCRIPTION:


In this contest, you will have to choose a Fun Fact from this:

ALL Next Gen Fun Facts!This is fan made!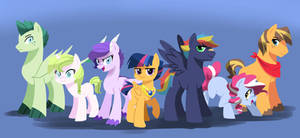 All Next Gen Fun Facts! :iconwoootplz: Everything from my previous fun facts journals as well as some new ones are in here

I probably won't make any more new Fun Facts journals. Instead, I'll just add them in here and let you know if there are any updates (if they are worth mentioning of course) I'll probably add more to the younger characters later since I'm still developing them. HOLY FRICK THIS JOURNAL IS LONG!
If this journal in particular is too long, you can look at these kinda shorter ones that narrow the characters down by category
Main: Royalty: Side: Children:
Valiant Heart:
Valiant goes by "Lance"
Valiant's love life isn't very successful even though he's kind, charming and handsome. He's been out with quite a few ponies making him seem l
You will be writing a one shot based on a Fun Fact you find in here. It can be any kind of story you'd like. A cute fluffy one, a sad one, and adventure based one, whatever you liiiike. As long as it is based/inspired by one of these facts
You may include any of these characters but the focus should be whoever you're doing the Fun Fact on.
Valiant Heart
,
Illusion
,
Red June
,
Crystal Clarity
,
Crème de la Crème
,
Golden Delicious
,
Cotton Candy
,
Prism Bolt
,
Whirlwind
,
Nidra
,
Turquoise Blitz
,
Starburst
,
Anthea
,
Icy Storm
,
Night Light
,
Echo
,
Pixel Bit
,
Cloudy Skies
,
Sugar Rush
,
Api Apple
,
Dove
,
Fletcher
,
Epic Parody
,
Hot Head, Amber Lily, Lucky Star
or
Mint Leaf
Identity, Hayride, Cloud Skipper, Lyrical Stanza,
Thunder Stomp, Striker, Hlín, Fraise, Raine, Daredevil, Gaillardia, Shamrock, Tanzanite, Crystal Cherry,
Oasis, Apollo, Peridot Flame or Anastasia
Twilight Sparkle, Flash Sentry, Rarity, Spike, Pinkie Pie, Pokey Pierce/Royal Pin, Applejack, Caramel, Rainbow Dash, Soarin, Fluttershy, Cheerilee, Big Mac, Sweetie Belle, Button Mash, Apple Bloom, Pipsqueak, Scootaloo, Rumble, Fleur de lis, Fancy Pants, Thunderlane, Cloudchaser, Celestia, Discord, Luna,
Supernova
, Trixie, Cheese Sandwich,
Azalea or Berry Vine
__________________________________________________________
RULES and GUIDELINES:
Must be at least 1000 words and if you plan to do chapters, each chapter should also be a minimum of 1000 words
Refrain from using OC's. And if you must add an OC, they cannot be a major part of the story. As long as the focus on the characters in the lists above, you should be fine
Focus on ONE Fun Fact. You can mention others but make sure you have a primary one
No clop/NSFW
You are allowed to submit a maximum of 3 entries but only one will win
Submit entries to the kilala97 Fan Works group on FiMFiction. If you don't have a FiMFiction account, try your best to make one. If you do not want to, post the story to dA and link it in the comments of this journal.
Make sure to note what Fun Fact you will be using in either your Author's Notes (or if you're using dA, the description)
__________________________________________________________
WHAT YOU WILL BE JUDGED ON:


1. General writing skills
2. Grammar
3. How well you characterize the characters
4. How well you translate the Fun Fact into a story
5. How well you follow the rules
__________________________________________________________
JUDGES:



__________________________________________________________
PRIZES:
There will be
TWO
winners for this contest and both will receive a drawing of any one of their OC's (pony or non-pony) from me. If any of the winners don't have an OC, we can work something out