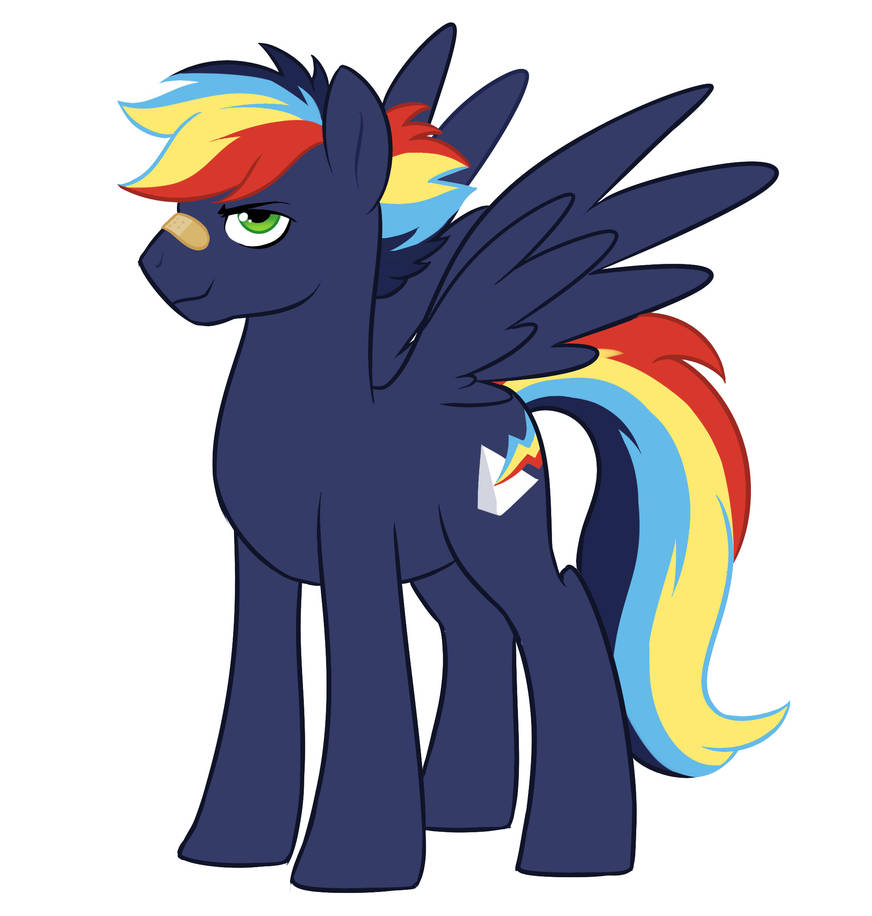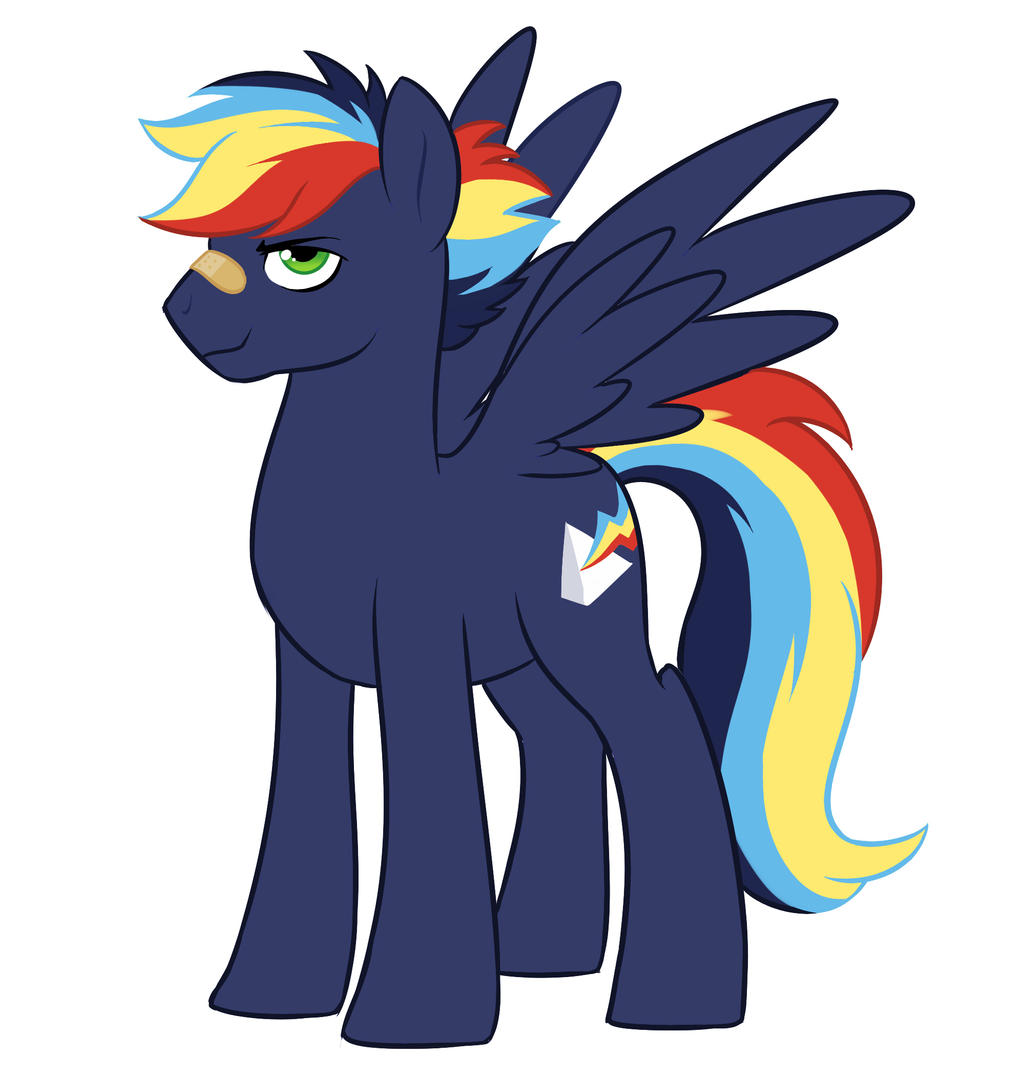 Watch
EDIT: Not sure if I'm digging the darker blue in his mane yet. Will prolly change

Name: Prism Bolt
Nicknames: Priz, Bolt
Parents: Rainbow Dash, Soarin

Place of Birth: Cloudsdale

Place of Residence: Ponyville

Age: 17
General bio:
Prism Bolt has a confidence that can only be matched by his mother's. He's a total show off and because of that he comes off as somewhat cocky to others. He is probably one of the most talented fliers in Equestria. He's very, very agile and quite fast. The only thing holding him back from being the best flier ever is his laziness and lack of motivation. He'd rather chill out than practice and only gets up when he gets challenged. He wasn't always like this though. When he was much younger, he was actually deathly afraid of heights. This was very stressful for him being that both his parents are amazing fliers. He felt obligated to be great, but he wasn't. He eventually got over his fear with the help of family and friends. He began to get cocky when he became better. He dreamed of being a Wonderbolt as a preteen and thought he was good enough or even too good for them. However, he had an eye opening experience (which I'll leave up to you to think of) which caused him to give up on being a Wonderbolt because it was too hard. Prism never admits to this so he usually just says that he gave up because being a Wonderbolt is a waste of time. Only his parents and Whirlwind know how he really feels. From then on, he became the lax Prism he is now. He also has quite the temper when he's insulted. Even though he may seem like a hot shot or a cool guy, he is actually very silly and enjoys having a good laugh and getting others to laugh.
Relationships:
Prism and his parents share an interesting relationship. It's a lot like a relationship between friends. He's espescially like this with his father. He and Rainbow are also buddies but when it comes to training/flying, she becomes a drill sergeant to him.
Prism and Icy Storm's relationship is that of an annoying older brother and a seemingly more mature younger brother. Prism likes to mess with him and tease him about various things and Icy just puts up with it. This dynamic is mostly due to the fact that the two of them have clashing personalities. Even so, they often do fun things together and Prism would do anything to make sure his brother is safe.

Whirlwind and Prism have a very complicated relationship. They started off as very good friends when they were young and Whirlwind helped him through the time in his life when he was scared to fly. Later on, they became more than friends and started dating. However, they broke up later (again, leaving it open as to how they did). Now, they're just friends. Good friends. Everypony around them teases them about getting back together.

Prism and Candy spend most of their time with one another sharing laughs and pulling pranks. He's the only one who is able to handle the full extent of her insanity. Their relationship is very comfortable and they never have to hold back for each other.
Starburst and Prism enjoy flying together. For him it's just because and for her it's mostly to train but they both have fun. He's like a brother to her always giving her tips about flying and trying to make her smile. Like Candy, he tries to loosen her up. He sees her as a buzzkill (everypony kinda does) but he enjoys their time spent together nonetheless.

Prism gets along with the other four as well. He Turquoise and Del share a typical dude relationship and he and Annie are good friends too. He really appreciates the fact that she's so positive and silly despite her disability.

Although he gets along well with pretty much the whole group, there is a little bit of tension between him and Claire. They are friends but they get on each other's nerves sometimes. She sees him as very immature and as a bit of an egotistical DB. He sees her as a know it all snob. It's obviously due to the personality differences but also their age. Prism is a teenager who doesn't quite act his age while Claire is five years older and acts very mature even for her age. He likes to annoy her and call her old. Though there is that barrier, Claire is able to loosen up and be fun and dangerous. That's the Claire he enjoys hanging out with. (Funny thing is that Claire was Prism's first crush and it's debatable whether he still has feelings for her or not)
Talent/Cutiemark/Abilities:
Prism got his cutie mark for his very impressive agility. His quickness and ability to make sharp turns makes him unique since most ponies can't do the kind of stunts he is capable of.