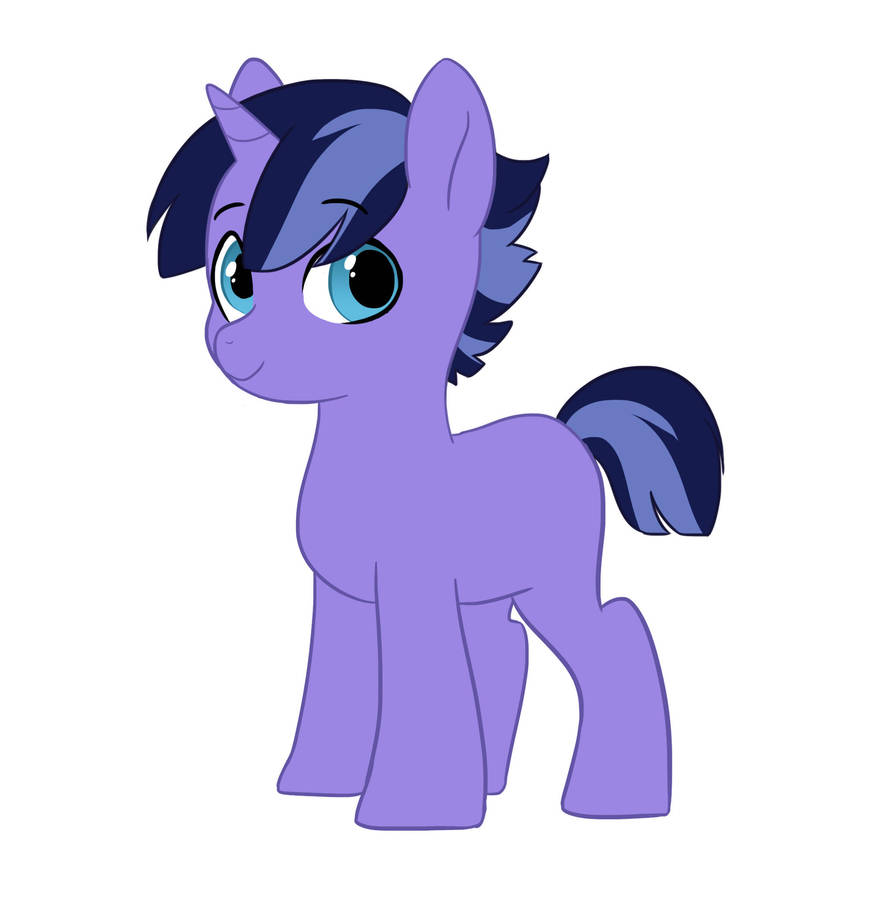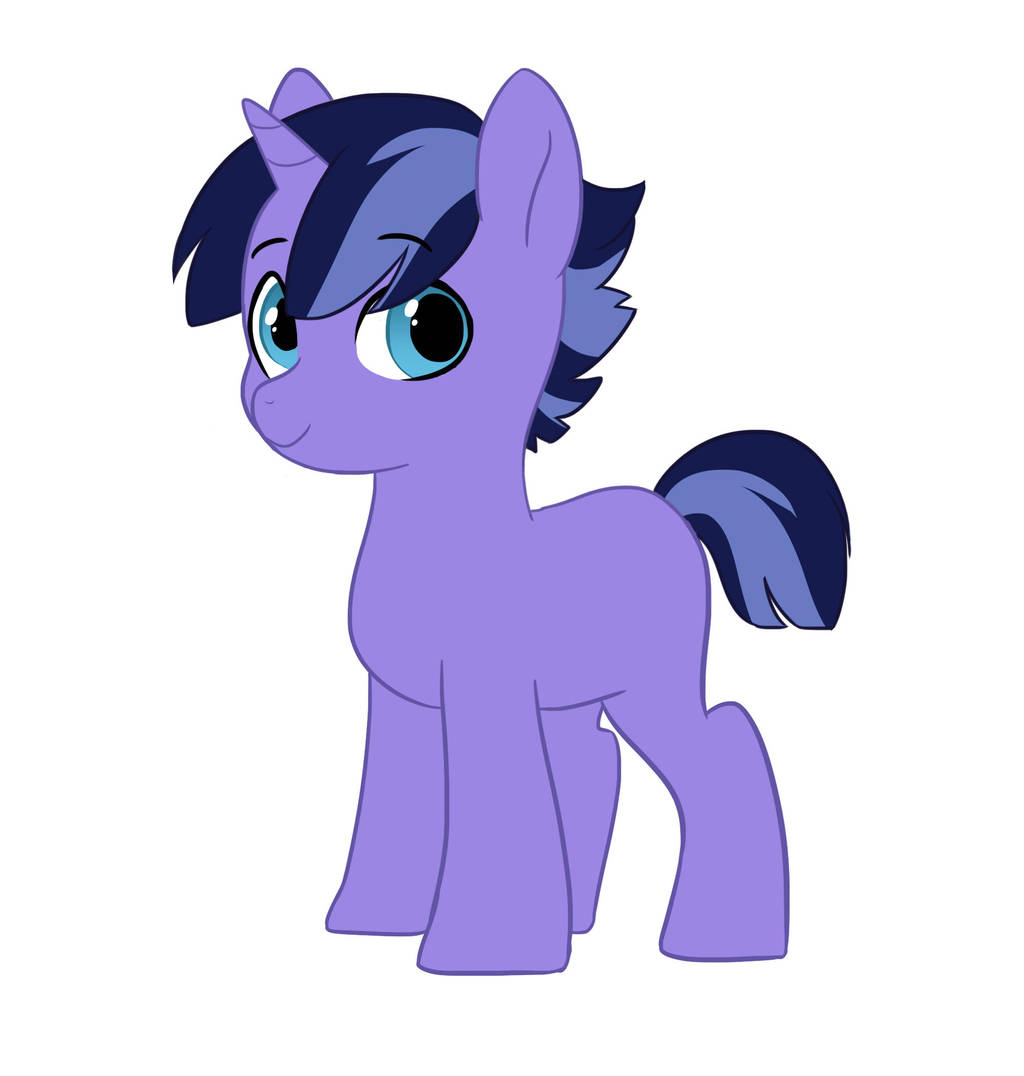 Watch
Name: Night Light
Nicknames: Nighty, Junior
Parents: Twilight Sparkle, Flash Sentry
Age: 11

Place of Birth: Ponyville

Place of Residence: Twlilight's Castle

General bio:
Night Light is the complete opposite of his older sister Starburst. Twilight is also the opposite of Starburst. So, that makes Nighty very similar to Twilight. They are both studious, like books, are slightly bossy and are unicorns. He is very responsible and strives for perfection. He dreams of being a legendary unicorn like Starswirl thus he studies hard and reads a lot to learn all that he can. He is rather decent at magic and is much better at it than most foals his age. He's the son of Twilight Sparkle after all. However, he's not at the age where he can start using advanced spells quite yet. He doesn't mind though. He seems to think that a unicorn can become just as powerful from research. So basically, he'd rather read and learn more than physically practice magic. He feels that by doing so, there is no risk of messing up a spell and causing destruction. Nighty is a total worrywart and is cautious about EVERYTHING. He is scared of any kind of adventure and is very cowardly which is why he is a homebody. He tends to ramble on about possible scenarios when being put under pressure to go out and do something "dangerous". He also doesn't like getting in trouble at all which can make him become quite the kiss up (Imagine Carlton from Fresh Prince of Bel Air). Despite all of this, he is very friendly and just wants the very best for his friends. If any of them were put in danger, he'd definitely take action (after giving himself a little pep talk). He really wishes he was more manly (stallion-ly?) and brave but he just can't seem to bring himself to be that way. Night Light is named after his grandfather and is very often referred to as Junior.
Relationships:
Nighty is very close to both his parents. He and Twilight obviously have a lot in common and can relate to each other on a whole new level. They often practice magic or read with each other. Though he and Flash are very different, he doesn't have the same relationship issues that Starburst has with Twilight. This is mostly because Night Light is not at that age yet where seeing eye to eye with your parents gets harder and because he puts in the effort to try and be more like his father and become stronger in his weak areas. He and Flash like to roughhouse and go out together and adventure with each other. Flash is the only one Nighty feels comfortable doing adventurous things with.

Nighty and Star have a typical sibling relationship. The seem to irritate one another more often than not. They are just too different and tend to butt heads. He really gets on her nerves when he starts kissing up to their parents right after Star does something wrong in order to seem like the better child. She gets on his nerves by calling him a scaredy cat and weakling. When they're not fighting like this, they have a lot of warm and fuzzy moments. They truly care for each other in the end.

As Twilight's student, Anthea has become very close to the Sparkle/Sentry family. So, as a result, Nighty sees Annie as another big sister. A magical big sister. He admires her greatly and is amazed by her talent. They are always very kind to each other. He also sees her as a bit of a rival because she is generally perfect and amazing at magic. She is one of the main ponies who tries to convince him that just reading books isn't always the best way to learn. It's pretty effective coming from her since she's blind and can't read and still ends up being amazing at doing magic.

As a little colt desperate to become more like a stallion, he talks to his most "manly" friend: Icy Storm. He's a cool guy and really high up on the social ladder. So, Nighty tries to take notes and learn about Icy's ways.

Of his friends, Api and him get along the least. Api lives for adventure and she tries her best to get him out of his comfort zone and he freaks out about that. She gets a little too pushy for his liking.

Pixel is just as good friend to Nighty as she is to anypony else. However, since he doesn't quite get out too much, he doesn't know that and often thinks that she's giving him special treatment. He believes that she has a crush on him when really, she doesn't care for that kind of stuff. She calls him "cute" a lot but she means "nerdy/adorable/dorky cute" but he doesn't get that.

Nighty and Echo are awkward together. She doesn't talk much and he barely knows anything about her. So, getting a conversation going between the two of them takes quite some time.

Sugar Rush likes to baby Nighty. She treats him like a little child because he can really act like one sometimes even though he tries to be mature. Because of Cloudy Sky's clumsiness and reputation for messing things up, Nighty tries keeping his distance from her sometimes as to not get in any trouble. However, when doing something that is particularly accident-free, the two of them enjoy each other's company and usually just share a friendly conversation.