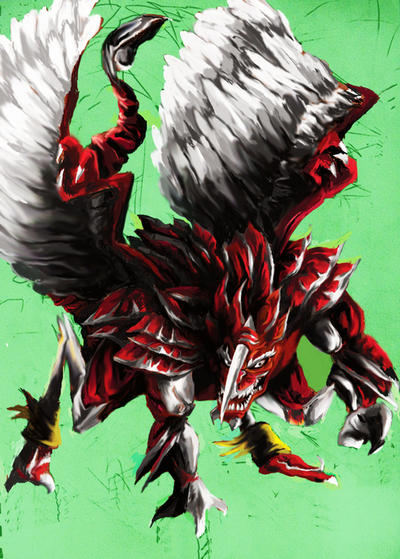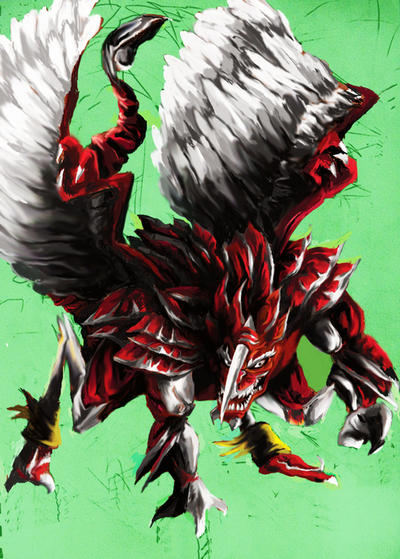 Watch
Upon entering

's redesign contest I felt very embarrassed to color the monster Redmoon with oil pastels (the original is here
[link]
). Don't get me wrong, I love pastels and I think that the original Redmoon picture has a charm to it as well but, I vowed that I would try to color Redmoon on the computer once I had gained some knowledge on how to color with photoshop (I'm still learning so it is in no way perfect).
Edit: Here is the picture of the original sketch of this piece:
[link]
)
The result of this piece is not as clean as it could be. Perhaps I'll try out at drawing Reddy here again after gaining more knowledge about the computer. In fact I may do another piece of this kaiju soon but, there are no promises. Please enjoy this piece and also I have revised the bio of Redmoon if you wanna take a look (I do not own Godzilla nor the character Redmoon):
Bio:
Eons ago, before KING GHIDORA was driven from the planet earth by GIGAMOTH, the horrific kaiju came to a strange world where silicon was the base element of life instead of carbon. Possessing an extremely high surface temperature, life here operated on a cycle or reducing and oxidizing Iron, similar to the way we circulate oxygen and carbon dioxide with plants. It was on this planet, that a nameless kaiju lived and guarded its inhabitants from harm, caring for it's mate ERABUS and their offspring, HAFUN. However, this peace would not last.
One day, a golden dragon descended from the heavens. The Silver Kaiju fought mightily, managing to grasp a single one of its golden scales in it's jaw, but was beaten back and thrown into the planet's ocean of Mercury as the golden beast tore apart the strange planet, as well as murdering the kaiju's family. When he finally awoke, he discovered his planet barren and devoid of all life, and his wife and son murdered. Driven by overwhelming rage, he left for space, absorbing as much of the planet`s atmosphere as possible for the long trip as he followed the faint trail, grabbing asteroids along the way for sustenance.
Centuries, then millennia slowly passed as he struggled to keep up with the dragon's trail, but all he found were barren worlds, destroyed the same as his. Finally, he had felt that the monster was staying on a single world more than usual. Barely having strength after thousands of years of chase, he struggled to power himself to the strange, blue planet that was just coming into view. However, he had overestimated himself. After so many years, his strength gave out, and he collapsed on the dark side of earth's moon. There, he stayed in a deep unconscious stasis...until 65 million years later, when probes made by the native species of the planet would disturb him..
Stats:
65 meters tall
100 meters long
Powers and Abilities:
Metallic skin absorbs metal from rocks and regenerates his structure from seemingly lethal damage.
Natural Exhalation damages the earth's atmosphere though metallic poisoning.
Concentrated "Metalizer" beam throws his respiratory system into reverse and coats anything it touches with a thick layer of metal that, if left untouched, will begin to alter the structure underneath.
weaknesses:
Virtually insane with rage after seeking revenge for so long, his memory has been long warped. Anything that even remotely resembles the golden dragon will be considered a target.
High-Oxygen earth environment has turned his skin a deep, rusty red, earning him the name REDMOON by the people of earth.
Is highly vulnerable in areas where there is little metal nearby, such as over an ocean.